Things to Check when the 2X Client does not Connect to the 2X Remote Application Server Farm? By Sean Bianco on | 0
If the 2X Client cannot connect to the 2X Remote Application Server Secure Gateway it will output an error similar to the below: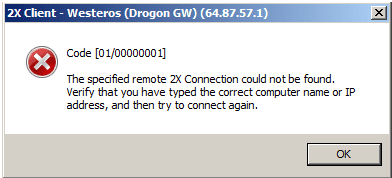 To resolve this issue, check the 2X Client connection properties and ensure the connection hostname, port and connection type are configured correctly.
Also check the 2X Remote Application Server console under 'Farm' > 'Gateway' properties and ensure the correct ports are specified according to the 2X Client connection type. If the 2X Clients are connecting over the Internet also ensure that the correct routing and port forward is in-place for the IP Address or hostname being used.