Manage Android & iOS Devices with the New 2X MDM Product By Sean Bianco on |

0
SMBs reclaim control with the affordable and easy to use 2X MDM solution
LONDON UK, 14 MAY 2013 – 2X, developer of the award-winning Windows VoIP PBX 3CX Phone System, has recognised the booming mobile device management market and announces the launch of 2X MDM – an easy to use and inexpensive hosted and deployable mobile device management solution that allows users to secure, monitor and manage their Android, iOS and Windows devices.
According to the Global Mobile Data Forecast, mobile devices will outnumber people by the end of 2013! Osterman Research has shown a steep uptrend of companies deploying mobile devices within their workforce, with a predicted 33% of US employees using company apps and having confidential corporate data on their devices by the end of 2013. More importantly, Osterman's research shows us that the annual IT labour cost to manage a device will cost companies $399 per user.
With 7 million dollars' worth of mobile phones being lost every day in the United States and over 300 devices being stolen in London each day, businesses can't afford to have their sensitive data, such as confidential client emails and contact details, fall into the wrong hands.
"Organizations that do not address 2X MDM properly face a growing set of risks, including an inability to adequately secure and retain data on mobile devices, greater downtime, higher IT costs, regulatory compliance violations and reduced employee productivity," said Michael Osterman, President of Osterman Research.
2X received significant demand from its customers for a mobile device management solution as Android and iOS devices have become popular end-points for PBXs such as 3CX Phone System. 2X has already led the way in increasing mobility with its 2XPhone client, therefore developing a mobile device management solution was the next natural step in the company's progression.
"The demand for mobile device management is clear, yet a dedicated, easy to use and affordable mobile device management solution seems to be surprisingly lacking in the market." said Nick Galea, 2X CEO. "2X MDM ticks all those boxes and is set to revolutionise the market, just like 3CX Phone System did for the IP PBX market. This release is just our first step – many new innovative features are coming soon that will make 2X MDM leapfrog the competition."
2X MDM USPs – Inexpensive, Quick to Deploy, Easy to Manage
2X MDM differentiates itself from the competition as it's easier to use and affordable, unlike some other cumbersome 2X MDM solutions. Many SMBs simply cannot afford the enterprise-level pricing and support the competition demands and certainly can't afford to hire specialists to manage their difficult to use 2X MDM solutions.
Unparalleled Android Manageability
Remote control
2X MDM provides more advanced Android features, especially with the upcoming integration of 2X DroidDesktop – the popular Android app that allows IT Administrators to remotely control and manage Android devices of employees.
Remotely Configure Corporate Email
Another pioneering feature 2X plans to integrate into 2X MDM soon is Aqua Mail. This email client allows administrators to remotely configure corporate email for users - having full control over corporate email without affecting the user's personal emails. Companies can now delete all corporate emails as well as the attachments that are stored on the device when an employee leaves the company. This Android email client provides Enterprise-style features at a fraction of the cost and a fraction of the administration effort!
Securing Your Data – Remote Lock or Wipe a Device
If a device is lost or stolen, 2X MDM can remotely lock or wipe the device and its SD card to avoid unauthorized use, even if it isn't connected to the internet, or just delete corporate email and any stored attachments. Enforce a strong password policy remotely and set minimum password length and time lapse before device auto-lock.

Removing Inappropriate Apps & Mass Deploy
Administrators can review all the apps that are installed on the devices from a single screen and remove any inappropriate apps that affect employee productivity and drain data plans with a few mouse clicks. Mass Deploy corporate apps to devices without using the Appstore or Google Play!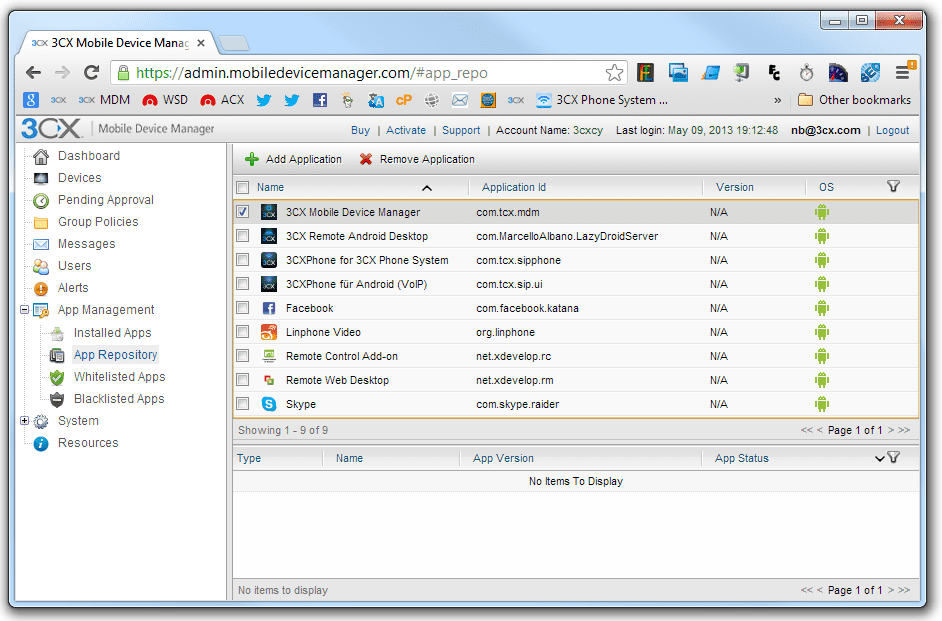 Remote Administration
Administering a large number of mobile devices manually is an administrator's nightmare. 2X MDM makes the IT administrator's job of managing multiple devices painless. Deploying new Wi-Fi network passwords or changing security settings is a lot easier with 2X MDM. Administrators simply push out the changes to all the devices to allow users to connect seamlessly. Also, they are alerted if any policy violations are committed as they receive an email alert. All alerts are also logged within the alerts node.

Find & Track Devices & Supervise Staff Routes
2X MDM stores the current location of all devices and keeps detailed logs of where the devices and employees have been. All device locations are shown with their full address using Google Maps.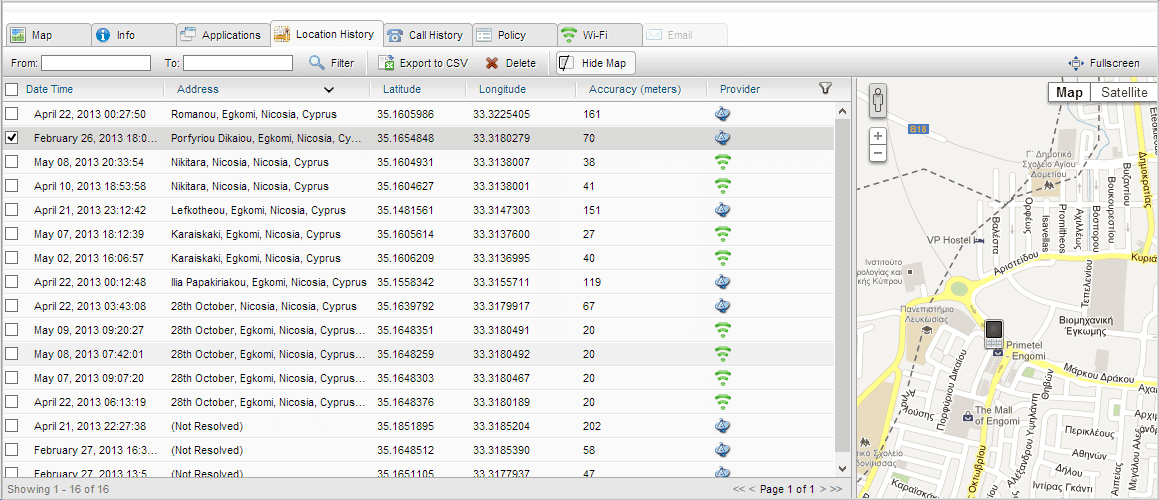 Mass Deploy Apps to All Devices
2X MDM allows administrators to easily deploy apps to single or groups of devices. They can define apps present on Google Play or the Apple Appstore, or apps that are stored only on the 2X MDM App Repository. Administrators can also deploy APK files directly to mobile devices, thus bypassing Apple's Appstore and Google Play.
Try 2X MDM for Free with a 5 Device Account
Experience all the features of 2X MDM by signing up for a FREE 5 device account! Signing up is easy and only takes a few minutes. Read the step by step guide on how to get started. The 2X MDM pricing can be seen here. Visit the 2X MDM website at www.MobileDeviceManager.com and find us on Facebook.
About 2X (www.3cx.com)
2X is the developer of the 3CX Phone System, an open standard unified communications platform for Windows that works with standard SIP phones and replaces any proprietary PBX. The 3CX Phone System is more manageable than standard PBX systems and delivers substantial cost savings while increasing productivity. Some of the world's leading companies and organizations use the 3CX Phone System, including Boeing, the Caterham F1 Team, Intercontinental Hotels & Resorts, Harley Davidson, and MIT.
2X was named a CRN Emerging Vendor in 2011 and 2012 and has been awarded CRN's 5-Star Partner Program rating in 2013. 2X has also been awarded Windows Server Certification and won the Windowsnetworking.com Gold Award, the Windows IT Pro 2008 Editor's Best Award and a Best Buy Award from Computer Shopper. 2X has offices in Australia, Cyprus, Germany, Hong Kong, Malta, South Africa, the UK and the U.S.
Visit us at: http://www.3cx.com, and on Facebook at: http://www.facebook.com/2XPhoneSystem.