Administrative Mode in the Parallels RDP Client Desktop Replacement By Sean Bianco on | 0
Parallels RDP Client Desktop Replacement: Beta of Parallels Remote Application Server V.12
We've just launched the beta of Parallels Remote Application Server V12, with amazing new features. This beta version is fully functional and it offers you the opportunity to try our product.
Do send us your Beta testing feedback on http://www.parallels.com/products/ras/support/ 
Administrative Mode in the Parallels RDP Client Desktop Replacement
Parallels Remote Application Server version 12 includes a new feature (Replace Desktop) for Windows devices which are being managed. When enabled, the Windows operating system is converted into a thin client device as explained in the article "New Client Manager features in Parallels Remote Application Server v12 ".
Parallels

RDP Client Desktop Replacement

In this mode, the user is restricted to use only the applications provided by the administrator. If the administrator needs to change system settings, he can switch the device to administration mode by right clicking on the system tray icon, selecting "Switch to admin mode" and providing the password configured.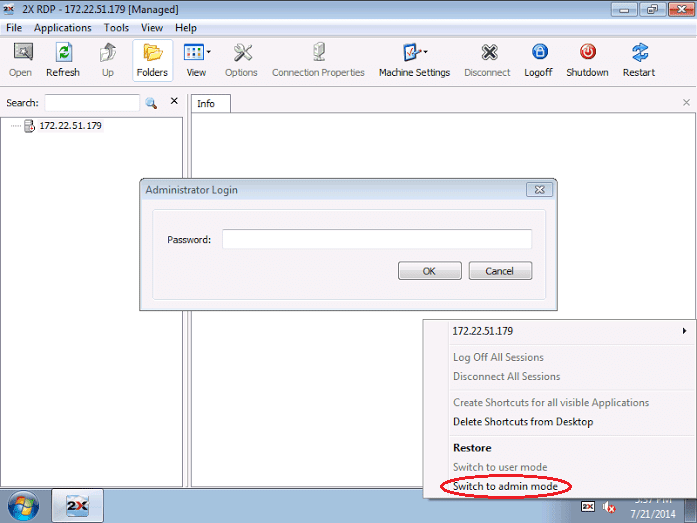 The user has to type in the password set for the device in the Parallels Management Console.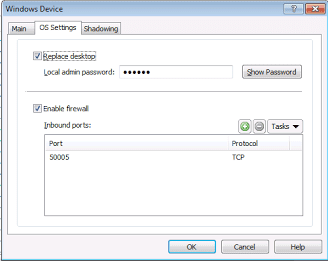 When the changes to the system are ready, the same procedure should be followed, but this time select "Switch to user mode". Administrators can also do this while shadowing a session, thus managing all aspects of the device from the Parallels Management Console.
The following is a list of enabled  features:
Feature
User Mode
Admin Mode

Parallels

RDP Client Global Options
X

Parallels

Client Farm Connection Properties
X
Configuration of Local Applications
X
Ability to add New

Parallels

Remote Application Server Connection
X
Ability to add New Standard RDP Connection
X
Ability to Manage Standard RDP Connections and Folders
X
Display Settings
X
X
Mouse Settings
X
X
Printer Settings
X
Task Manager
X
Control Panel
X
Command Prompt
X
Windows Explorer
X
Import / Export Settings
X
It is important to note that you have to switch to admin mode, if you want to configure a local application.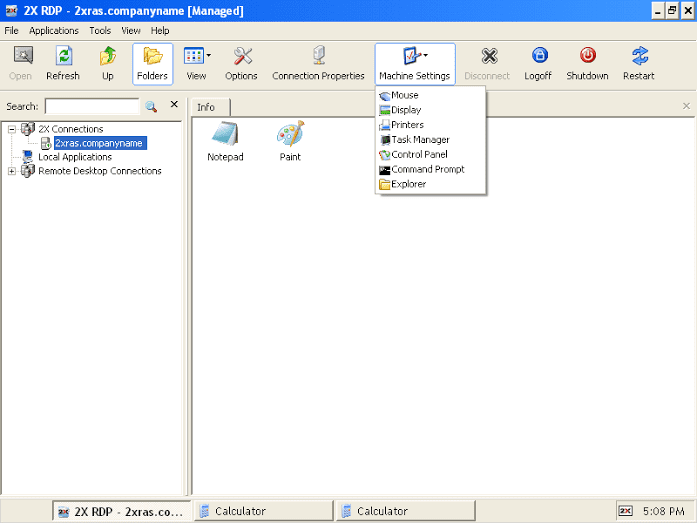 Articles about the new Features of Parallels RAS V12