Application Virtualization Benefits – 2X Remote Application Server By Giorgio Bonuccelli on | 0
Virtual Desktops and Application Delivery Overview
Virtual desktops and application delivery offer an ultimate choice for businesses to scale up resources and increase productivity levels. In addition, desktop visualization concepts allow your employees to connect to business processes from anywhere, anytime. This flexibility of working from a remote desktop increases the productivity of your business while saving expenses on infrastructure.
What does Application Delivery Offer Businesses?
Scalability, performance, agility, security and cost-effectiveness are some of the vital benefits offered by an application delivery system. These benefits are listed in more detail below.
Scalability and Agility
Scalability is the first thing that comes to mind when you think about Application Delivery. By scaling up resources, businesses can overcome data center challenges. In addition, business processes can be integrated to optimize the entire infrastructure. Virtual desktops and application delivery bring greater levels of agility to business processes. Certain features like rapid deployment of applications and the ability to dynamically update software make it the right choice for businesses of all sizes and types.
Device-Independent Applications
With virtual desktops, devices work on difference operating systems. Multiple applications can run on a single machine. Applications become device-
independent and communication of data between heterogeneous networks becomes possible. With a powerful and intuitive RDP server such as 2X Remote Application Server, you can deploy windows based applications that can be accessed from MAC devices too.
Centralized Management
Another benefit of working with application delivery is the centralized management of software apps. From a single dashboard, you can monitor and manage all applications intuitively. Moreover, applications are not installed on the end-user machine. Virtual machines can access them easily using a RDP without the hassles of downloads and installation procedures. While the performance and load times are enhanced, application availability is effectively improved.
Reduced Costs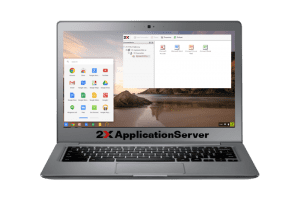 Reduced physical servers and datacenter resources lower the cost of ownership. In addition, the business performance is taken to a new level. As these applications are compatible with multiple operating systems, you get the flexibility to use same machines for multi-tasking purposes. If you use a versatile virtualization product like 2X Remote Application Server, you can deploy applications that are compatible with major hypervisors like Citrix, Microsoft and VMWare. Optimized resources result in higher returns on investments.
No Compromise in Security
Today, businesses have to allocate considerable amounts of time and money to network security. Increasing network intrusions and online threats negatively affect the performance of a network. With a VDI, application delivery is performed on secured networks. The VDI makes use of world class security solutions to deploy software securely which is not feasible for businesses that run physical servers.
VDI Concerns
While virtual desktop  is a definite advantage for businesses, the cost and the complexity of managing a virtual environment is a concern. By choosing a powerful VDI server like 2X Remote Application Server, you can easily create virtual desktops and manage application delivery in a simple and effective way. With several years of proven track record and thousands of satisfied clients, 2X Software offers the right solution for your visualization and application delivery needs. Moreover, this VDI server is affordable and easy-to-use. Download 2X Remote Application Server to deliver virtual desktops and applications from a central location, providing continuous availability, resource-based load balancing and complete end-to-end network transparency for administrators.
About 2X Remote Application Server
Easily deliver Windows applications hosted on hypervisors and Windows remote desktop servers to anyone anywhere using any type of operating system, computer or mobile device. By hosting applications in the private cloud, businesses will also benefit from reduced administration overhead and less help desk support and can easily control who can access such applications and ensure that everyone is using the latest and most secure version of the application.
Out of the Box BYOD Support
The 2X Client software allows businesses to easily deliver applications and virtual desktops to all users irrelevant of the hardware and operating system they are using. The 2X Client can run on any modern operating system such as Windows, Mac OS and Linux, and can also run on mobile devices such as smart phones and pads; therefore businesses are not limited to purchasing specific hardware or operating systems.
Easily Create an Enterprise Private Cloud
Private clouds allow organizations to centralize all data, improve the security of their network, easily protect their data and manage access through a central location. With 2X Remote Application Server, businesses can build their own secure private cloud and scale it to their needs to provide better access to all applications and virtual desktops to every employee in the office and remote workers.
Deliver and Manage Virtual Desktops
Deliver virtual desktops hosted on hypervisors such as Microsoft Hyper-V, Citrix Xen, VMWare vSphere and more to anyone anywhere using any type of operating system and hardware, including mobile devices. 2X Remote Application Server also enables administrators to automatically create clones of a specific virtual desktop and automatically create persistent rules so that the newly cloned desktops can be used as a personal desktop.
Build your own Cloud Infrastructure
Build your own secure cloud infrastructure and deliver applications and virtual desktops to all of your users with 2X Remote Application Server within just a few minutes. 2X Remote Application Server enables administrators to build private clouds and benefit from centralized operations and data, thus improving the security and management of data, applications, desktops and all servers in the cloud.
Secure and Enhanced User Mobility
Allow remote workers to access all applications and their personalized desktops hosted on the private cloud easily over a secure and encrypted channel. Published applications and virtual desktops can be accessed via the 2X Client, which can run on any operating system and mobile devices, or via the HTTPS protocol via standard HTML5 browser such as Google Chrome, Mozilla Firefox and Internet Explorer.
Increase User Mobility and Improve Productivity
Allowing remote users to access their personalized desktops and applications over a secure and encrypted channel with 2X Remote Application Server is as easy as 1 2 3. By allowing remote users secure access to published applications and their own personalized desktops, businesses can also benefit from a boost in productivity and collaboration between the users.
Network and Cloud Security
By implementing 2X Remote Application Server on the network and segregating all the servers from the network and the Internet in the private cloud, businesses will improve the security of their network and private cloud because all kinds of access can be controlled via a central location, the 2X Remote Application Server. Published applications and personalized desktops can also be accessed over an SSL layer to ensure that the data between the user and the private cloud is encrypted and is not tampered with.
Easily Scale Networks and Private Clouds to Cater to Demands
As businesses grow, so do their requirements. 2X Remote Application Server enables administrators to easily add new servers, such as Windows Remote Desktop servers and VDI Hypervisors, to be able to provide applications and virtual desktops for new employees within just minutes. With multisite support, administrators can also manage remote offices and locations via a central easy-to-use console, thus reducing the need to travel and drastically reducing costs.
Easy Management of Network, Cloud and Hardware Resources
Manage all user connections to Windows Remote Desktop Servers and Virtual Desktop Infrastructure Hypervisors from an easy-to-use centralized console and automatically distribute new connections to the least busy servers in the farm with the in-built 2X load balancer. The 2X load balancer automatically checks the usage of each server before a new connection is initiated to ensure that there are enough resources available for an application or virtual desktop to run.
Improve the Security of your Network and Private Cloud
2X Remote Application Server uses Active Directory to authenticate users before allowing them to access any published application or virtual desktop. For improved security, 2X Remote Application Server can also be integrated with third-party authentication servers, such as Safenet, or any other radius server to support two-factor authentication and one-time passwords. Therefore the 2X Remote Application Server can also be integrated within almost any type of secure network.
High Availability with Zero Effort
By centralizing all applications and virtual desktops in the private cloud, businesses are also improving access to their services. With the 2X Remote Application Server businesses can build high-availability solutions with almost no effort at all. Adding new gateways for redundancy purposes, or backup 2X Remote Application Server servers for high availability, can be done with just a few mouse clicks.
Build PCI DSS Compliant Networks
Building a PCI DSS compliant network is probably the most costly and difficult procedure that businesses have to go through. Not so with 2X Remote Application Server. With an out of the box installation of 2X Remote Application Server, businesses can now build their own private cloud, deliver applications and protect cardholder data to be PCI DSS compliant.
About 2X Software
2X Software is a global leader in virtual desktop and application delivery, remote access and cloud computing solutions.  Easy to configure and install, 2X Remote Application Server can be setup in less than 5 minutes; 2X Software's solutions offer an outstanding experience from the start. 2X Remote Application Server delivers Windows applications to any user, even remote users anywhere, irrelevant of the operating system, computer or mobile device they are using. For example, 2X Remote Application Server delivers MS Office to your IPAD users. Working remotely has never been easier. 2X Remote Application Server enables businesses to setup their own private cloud-computing environment and centrally store and secure data, allowing businesses to continually reduce their security risks. When using a private cloud, the sensitive data never leaves the datacentre and the connection between the user and server is encrypted, thus reducing any violation of your assets.  For additional information, visit www.2x.com or contact Giorgio Bonuccelli by email at Giorgio.Bonuccelli@2x.com or by phone at (+356) 2258 3800.