Enterprise Mobility with Parallels Mobile Device Management By Sean Bianco on |

0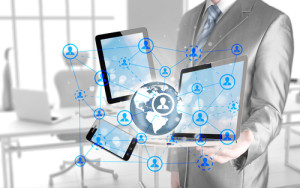 Nowadays, many employees are using mobile devices – such as smartphones or tablets – every day to get work done, often with access to company services. Enterprise mobility refers to this approach, in which more and more workers are located away from the office and need access to corporate data. With enterprise mobility, a sales manager can access the CRM from his tablet while on rounds, and an engineer can access the latest project update on his phone while traveling.
What can Parallels MDM do for You?
Enterprise mobility very often goes hand in hand with the BYOD approach; together these two concepts allow workers to become more productive and give them the freedom of using their own devices. The business advantages – increase in productivity and cost reduction – come with security risks.
Parallels Mobile Device Management enables organizations to conduct business from anywhere, while still respecting security and compliance policies. Parallels MDM for Managing Enterprise Mobility empowers organizations to embrace a BYOD policy without compromising security or user experience.
Reduce the complexity of managing different mobile employees, applications and devices through an integrated console built to simplify enterprise mobility.
Parallels MDM Enterprise Mobility Management Benefits
Allows you to manage a diverse fleet of devices from a single console
Enables secure access to corporate resources
Supports Bring Your Own Device (BYOD) policies
Separates between corporate and personal data
Supports massive deployment for single devices or groups of devices
Supports Remote Lock & Wipe for all major mobile platforms
Allows enforcement of a strong mobile device password policy
Allows tracking of your devices' current and previous locations
Supports Android and iOS devices and Windows Phone
Allows you to Whitelist or Blacklist applications installed on devices
Mass configuration for email, Exchange accounts and Wi-Fi networks
Makes it easy to create an inventory of mobile devices and SIMs
Features Office Hours to disable tracking outside working hours
Allows comprehensive reporting on device activity
Allows full remote control of the device: Files, Camera, Folders etc.
Parallels's expertise in workforce mobility and data security can help your company to benefit fully from enterprise mobility. With Parallels MDM you can extend business operations to mobile employees, keep your corporate data safe and comply with your policies. Read More