2X Software can be installed as separate components on separate machines, allowing the possibility of isolating services individually, for improved load distribution and redundancy.
Here, we have outlined an efficient way to install different components on different machines. These machines can be physical or virtual.
First, access the "2XVDS.msi" installation file from http://downloads.2x.com. Double click on the "2XVDS.msi file". If the screen shows "Open File – Security Warning", simply choose Run.
Click Next, read the License Agreement, check "I Accept the License Agreement" and click Next. Select the destination folder, and click Next again.
In the Select Installation Type section, check Custom and click Next. The following window will appear to show the list of components: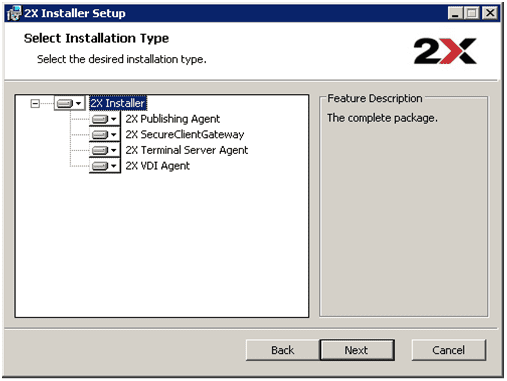 Click on image to enlarge
The  components listed are :
2X Publishing Agent: Provides load balancing of published applications and desktops – must be installed on a central machine, which can also be a terminal server.
2X SecureClientGateway: Tunnels all traffic needed by 2X applications on a single port, and provides a secure connection – must be installed on a central machine which can  be also be a terminal server.
2X Terminal Server Agent: Component which communicates with the 2X Publishing Agent  — must be installed on a terminal server.
2X VDI Agent: Component for Virtual Desktop (VDI) support.
Select the component you wish to install, click Next and then click Install.
Note:
In Version 8, gateways are automatically detected and can be pushed from the 2X Console. Publishing Agents can also be pushed from the 2X Console, but this is a procedure for creating a backup (slave)  Publishing Agent.
The 2X Console only displays settings which apply to particular installed components. Some components have no console settings, such as the terminal server agent, the settings of which can only be edited from the 2X Console where the 2X Publishing Agent is installed.
You're now ready to use and install 2X Components from different machines. To setup or open a network port, please refer to our blog entry:  Network Port Configuration.