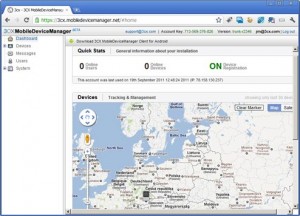 Mobile Device Management gives you the ability to manage all of your smartphones, tablets and notebook computers easily via the online user-friendly dashboard.
Find and track all your connected mobile devices in real time, viewing the routes your employees take via Google Maps. Communications between the 2X MDM servers and your devices are handled over secure SSL connections. Devices and corporate data can be protected by enforcing a strong password policy remotely, via the dashboard. By being able to remotely lock and wipe sen
sitive company data from an abused, lost or stolen device, 2X MDM adds another layer of security. When a device leaves a geographical location or when an employee spends more than their allocated call budget, you can be instantly alerted.
Send messages to any number of devices simultaneously without the associated charges, whilst being provided with instant delivery status. Managing mobile apps with 2X MDM allows you to deploy, manage, block or remove rogue apps on individual or groups of Android devices. Multiple administrators can manage your account while 2X MDM keeps detailed reports in order than you may audit all activity such as call logs, call costs, messages sent and received as well as the apps that have been installed or removed.
Have full control over your mobile devices and sign up to 2X MDM today.