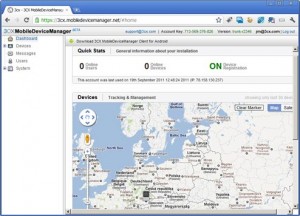 Smartphone Management, or Mobile Device Management (2X MDM), means being able to secure, monitor, manage and support smartphones. This usually involves remote distribution of applications, data and settings for all types of smartphones.
Smartphone management is growing in  popularity and importance as smartphones and applications are flooding the market. Companies can lower support costs and the security risks involved with using smartphones in business by optimizing their functionality and having full control over the data and configuration settings of all mobile devices in a network.
Features of smartphone management that lower security risks, include the ability to remotely lock or erase sensitive data from a lost mobile device. Mobile Tracking helps users to find a lost mobile. This stops confidential company data falling into the wrong hands.  Also, smartphone management includes secure communications between the smartphones and offices.
Smartphone management also means the ability to manage mobile apps that are on each device. To ensure productivity remains high, you can deploy, manage, block or remove apps on individual or groups of smartphones. This reduces the risk of malware breaching security.
Make sure you have complete control over all your mobile devices with smartphone management. Sign up for your free 2X MDM account today.