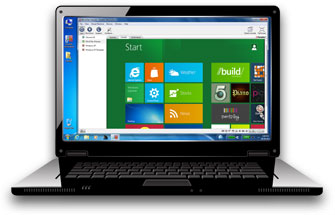 "Parallels is a developer's dream for running Windows 8 and other OSs to build and test programs efficiently. Plus, being able to control both PC and Mac Parallels VMs on multiple computers with Parallels Mobile on my iPad and iPhone from anywhere just plain rocks."
— Michael Zimmerman, Web Developer
Hardware Requirements:
Minimum 1.66 GHz x86 (32-bit) or x64 (64-bit) CPU
Minimum 2 GB of RAM (4 GB or more is recommended)
At least 350 MB of space available on the boot volume for Parallels Workstation installation
30-60 GB of available disk space for each virtual machine
DVD-ROM drive
Ethernet network adapter
Note: To run 64-bit guest operating systems, you need a processor that supports the Intel VT-x or AMD-V hardware virtualization technology.
Everyone is buzzing about Windows 8!! Parallels Workstation 6 is used by web developers, QA teams, system administrators and technologists making it easier for them to evaluate, test & demonstrate applications on a wide variety of platforms (Windows, Linux, Ubuntu & more) and configurations.
People everywhere are using Parallels Workstation 6 to do their Windows 8 testing. Just install Parallels, download and install Windows 8 in a virtual machine and you can test it without worry! Windows 8 machine gets corrupted? No worries—just delete the virtual machine and start over with just a few clicks—no impact on your PC.
Top Features:
Windows-based & Linux-based applications on the same PC without rebooting
Drag & drop, copy and paste, share files between Virtual Machines (VMs) as well as the host OS to simplify the movement of data
Quick VM isolation from the host computer
Automatically encrypt VMs to improve privacy and security
Seamlessly move between virtual environments with SmartMouse features, adaptive hypervisor, cut and paste capabilities, shared folders and Windows drag and drop capabilities
Remotely access your virtual machines using the Parallels Mobile app for iPad and iPhone, available in the AppStore
Parallels® Workstation 6
Buy Now $79.99 $49.99