Hosted PBX in a Nutshell
Hosted PBX is the fastest growing SMB service today, with the global market expected to more than double in the next five years, reaching $6 billion. The primary reason for this rapid growth is that the cloud has made it much easier to offer hosted PBX to SMBs, opening the proverbial floodgates of adoption.
Voice services are the number one IT expense for small businesses, so it should come as no surprise that mass adoption will occur rapidly. And because many small businesses have no sunk costs in existing infrastructure, the decision to move to the cloud will be that much easier for them. Read more.
Latest News
Parallels Cloud Server 6.0 Beta 2 Available Now
Join the world's leading service providers in deploying the next generation of cloud servers
We are pleased to announce the release of Parallels Cloud Server 6.0 Beta 2. By participating in our beta program, you are contributing to the latest cloud server virtualization technology, as well as ensuring the Parallels Cloud Server 6.0 release will work flawlessly in your environment.
Parallels Cloud Server transforms how you deliver the cloud. By combining Parallels Cloud Storage with Parallels Containers and Parallels Hypervisors, it dramatically improves server reliability, performance, and profitability. And because it uses the existing unused disk space on your server nodes to deliver cloud storage, it's available at a fraction of the cost of competing solutions.
New features in Beta 2 include:
Replication factor, allowing you to specify a replication factor, both per container and per virtual machine, to enhance availability for mission-critical services.
Support for Open vSwitch, providing virtual machines and containers with network connectivity.
CPU identification masks for virtual machines, allowing live migration between servers with different CPU feature sets.
Virtual machine configuration samples, enabling you to quickly and easily change the configuration of a virtual machine by applying a new configuration sample file to it—without having to manually change all its settings.
Unified command line interface, to simplify management of containers and virtual machines.
To learn more and sign up for the beta, please visit our website. We are looking forward to your participation and feedback.
---
Now Available: Parallels Plesk Panel 11 Hands-on Demo Integration Guide
To support our partners' sales of Parallels Plesk Panel 11 and add-on products, Parallels is making live, hands-on demos available for integration with your website. These demo servers, hosted by Parallels, allow end users to instantly access and explore Parallels Plesk Panel 11, both in Service Provider Mode (for web hosters) and in Power User Mode (for website owners). Hands-on demos for Parallels Plesk Panel Hoster Management Pack and Parallels Web Presence Builder are also available.
The Parallels Plesk Panel 11 Hands-on Demo Integration Guide, available on Parallels PartnerNet, provides you with multiple options for integrating these demos, including details on offering them in any of the 13 languages for which Parallels Plesk Panel 11 is currently available. The document also describes additional resources available from Parallels to help you promote and leverage these demos—including screen shots, promotional banners, and guided tours. By using these hands-on demos at the point of sale, you can increase customer satisfaction and build awareness of—and preference for—Parallels Plesk Panel 11, helping to drive additional traffic to your hosted servers.
Get the Demo Integration Guide now.
---
Now Available: Parallels Business Automation Standard 4.3 Preview
Today we are pleased to announce the availability of the preview release of Parallels Business Automation Standard 4.3, the newest version of the most proven billing and automation solution for managing and scaling small and medium Web hosting businesses.
With new PBAS 4.3 preview we deliver the following features for you to try:
Integration with Parallels Plesk Automation (PPA)
Centralized Email / Antivirus / Antispam solution (Powered by PPA)
Centralized Database solution (Powered by PPA)
Support for the latest Parallels Cloud Server 6 Beta 2
New product improvements
Please provide your feedback and suggestions at PBAS forum.
Availability
The public preview version of Parallels Business Automation Standard 4.3 is available for download immediately at www.parallelsnetwork.com. A fully supported release is expected to be delivered in Q4 2012.
Customers new to Parallels Business Automation Standard can now receive a license at no cost, and jump start their hosting business under the new Revenue Share Program (with no commission on sales up to $8,000 in monthly revenue). Service providers deploying Parallels Business Automation Standard will receive free installation and administration training, plus full automation of their online store, billing, payment processing and hosting provisioning.
---
Best Practices: Moving Virtual Storage to the Cloud
Our product marketing group recently published a new white paper on moving virtual storage to the cloud. This white paper provides guidance to hosters who are thinking of enhancing their cloud offerings by moving from traditional storage to cloud storage. It explains how to evaluate the various features offered by the large range of storage providers in the market today, so you can choose the system that's best for you.
Download this white paper from Parallels PartnerNet.
---
WHD.local Tour, Powered by Parallels, Coming to Seven European ICT Hot Spots
Parallels is once again a Diamond Sponsor for the upcoming WHD.local tour. Powered by Parallels, this tour will be making its way across Europe in November 2012. The tour kicks off in early November, beginning in Amsterdam, with six more exciting stops to follow:
November  6, 2012 – Amsterdam, Netherlands
November 13, 2012 – Budapest, Hungary
November 15, 2012 – Moscow, Russia
November 20, 2012 – Copenhagen, Denmark
November 23, 2012 – London, United Kingdom
November 27, 2012 – Madrid, Spain
November 29, 2012 – Cologne, Germany
Mark your calendar today with your preferred city. We'll provide a FREE registration code shortly.
In this Newsletter: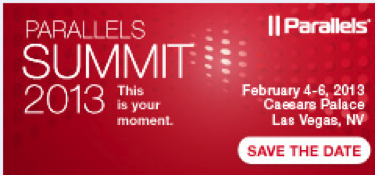 Date Change for Parallels Summit 2013
The dates for Parallels Summit 2013 have changed to February 4-6, 2013 at Caesars Palace in Las Vegas, NV.
This is one week earlier than previously announced. We have signed on several notable keynoters already and have some interesting enhancements coming in many areas for this next Parallels Summit. The registration website will be live within the next few weeks so please watch for further announcements.
Partner Spotlight
Want your company to be featured on the Parallels Cloud Facebook and Twitter sites? It's easy! Just a high-resolution picture. It could be of your data center, of you in front of your company logo, of your customer support pods, or just a general pic of your operations. Let us know who is in the picture and anything else relevant, and we'll promote it socially.
Upcoming Webinars and Events:
WHD.local Tour
Powered by Parallels, coming to Seven European ICT Hot Spots.
Parallels is once again a Diamond Sponsor of the upcoming WHD.local tour. Powered by Parallels, the tour kicks off in early November, beginning in Amsterdam.
Learn more—and add it to your calendar today.
Parallels Summit 2012 APAC
September 21-22 at Singapore
Be the first to learn which top cloud services will be adopted by SMBs in Asia Pacific at Parallels Summit 2012 APAC. Parallels SMB Cloud Insights™ reports will be available, including a new APAC regional report and updated China and India reports.
Registerfor free today using code E145789.
Cloud Services Webinar:
New Cloud Services in September: Pinnacle Cart/Chase, Mail2World, and Mozy
September 18 at 8 AM (PDT) / 11 AM (EDT) / 5 PM (CEST).
SMB Cloud Insights Webinar:
Data-Driven Marketing - How to Calculate if Your Marketing Dollars are Being Well Spent
September 25 at 8 AM (PDT) / 11 AM (EDT) / 5 PM (CEST).