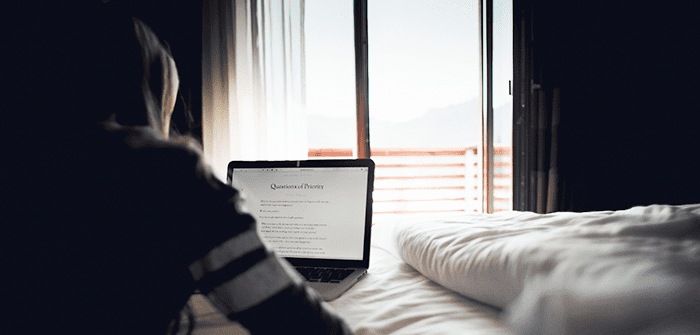 10 Resources Every Remote Worker Should Bookmark
---
It's undeniable: working remotely is the way of the future. More and more companies are investing in employees that don't work the typical 9 to 5 because it actually raises productivity while providing flexibility to employees. On top of that, increasingly sophisticated tools are emerging for the remote worker—including Parallels Access, of course!
Despite the swell in savvy new tools, even the most motivated remote workers need the occasional pick-me-up. So, if you work remotely and could use a little afternoon inspiration from time-to-time, bookmark any or all of these:
1. Time Management Ninja
Need help staying on-task? Turn to Time Management Ninja, a blog dedicated to sharing tips and tricks for staying focused. Some recent great posts:
6 Things Successful People Do on Their Lunch Break
Instead of a Meeting, Have a Conversation
2. Twitter
Whether or not you're a social media butterfly, trust me, Twitter is a resource people tend to overlook. It's not all tweets from movie stars and other celebs. Numerous brands and companies use Twitter to share news and other useful content. Additionally, you can use the List function to create customizable feeds based on content type. Twitter can get a bad rap, but the truth is, not enough people use social networks to cut down on the noise and get all the content they're looking for in one spot.
3. Buffer
Speaking of social, if you're the type to get overwhelmed by all of it out there, then check out Buffer. Buffer is an amazing social media tool that boasts a simple interface, making it easy to use for newbies. Better yet, the tool actually recommends relevant content to you in its easy-to-read format. On top of the tool itself, Buffer's blog is another useful resource with a wide range of helpful content focusing on productivity. Here are some recent posts:
Your 50 Favorite Blogs: The Most-Loved Marketing, Social Media, and Productivity Blogs of Buffer Readers
7 Popular Goal-Setting Strategies That Will Help You Achieve Great Things on Social Media
4. Lifehacker
Lifehacker is exactly what it sounds like—a one-stop-shop for ways to make your life easier and get things, well, done. Here are just a few recent posts that are relevant to the remote worker:
Are You About to Have a Really Crappy Meeting?
How to Overcome Workload Paralysis and Get Back Into Action
5. Fast Company
While there are numerous magazine sites out there with great content relevant to any and all industries, Fast Company is by far my favorite. They offer a lot of valuable articles for everyday professionals, but their penchant for highlighting beauty in life, design, and user experience makes whatever they're writing about really stand out. If that's not inspiring, I don't know what is. Here are some good recent works from FastCo:
If You Want to Live a Long Life, Get Some Friends
25 Ideas Shaping the Future of Design
6. Hubspot
Unfamiliar with Hubspot? Get familiar—this is probably my favorite blog on the list. Although Hubspot's primary audience is marketers, they offer a lot of amazing content for salespeople, designers, web developers, and more. When I have a question about something, I immediately search their blog first. Here are some great reads on productivity:
Productivity Tools and Techniques to Stop Wasting Away Your Workday
The Science of Productivity: How to Get More Done in a Day
7. LinkedIn
This one might seem obvious, but you'd be surprised how many professionals out there seem to shun their own networks. LinkedIn is a fantastic resource for networking, outreach and inspiration, particularly since they unveiled their own content-publishing platform. Read from the greats, here.
8. The Positivity Blog
If you're having one of those days and just want to abandon your home office for your couch, head to The Positivity Blog first. After reading a few posts about how to achieve work-life balance and happiness, you'll be inspired to get back to work, no matter where you are:
25 Simple Ways to Motivate Yourself
Daily Simplicity: 13 Habits That Will Make Your Life Lighter and Happier
9. Zen Habits
Zen Habits, while similar to The Positivity Blog, focuses more on eliminating chaos from your life. Remote workers often have a huge amount of temptation when they're not confined to one working space, and this blog gives a lot of tips on how to resist those temptations and accomplish what you need to get done:
The Case for Caring About Your Work
Getting Started with the Discipline Habit
10. Parallels!
Forgive us for the shameless self-promotion. Still, we can't help but highlight the Parallels blog for the bevy of content that focuses on tips and tricks for using Parallels Access and Parallels Desktop—two dream tools for any remote worker.
Hey Writers—Never Forget Anything Again with Parallels Access
What blogs or resources do you rely on when you're on-the-go? Share your picks with us in a comment, or reach out to us on Facebook or Twitter.