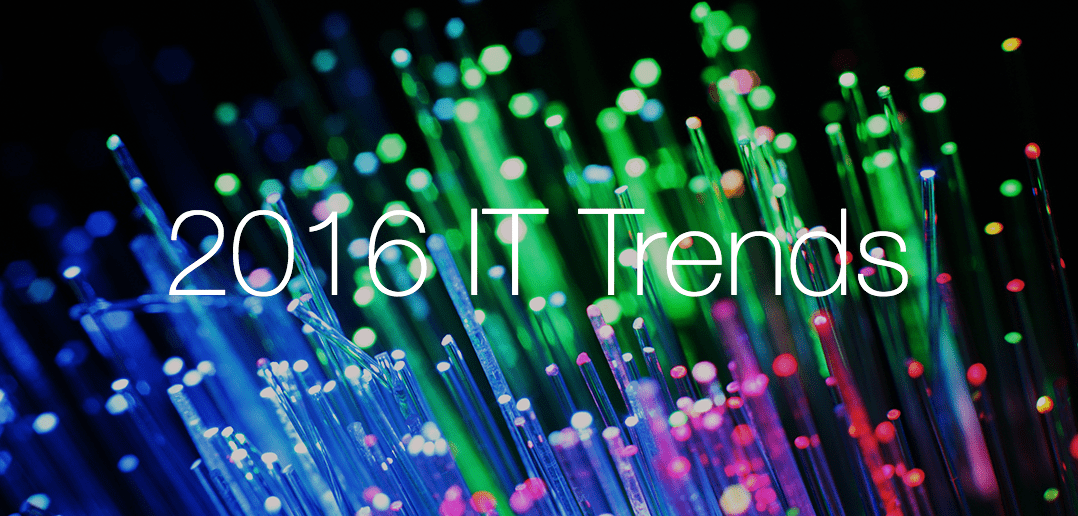 2016 IT Trends
---
2016 IT Trends That are Shaping the Future of Business
The rapid transformation of the business world from a product-driven model to a service-oriented approach brings new and innovative changes to the technology segment. In 2016 IT Trends Businesses need to proactively monitor these trends to realign their business and technological strategies to accommodate these changes. At the recent Gartner Symposium ITxpo 2015 held in October, analyst firm Gartner explored technology trends that are going to have a significant impact on key business procedures.
Digital Mesh: The Fusion of Physical and Virtual Worlds
2016 IT Trends have huge effect on smartphone. The smartphone revolution hasn't stopped yet. There has been a quick and steady rise of multiple endpoints that are used to access information through various devices and methods. Device Mesh, as they are known, include smartphones, wearables, automotive, and consumer and home electronic devices. These new sets of endpoints force an organization to find effective solutions to provide a consistent user experience beyond the limitations of platforms and devices. Users require seamless access to the same set of tools regardless of the location and the technology in use.
"The ambient user experience preserves continuity across boundaries of device mesh, time and space."¹
The expectation is to merge the operations on virtual and physical devices with the ambient experience.
"Designing mobile apps remains an important strategic focus for the enterprise, however, the leading edge of that design is focused on providing an experience that flows across and exploits different devices, including IoT sensors, common objects such as automobiles, or even factories. Designing these advanced experiences will be a major differentiator for independent software vendors (ISVs) and enterprises alike by 2018."²
Traditional computers, smartphones, tablets, IoT sensors, and electronic objects are now able to connect and interact, creating an infrastructure that contains physical and digital devices, and turning the device mesh into a digital mesh. With the advent of device mesh, businesses are concentrating on delivering a rich and consistent usability experience across multiple devices. The different gestures and commands currently required to perform the same task on different platforms will eventually converge, providing a single way to operate anytime.
Mesh App: The New Application Delivery
The Device Mesh is another 2016 IT Trends. Software developers need to review the traditional client—server system to match the evolution of the market.  The three-tier application architecture based on the separation of presentation, processing, and data is no longer adequate to create distributed, agile, and scalable deployments. Redesigning the process around software-defined application services will enable web-scale performance and provide on-premises and cloud architecture flexibility.
The software container is the key technology that provides application teams with the agility they need to face device mesh challenges. Virtualization allows multiple isolated user-space instances and supports users with the look and feel of a native experience on any platform. Once mobile and IoT enter the game, the software needs to operate efficiently on the move and to interact with a large range of electronics, sensors, and network connectivity. The developers must define new service architectures to support back-end scalability and front-end device mesh experiences.
The Case of Business Algorithms
The high influx of physical and digital endpoints brings huge volumes of data to the datacenter. In addition to audio, video, and text, sensory and contextual information is analyzed by advanced semantic tools such as graph databases. The new 2016 IT trends in this segment is deep neural nets (DNNs), where high-end systems automatically manage this information. DNNs create a system that takes the information received and can autonomously learn, interpret, and react independently, overcoming the limits of the traditional computing.
As physical devices such as sensors record information, the data is stored and proactively analyzed to initiate desired actions. The fusion of conventional and unconventional data delivers clear and highly critical insights into the business performance of organizations. Businesses that effectively harness this data and realign their strategies will stay ahead of the competition.
Internet of Things Platforms
The Internet of Things (IoT) allows objects to be sensed and controlled remotely across existing network infrastructure, creating opportunities for more direct integration between the physical world and computer-based systems, and resulting in improved efficiency, accuracy, and economic benefit. IoT is another important element that influences the mesh app and service architecture.
For instance, a datacenter requires a thermal management system, where heat sensors monitor the temperature levels in the server room. This is when IoT comes into the picture. When each environmental device is assigned an IP address, it is digitally controlled by a comprehensive IT management solution. Similarly, using a simple mobile phone, you can control home appliances such as the refrigerator, AC, or television. An effective IT team needs to create a platform to build, manage, and secure elements in IoT while also providing an ambient user experience. In this multi-OS and multi-device environment, businesses that implement an IoT platform that effectively manages digital mesh and service apps will remain competitive.
Secure Management of the Digital Mesh
With physical and digital endpoints working together, business networks invite security threats. Businesses need an adaptive security architecture that can secure the IoT while allowing every device to freely perform its functions. At the same time, managing the influx of enormous data is not possible with classic computing. Neuromorphic architectures that are highly efficient and ultra-powered are needed. These neuromorphic architectures use a new technology called Field-programmable Gate Arrays (FPGAs) to work at teraflop speeds. Businesses are now looking at a comprehensive management system that handles apps, services, devices, and processes from a single and centralized dashboard.
References
¹ Gartner Identifies the Top 10 Strategic Technology Trends for 2016 | Gartner
² David W. Cearley VP & Gartner Fellow | Gartner