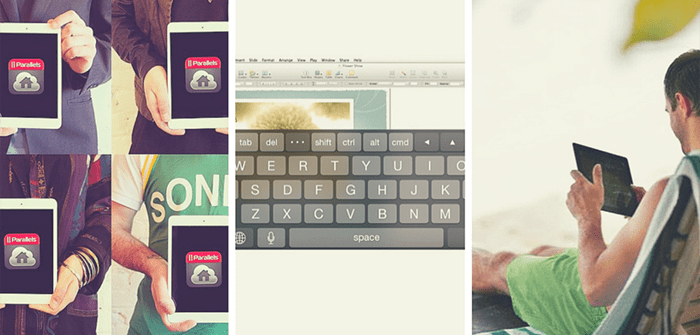 5 Reasons We Love Parallels Access (And You Will, Too)
---
We love Parallels® Access™—and not just because it's our product. On a personal note, I love Parallels Access because of the freedom it's given me away from my laptop. Here are a few other awesome reasons to try the app:
1. It's light.
Because Parallels Access lives on my iPad and iPhone (both are always with me), it's pretty much weightless! I've been able to leave the weighty backpack behind and opt for a smaller, more fashion-forward purse—because it is all about fashion. Très chic.
2. I can work from wherever I want.
Back in March, I opted for Parallels Access as my trusty companion over spring break. The small size of my iPad was perfect for the cramped seat trays the airplanes have. 
3. Writing is a breeze.
As embarrassing as it is, I type faster on my phone than my laptop. And after a long day all I want to do is go to bed. But as a student and an intern, early bedtimes are few and far between. Thankfully, armed with Parallels Access, I can write blogs, social posts and more on my smartphone—in bed!
4. The gestures feel natural.
Parallels Access has all of the usual gestures that have come to feel natural when using a smartphone. You can scroll, click, use a precise cursor, drag and drop, zoom in and out, and copy and paste with ease.
5. You can try it for free!
Yup—you can try Parallels Access free, right now. Just head here to start your free trial. This way, you can try the app before you commit to a subscription. We're pretty convinced you'll fall in love, too.
You tell us—why do you love Parallels Access?