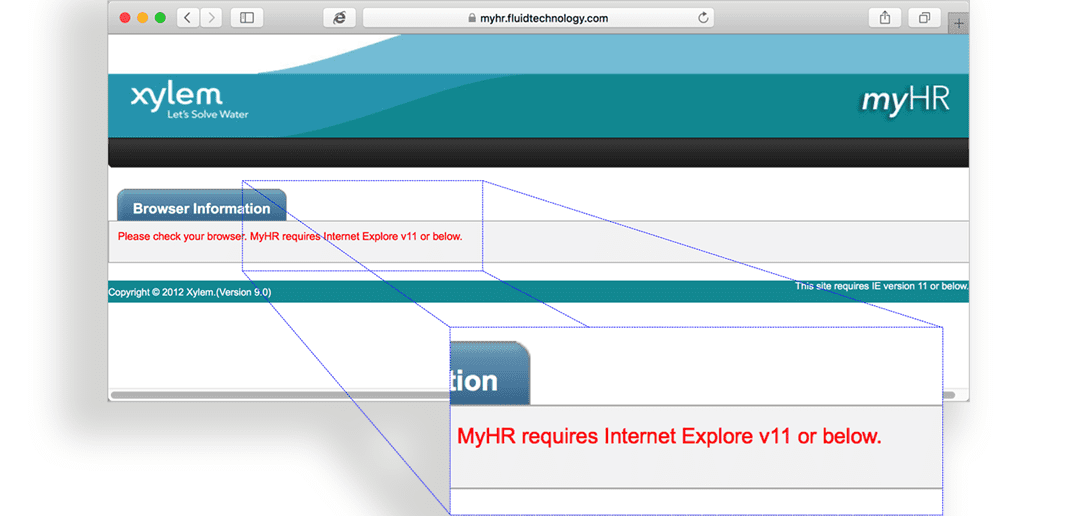 Comparing Parallels Desktop to Boot Camp: Opening a web page in IE
---
Sometimes you encounter a website that requires Internet Explorer (IE), as in Figure 1. This blog post will compare opening IE for such a website on your Mac using Parallels Desktop 12, and using Boot Camp. Both alternatives here use a 2012 MacBook Pro running macOS Sierra (10.12.1) and Windows 10.
Bottom Line: While the videos and screenshots below document both alternatives in detail, here are the final results of the comparison:
Parallels Desktop 12

(Parallels Desktop already launched and Windows 10 in Coherence view)

Boot Camp
Step
Time (seconds)
Step
Time (seconds)
Click on the "Open in IE" button in the Safari title bar
0
Write down the URL of the site
2
Page displayed in IE
4.5
Reboot Mac into Boot Camp (Windows 10)
91
Launch IE
4
Type in the URL
15
Page displayed in IE
4
Total
4.5
Total
116
25 Times Longer
Using Parallels Desktop 12
For years now, Parallels Desktop has contained a Safari plug-in to make precisely this task easy. You can install this plug-in into Safari from the Web & Email options in the Configurations dialog for your virtual machine (Figure 2).
Then, whenever you encounter a website that requires IE or a page that just doesn't render well in Safari, just click on this button in the Safari window title bar, as shown in the video (Figure 3).
This button is pretty simple to use, and very quick—4.5 seconds in my test.
Using Boot Camp
If you want to use Windows in Boot Camp to view a website in IE, there are more steps.
Copy the URL. There is no easy way to copy and paste the URL, since to use Boot Camp, you have to shut down macOS and then boot in Windows. So, you are pretty much left with writing down the URL on a scrap of paper. Thank goodness this URL is short!
Shut down Mac and boot Windows. Then you have to reboot your Mac. There are several ways to do this, but I usually set this in the Startup Disk pane in the Mac's System Preferences window (Figure 4).
Launch IE and then Type in the URL.
This is all shown in this video:

I hope this comparison assists you in choosing the method that works best for you. Please let us know of your experiences in the comments, or reach out to us on Facebook or Twitter.
Need Microsoft Windows operating system? Buy directly below:
Try Parallels Desktop for free for 14 days!