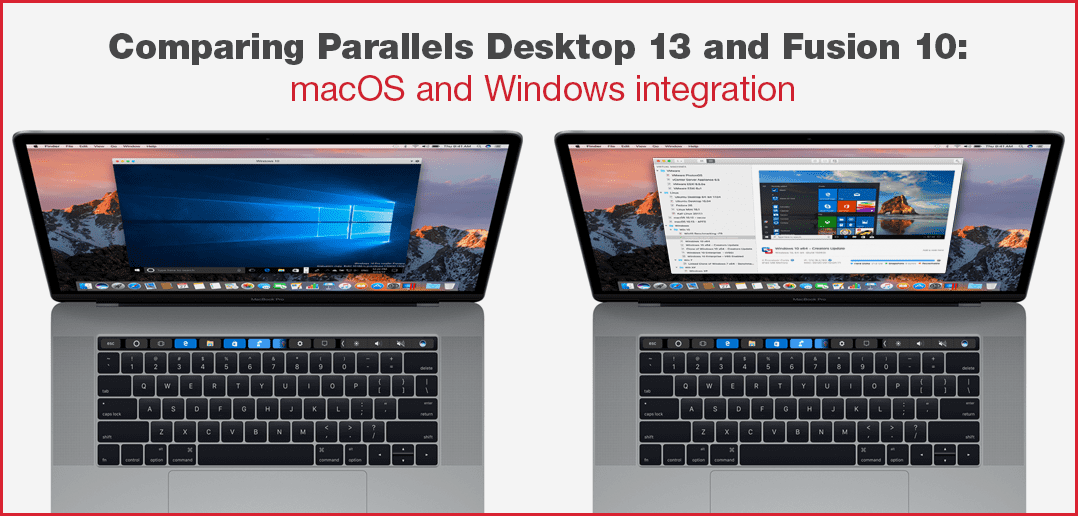 Comparing Parallels Desktop 13 and Fusion 10: macOS and Windows Integration
Over 600 man-years of development have been invested in Parallels Desktop® for Mac. Our latest product, Parallels Desktop 13, is the culmination of all this effort to run Windows on Mac®.
Utilizing a virtual machine for your end-user goals is a great way to save time, money, and space. Since 2006, Parallels Desktop has been the #1 choice of millions of Mac users worldwide over any other virtualization option to run Windows on your Mac. If you're ready to get started with the best choice for running Windows, Linux, and other popular OSes on your Mac without rebooting, download a free 14-day trial now! If you need more convincing, read onward to learn more about comparing macOS integration in Parallels Desktop to our competitors.
Within a virtual machine, the ability for macOS® and Windows to be used by one another immensely changes how productive you are. You're able to do (almost) anything from simple tasks to development across platforms. The ability to copy and paste across operating systems or share between iCloud or OneDrive allows for you to never be held back. Sharing between the home folders on your computer allows for you to access files from either system via Cortana or Siri! One of our favorite features is the Apple Touch Bar. With Parallels Desktop, you can now use the Touch Bar with your Microsoft Windows programs such as Microsoft Office, Internet Explorer, and or even customize the Touch Bar for your needs! Parallels Desktop has brought the best of both Mac and Windows to users to provide an unparalleled experience for over 10+ years to beat out the competition.
Parallels Desktop 13 has the following features that are not present in competitor, VMware® Fusion 10. Parallels Desktop excels when it comes to macOS® and Windows integration.
Features that provide rich macOS integration:
• Windows 10 People Bar support in macOS Dock

• Touch Bar for Windows and Windows applications

• Touch ID® to unlock preferences/configuration
• "Picture-in-Picture" view mode when running your virtual machines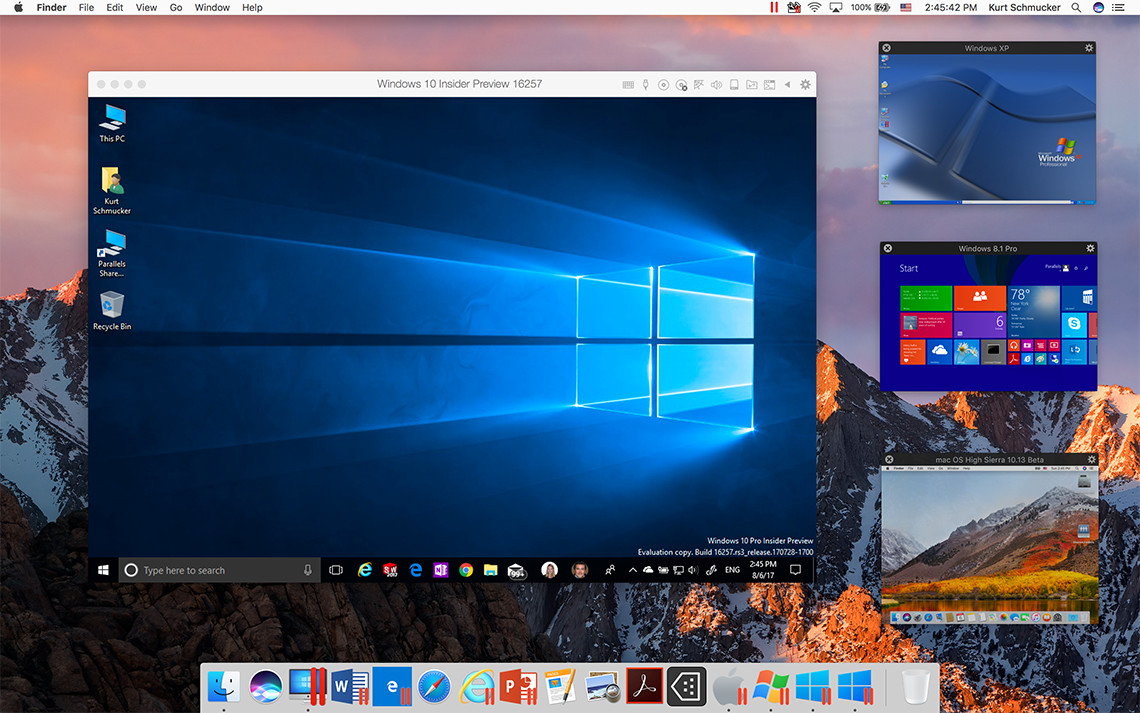 • Popular cloud folders sharing between macOS and Windows, like Dropbox, Box, and SharePoint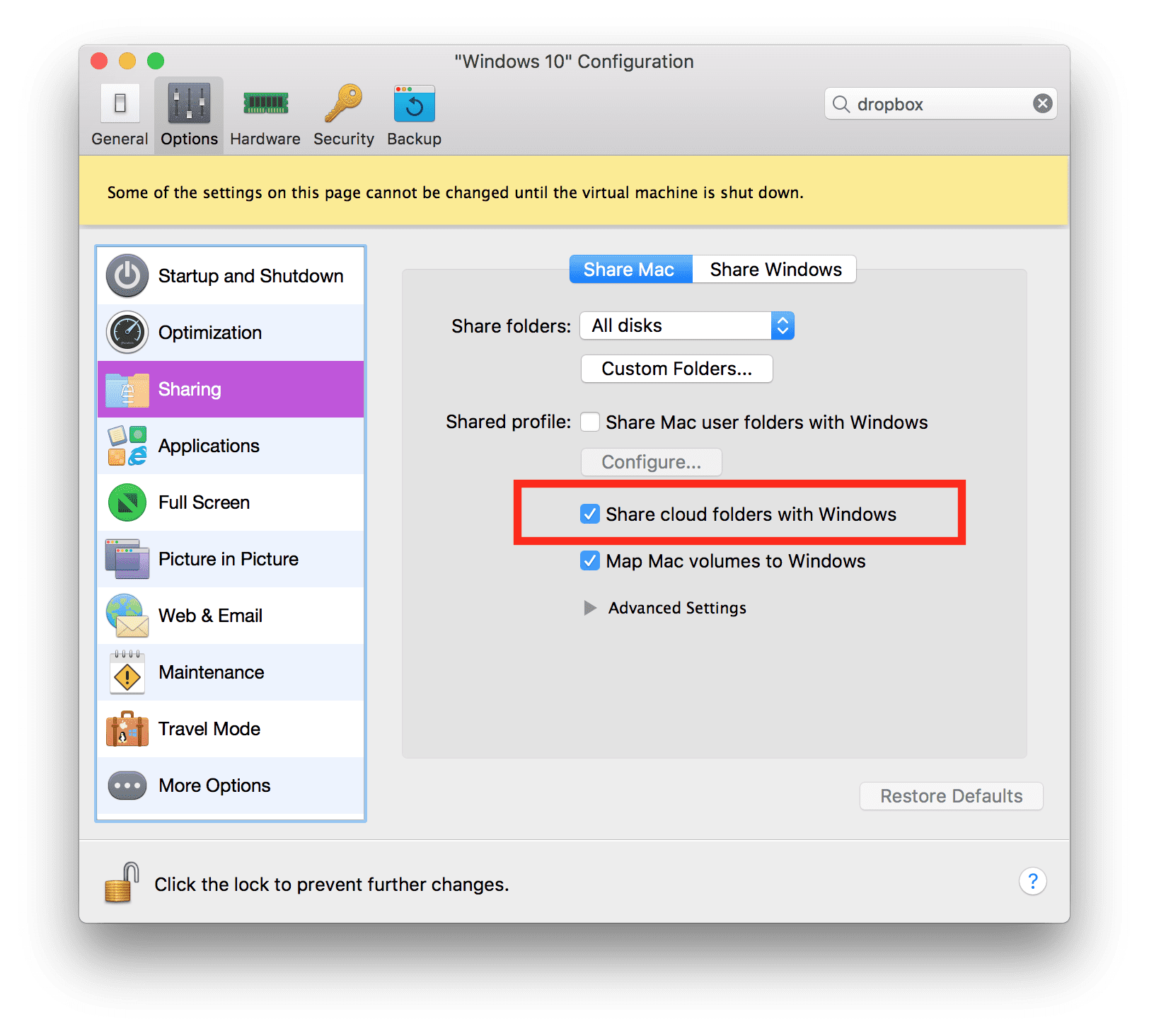 • Open in File Explorer right from Finder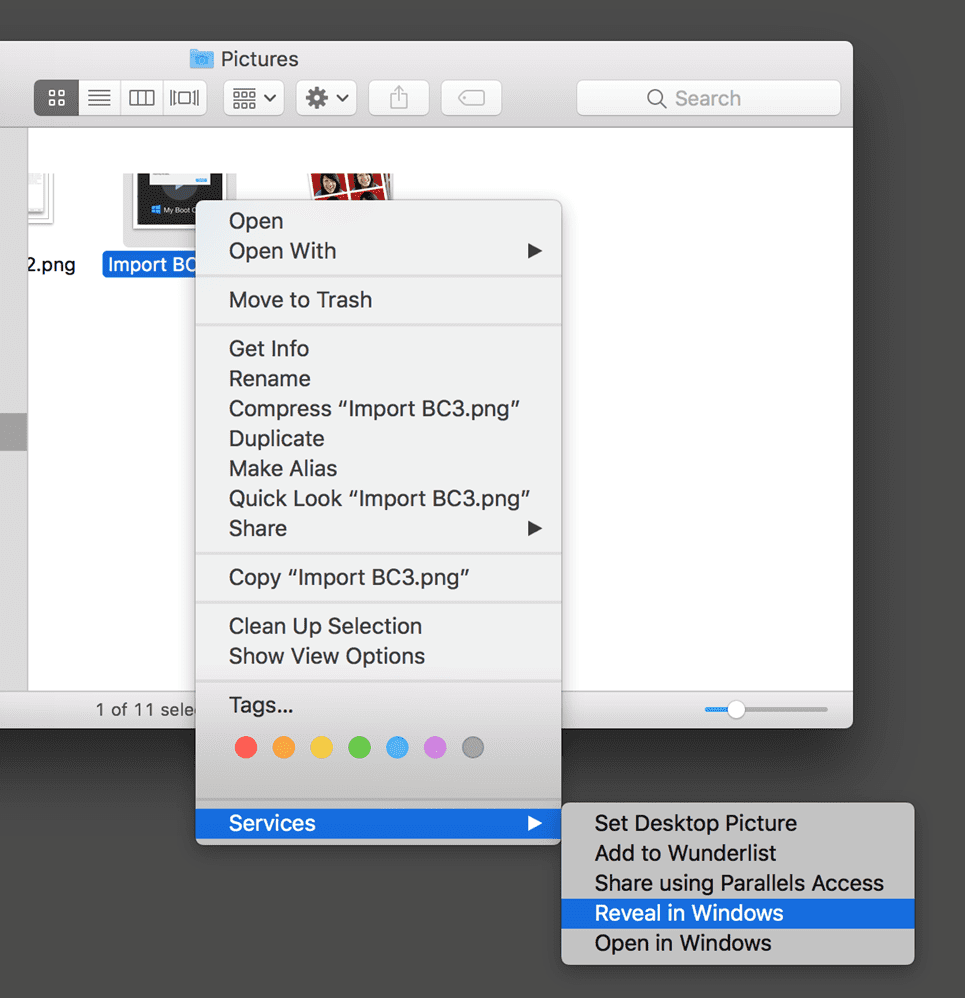 • Sharing Mac Internet accounts in Windows
• macOS Dictionary support
• macOS Quick Look support in Windows (just select your file and press the spacebar to Quick Look in Windows)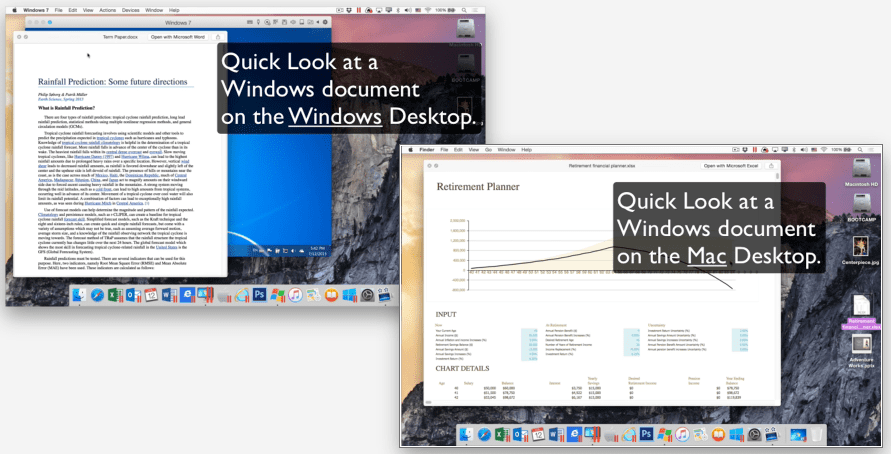 • Force Touch trackpad support (Quick Look, Dictionary, Reminders, and more)
• Native Windows Start menu right from virtual machine icon in macOS Dock (By default, VMware Fusion shows its own "Start menu" upon clicking the virtual machine icon within Unity. Fusion can do it, but in two steps.)
• Outlook and Windows notifications are shown in macOS Notification Center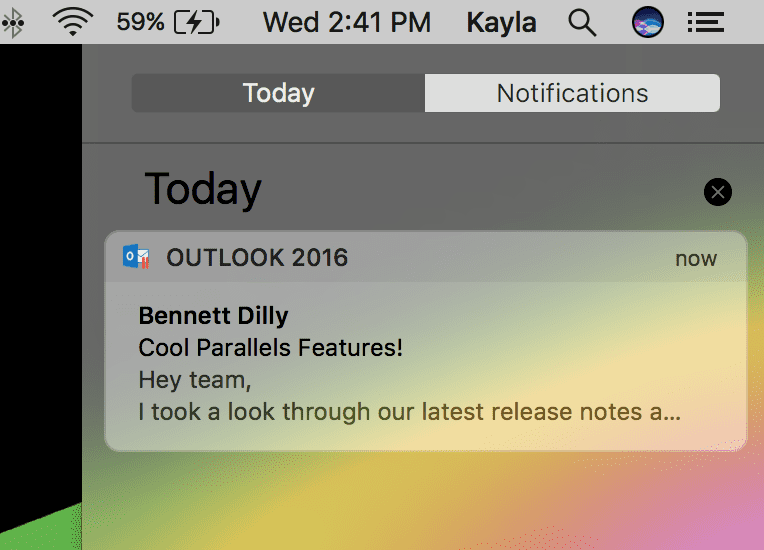 • Parallels Desktop will show a specific number of unread emails on the Microsoft Outlook icon in the macOS Dock. Fusion does show a red bubble if there are unread emails, but not a number.
• Bouncing Dock icon for Outlook reminders and other Windows applications
• "New" in the context menu of Microsoft Office applications in the Dock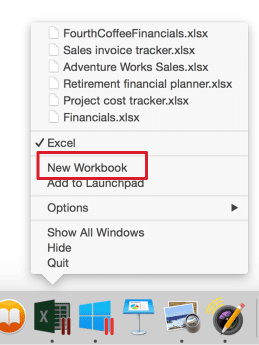 • Recent items in the context menu of Windows applications in the Dock
• "Hey Cortana" brings the Cortana window to the foreground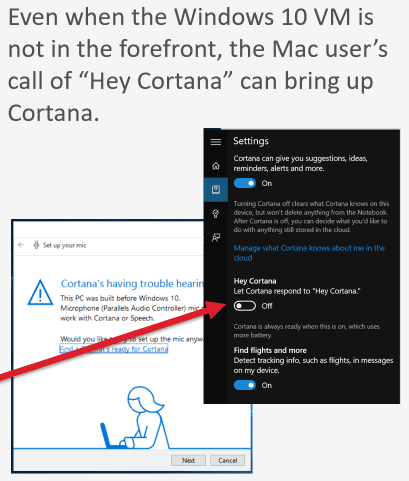 • Additional actions to virtual machine application icons on macOS Dock, such as do not disturb, hide others, always start in full screen, or keep Mac awake.
• Shared list of recent files to be used in File Explorer windows and Outlook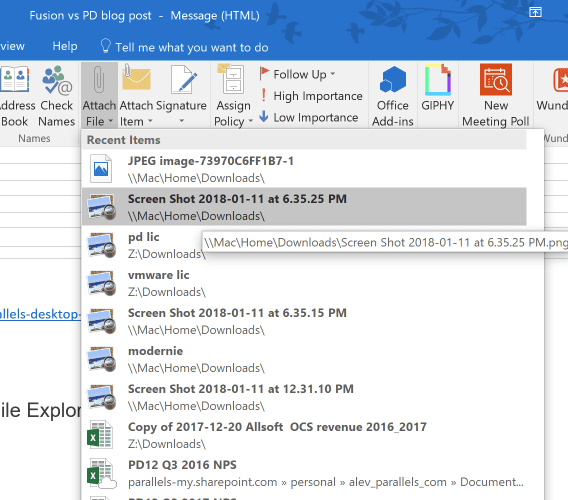 • Store Internet Explorer and Edge passwords in macOS Keychain
• New virtual machines default folder is on local disk (user's home folder), while Fusion creates a virtual machine in Documents
• Virtual machine resources widget in the Notifications Center
• iCloud Drive sharing with Windows virtual machines
• Call with iPhone by right-clicking the phone number in Internet Explorer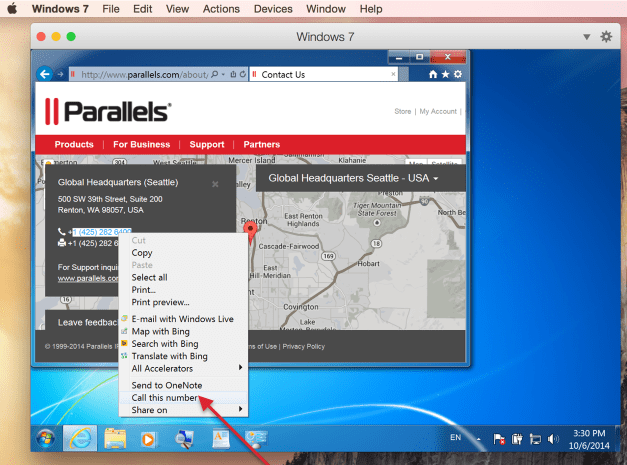 • Share with Apple iMessage®/SMS from Windows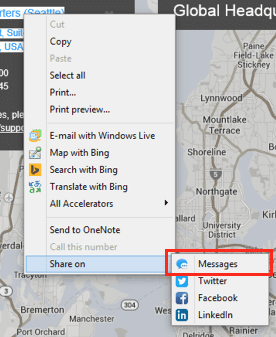 • plugin for macOS Sierra for optimized storage feature
• macOS Split View support – See Windows 10 in Parallels Desktop and Safari side by side: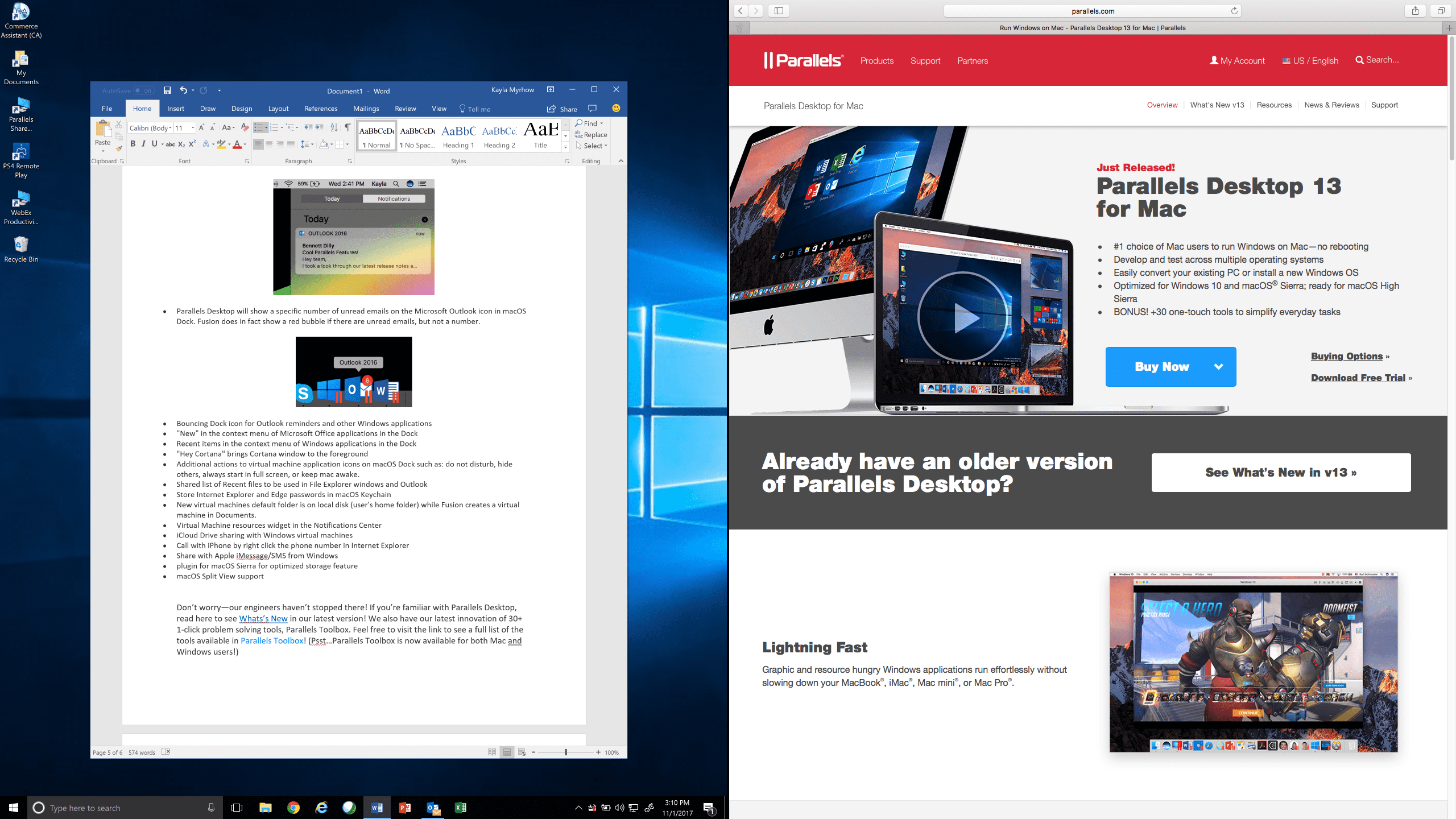 You just learned how Parallels Desktop 13 compares to VMware Fusion 10 in the realm of macOS integration. Need to research more about the comparison before you try or switch to Parallels Desktop? Check out how Parallels Desktop 13 compares to VMware Fusion 10 in terms of ease of use and getting started.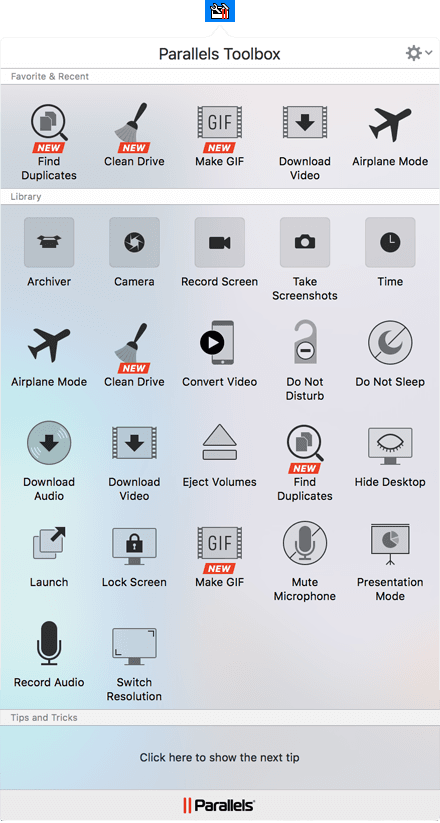 Don't worry—our engineers haven't stopped there! Our latest innovation: 30+ 1-click problem-solving tools, Parallels® Toolbox.
Embarrass-proof your presentations with Presentation Mode – avoid those slightly NSFW notifications or text messages – all become disabled with a single-click while you are presenting! Keep your computer clean and running at max performance with Clean Drive or Find Duplicates to free up extra space. Download Video to save your favorite video from YouTube or Facebook. Take screenshots and screen recordings with a single click for those quick shortcuts you need.
30+ easy to use tools packaged within a simple interface, Parallels Toolbox is the ultimate all-in-one app you need. And the best thing? You no longer need to buy individual task based apps to get your team's job done! Get this all-in-one 30+ tool suite at a fraction of the cost with new tools regularly added. See a full list of the tools available.
Continued relentless innovation is the secret behind Parallels Desktop being the best option for running Windows on Mac. For over 11 years, our development teams have solved everyday user challenges, empowered developers, and improved management and security for IT professionals.
Make the most out of your Mac by running Windows with Parallels Desktop. Download a free 14-day trial and get started today. If you're ready to get started and need a Microsoft Windows OS, buy directly below: