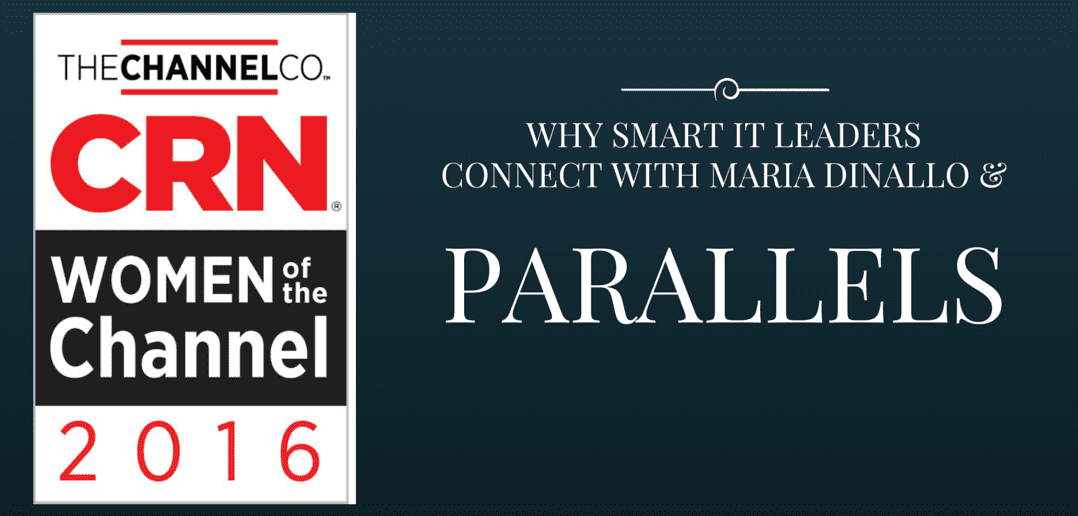 CRN's "Power 100: The Most Influential Women of the Channel 2016", Why Smart IT Leaders Connect with Maria Dinallo and Parallels
CRN's "Power 100: The Most Influential Women of the Channel 2016", Why Smart IT Leaders Connect with Maria Dinallo and Parallels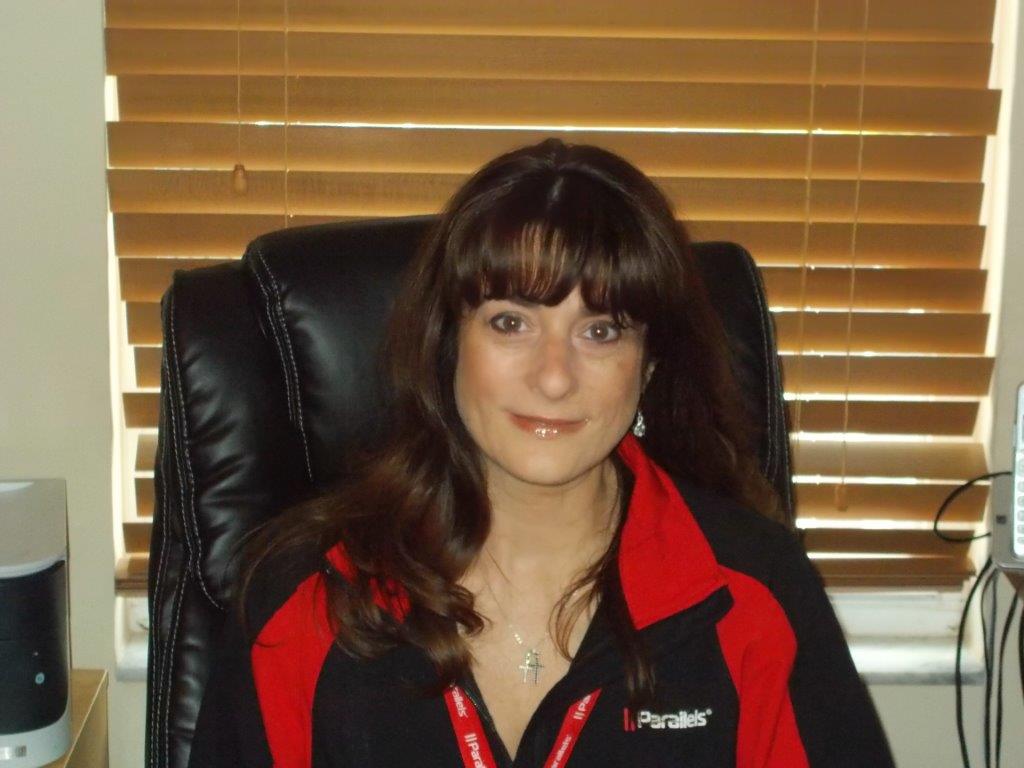 Maria Dinallo, Parallels' Senior Director of Channel Sales has been honored in CRN's "Power 100: The Most Influential Women of the Channel 2016". CRN Power 100 honorees were selected on the basis of their professional accomplishments, demonstrated expertise and ongoing dedication to the IT channel.  CRN published an interview with Maria about her work (and why Journey's "Don't Stop Believin'" is her favorite song), as well as how she helped advance Parallels channel business over the past year. We dug a little deeper, and asked Maria to share insights about how she and Parallels' sales team have fun helping IT leaders discover easy-to-use and effective solutions that IT admins and employees love, increase productivity and save money.
Q: You've solved a lot of IT requirements and challenges during the past nine years you've been with Parallels. What is your favorite customer story? 
A: Higher education institutions are challenged to support both PCs and Macs. I was excited when a university contacted me about their interest in providing Parallels Desktop for Mac to their faculty. Education is important to me, so I really enjoyed understanding the university's use case requirements. After multiple discussions, it was clear that the lives of the IT team and faculty would be a lot simpler if they implemented a one vendor solution with Parallels, which would also save them a significant amount of money. We worked with the university and IT team to meet the needs of different audiences, from IT admins to faculty, staff and students, with a tailored Parallels solutions portfolio.
It makes me happy that we transformed a simple request for one product into a tailored solution that saved a university time and money, simplified life for the IT department, and now faculty and students can simply use Macs to simultaneously run the Windows apps they need. Additionally, IT admins easily manage Macs using their existing Microsoft SCCM infrastructure and our Parallels Mac Management plugin, which means they didn't waste money on a separate new infrastructure for Mac management and IT can manage Macs and PCs though one pane of glass. Today faculty and students simply access and run virtual Windows applications and desktops that IT gives them access to from any device – PC, Mac, Android tablet or phone, iPad, iPhone, Chromebook and Linux – anytime, anywhere. The IT staff and university were so grateful and appreciative that we were able to work with them to provide solutions to their on-going challenges.
Q: What was it that brought you to Parallels as an employee? What was the moment that made you realize this company and its solutions were going somewhere special?
A: In 2006 I worked for Novell and had the opportunity to join Parallels to build the channel strategy as its eighth employee in the United States. I was intrigued by Parallels Desktop for Mac and felt the market opportunity and timing was perfect for this product. It was a big leap of faith for me! Enabling Mac users to run Windows on their Mac without rebooting was a game changer in the market then, because as Mac adoption became a reality and Mac users needed to run Windows apps. What an incredible opportunity. Through focus, a lot of hard work and discipline, we built our channel from basically zero, and today Parallels Desktop for Mac is the No. 1-selling solution in the world for running Windows on a Mac. We've maintained our 100% channel strategy since the day I started and I am very proud of this accomplishment.
Q: What is most exciting about working for Parallels today?
A: I love that Parallels keeps innovating and patenting new technology solutions that make it simple for customers to use and access the applications and files they need on any device or operating system. Demand and market opportunity for Parallels solutions continues to grow worldwide. Here are some indicators and examples from 2016:
According to Robert Young, IDC's Research Director, IT Service Management and Client Virtualization Software, "IT departments today are increasingly seeking simpler and more cost-effective ways to deliver virtual applications and data to users on any device with on-location and device-specific features and security configurations. The availability of such a useful and cost effective solution has the potential to disrupt the market by enabling enterprises, SMBs, VARs and MSPs to efficiently support more devices, while realizing ongoing cost savings from streamlined IT support, extended hardware life, and increased productivity."
A lot of IT leaders who use Citrix XenApp and VMWare Horizon have been contacting Parallels to learn about a simpler and more affordable alternative, Parallels Remote Application Server (Parallels RAS). TechTarget recently interviewed IDC's Young, a Managed Service Provider (MSP) and its end-customers and published this revealing article about experiences of switching to Parallels RAS. We love helping MSPs like Blue Sea Tech use Parallels solutions to delight its customers and increase retention while growing significant new and recurring revenue streams. Blue Sea Tech has been honored as an Inc. 500 Fastest Growing Private Companies winner for three consecutive years.
Q: How have you personally helped advance Parallels channel business over the past year?
A: As the Senior Director of Channel Sales in a company that is 100% invested in the channel, I consistently look for opportunities to further our channel partnerships. Beyond the obvious, directing the sales and channel teams in our pursuit of new business and more effective engagement with the channel, in 2015 it was a priority to support the aggressive marketing we adopted as a company, increasing the visibility of our products while supporting the channel according to our company's strategy. As a result, 2015 was a year of growth and I am very proud of what our team accomplished.
Q: What are your goals for Parallels channel business over the next year?

A: In 2016, our priorities are consolidation and optimization. Following our success in expanding our channel last year and the success we experienced, our efforts in 2016 will be focused on three priorities: enabling our partners for growth, empowering our channel, and increasing the depth of our existing partnerships by launching our 2016 Global Partner Program later this year. 
Q: What does mentorship mean to you, and what do you try to accomplish with your mentees?
A: I take the role of mentorship very personally.  I have been blessed over the years with both male and female mentors but to be honest, my mentors have been predominantly male. I wanted to change this experience for the women of Parallels.  My goal is to ensure I make myself available to provide guidance and act as a sounding board regardless of role or title and continue to provide mentorship whether they remain with Parallels or leave the company to pursue other opportunities.
Q: What advice would you give to young women aspiring to succeed in the workplace
A: Your success is up to you. Set your professional goals, both short and long term with a specific timeline. Surround yourself with both women and men who can act as an advisor and mentor to help you meet your goals and aspirations. And most importantly, be ready to adjust your goals as opportunities present themselves.
Q: What is your favorite song and why is it meaningful to you?
A: I know it sounds cliche but "Don't Stop Believin'" by Journey has been a favorite of mine since college. Throughout my adult life, both professionally and personally it's taken on different context at different times but always appropriate as a reminder to believe in myself first and foremost.
Q: What tips do you have on how to find work/life balance?
A: As a wife and mother, I constantly work at balancing my professional life with my personal life by holding myself accountable each and every day to ensure I allocate time not only for work but also for myself and my family. Self-discipline has been the key for me to strike the perfect balance.
Q: What is the best way for people to contact you and Parallels sales team members to discuss their IT needs and Parallels solutions?
A: Parallels Channel Team and I look forward to talking with IT leaders and tailoring cross platform solutions to meet their needs. Call or email us today so we can help you discover and try solutions that support your use cases, and quickly get you up and running.
Maria Dinallo
Sr. Director, Channel Sales
Email: mdinallo@parallels.com
Direct 727-376-4475
Parallels Channel Team
Email:  channelsalesna@parallels.com
Direct: 425-282-6090
Parallels Partner Program:  www.parallels.com/partners