Customer Story: Draganview on Mac
---
The following post is a customer story submitted to our Advocacy program by Kevin Molloy from Murfreesboro, Tennessee. We are incredibly thankful to Kevin for sharing his experience with us and allowing us to share it with you. Read on for Kevin's experience choosing and using Parallels Desktop.
---
Owner and operator of Tactical Management (an American small business), Kevin flies an X6 remote-controlled model helicopter for use in disaster response, search and rescue, aerial surveillance, security, aerial photo and video documentation, inspections, research, biological surveys, nature photography, conservation, etc. The aircraft is a multi-rotor carbon fiber helicopter measuring 30" across.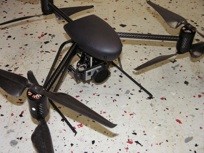 A portable ground station provides live data about the flight with a Heads Up Display (HUD) with a real-time video feed that is overlaid with flight data, GPS position information and geocoding of photos through Draganview Software, from which the live feed can be fed to an external laptop/monitor. The problem? Draganview Software is not compatible with Mac.
Kevin has been using Mac OS since 1986, but when he and his son were setting up their business in 2010, in order to accommodate the Draganview Software (on which their company is based), they were forced to use a PC. They bought a PC just to run the software and it was trouble right from the beginning. The speed and integration of the PC was terrible and having to carry two computers everywhere they went was a nightmare—so they threw out the PowerPC and went back to the Mac…this time with Parallels Desktop installed.

Kevin has now been a Parallels Desktop user since 2007. He does everything on the Mac, but estimates that he uses Parallels Desktop two to three times per week. The only use for Parallels Desktop is for the Draganview Software, but it is crucial to his small business. He likes Parallels Desktop because it is so reliable and easy—even initially, he was able to set everything up himself and never needed a support tech.
You can learn more about Kevin and his company, Tactical Management, at his website. You can also watch him in action here.
---
Thanks again, Kevin, for sharing your story! If you're interested in sharing yours with us or becoming a Parallels Advocate, head here. You can also reach out to us in a comment, below, or on Facebook or Twitter.