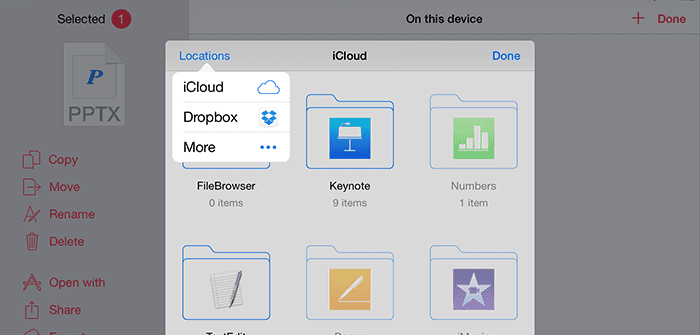 Forget Something at Home or the Office? Parallels Access Can Help: Part 1
---
Tell me if any of these situations sound familiar:
Scenario 1: You finished up a presentation at home last night, but you didn't bring a copy to the office.
Scenario 2: In your rush to get to the airport, you forgot about a colleague's request to put an important file into the team's shared folder on Dropbox.
Scenario 3: You're pretty sure the image your colleague needs is on your computer at home, but you have no idea where it's located on that computer. And, of course, she needs it right now.
These have certainly all happened to me—and with increasing frequency as I get older and older.
To help cure these common ills, I'll show you how the new Universal File Manager in Parallels Access 2.5 can assist you in each scenario. The File Manager is available in the iOS client for Parallels Access, so I'll be using my iPad to demonstrate these tasks.
In today's post, we'll be covering Scenario 1. Stay tuned for posts covering Scenarios 2 and 3 in this series in the following weeks.
Scenario 1: You left a file behind at home.
Here, with screenshots, is how to use Parallels Access to find a file on your home computer while you're still at work or on the road.
Connect to your home computer with Parallels Access, then click on the folder icon to use the Universal File Manager (Fig. 1).
Navigate to the folder where you stored the file by using the directory list on the left and the icons in the main view in the center of the screen (Fig. 2).
You now have several options:
Copy the file to your iPad.
Move the file to your preferred cloud storage (Dropbox, OneDrive, Google Drive, etc.).
Email the file to yourself.
Let's copy the file to your iPad by following these steps:
Navigate to the location where Parallels Access stores files locally on your iPad.
Paste the file (Fig. 4).
Now that the file is on your iPad, you can copy it to any other app that accepts the same file type. Let's assume you want to edit the file in PowerPoint for iPad.
Tap on the file (Fig. 5), then tap on Export.
Change from iCloud to Dropbox, since PowerPoint for iPad cannot (as of this writing) access iCloud (Fig. 6).
Scroll to the folder where you want to place the file—in this case, Team_Shared_Folder (Fig. 7).
Tap on "Save to 'Team_Shared_Folder'" at the bottom of the dialog (Fig. 8).
Launch PowerPoint for iPad, then open the Team_Shared_Folder on Dropbox (Fig. 9).
Tap on the file to download it from Dropbox, then open it (Fig. 10).
Well, that was how to use the new Universal File Manager in Parallels Access 2.5 for Scenario 1—accidentally leaving your file you need at home. Don't forget to stay tuned for Scenarios 2 and 3 in the series, coming soon.
Have you tried Parallels Access 2.5 yet? Tell us in a comment, or feel free to reach out to us on Facebook or Twitter!