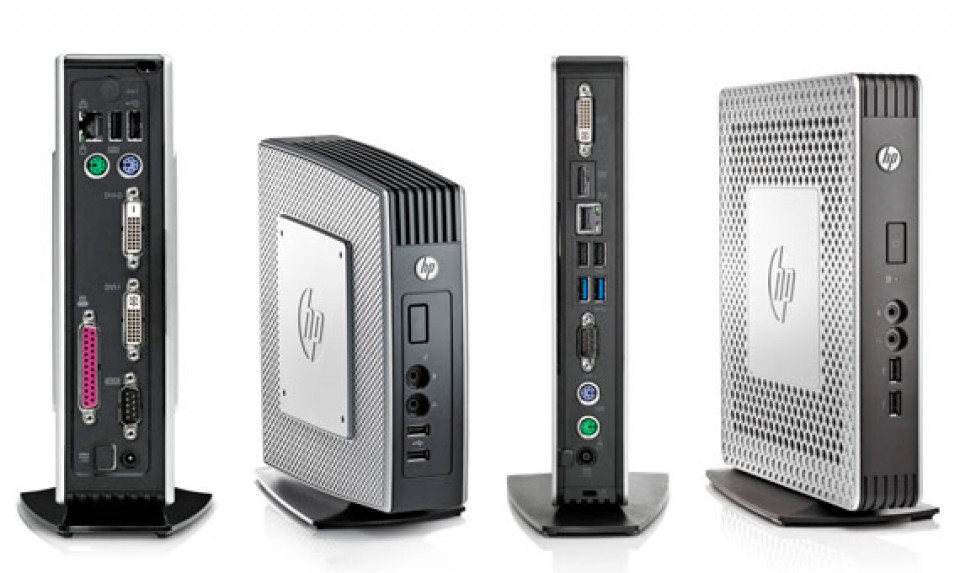 Get the most out of HP Thin Clients
HP Thin Client: While change is constant in the IT world, the advent of cloud computing has expedited the innovation cycle. Virtualization has become an inevitable option for businesses of all sizes. Virtualized infrastructure delivers improved performance, mobilizes solutions, and contributes to increased business revenues. One of the biggest advantages of the cloud computing revolution is optimized infrastructure costs. Thin client technology adds to this advantage.
How do thin clients make a difference?
In a virtualization desktop infrastructure environment, resources are centrally hosted on a server. All client devices in the network access the server through client software. They run an OS locally and use a flash drive instead of a dedicated hard drive. Because all the processing is done on the server side, the client device doesn't require beefed up hardware specs. Although thin clients do not have dedicated computing resources, they provide the same native experience to remote users. With less hardware required, thin client technology significantly reduces IT costs for the system as a whole.
How do HP Thin Clients make a difference?
HP is a leading provider of computer systems and accessories. With several years of experience manufacturing computing devices, HP holds a major share in the IT hardware segment. Despite a 6.9% dip in thin client sales in 2015, HP still stands second in overall thin client sales. According to IDC statistics, HP thin client sales reached 1.27 million, or 10.2% of market share, in 2015. Statista reported that a total of 5.08 million units were shipped in 2015, with HP client units representing 1.272 million of those shipped. While thin client technology reduces IT costs, HP Thin Clients take this advantage to another level by offering significantly low-cost and high-performing client hardware.
Parallels Remote Application Server (RAS) complements low-cost HP thin client solutions
To successfully set up and manage a VDI environment, organizations should deploy the right management software. Citrix XenApp and VMware View are two of the big names in this segment. However, both products are complex and nullify the cost advantage of the HP thin client devices. Parallels RAS is a perfect partner for HP remote networks. Parallels RAS is a comprehensive virtual desktop delivery solution that offers all the features available with other brands in a single and cost-effective solution. It is easy to deploy and use; all major components come auto-configured by default. From a single and intuitive dashboard, Parallels RAS enables you to easily monitor and manage the entire virtual desktop delivery infrastructure. Reporting features can be customized to suit every business requirement. It supports all major hypervisors, browsers, OSes, platforms, and devices including iOS, Android, Chromebook, and Raspberry Pi. Most importantly, Parallels RAS is significantly cost-effective. When cost-effective and powerful Parallels RAS is coupled with low-cost HP thin client hardware, businesses cannot ask for more.
So what are you waiting for? Try Parallels RAS for free today! Free trial.
References
HP Thin Client: Thin client market gets even thinner, down seven per cent in a year | theregister.co.uk
http://www.theregister.co.uk/2016/03/29/thin_client_market_gets_even_thinner_down_seven_per_cent_in_a_year/
HP Thin Client: thin client (lean client) | searchnetworking.techtarget.com
http://searchnetworking.techtarget.com/definition/thin-client
HP Thin Client: Enterprise client device unit shipments worldwide by vendor from 2013 to 2015 (in 1,000s) | statista.com
http://www.statista.com/statistics/529516/enterprise-client-device-shipments-worldwide-by-vendor/
HP Thin Client: Thin client | en.wikipedia.org
https://en.wikipedia.org/wiki/Thin_client
HP Thin Client: HP Thin Clients | hp.com
http://www8.hp.com/us/en/thin-clients/