#3 Mac Usage in the Workplace
---
Windows Applications on a Mac with Parallels Desktop for Mac
As enablers of Mac® integration into traditional Windows® networks, Parallels® often surveys Windows IT professionals to understand the trends associated with supporting a dual platform environment. In our latest research, we wanted to understand the usage and growth of incoming Mac devices, the advantages of incorporating Mac, and how IT pros perceive support and management of Apple® computers. This is the third in a series of five blog posts that summarize our results, the challenges revealed, and the solutions available. Click here to read the first and second blog post of this series.
This post will explore how our customers are using Mac devices at work, and what they think about Parallels Desktop® for Mac Business Edition. But don't take my word for it—here is what they have to say: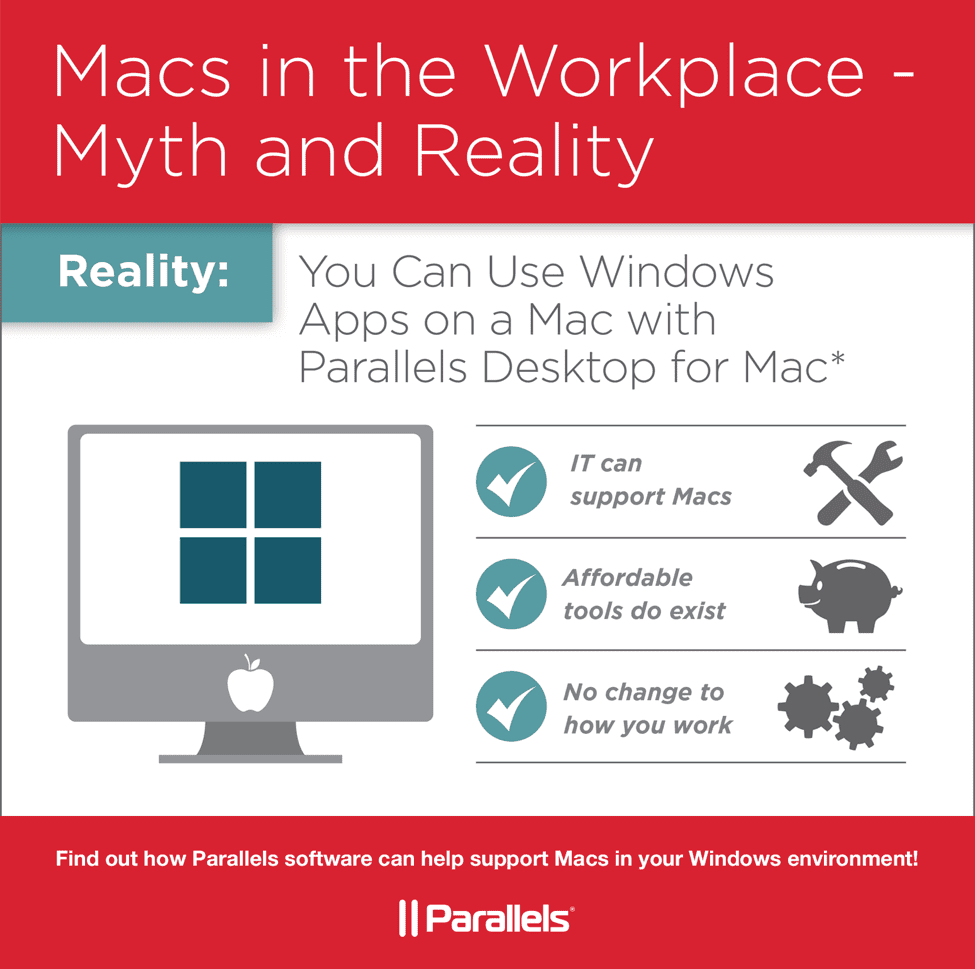 "The reason that so many people at Autodesk use Parallels Desktop is because of better graphics support compared to VMware Fusion®." Gerd Hoeren, Platform Architect at Autodesk
"The program works. Decided to try a MacBook Air® for travel even though my business software is Windows based. Loaded Parallels and Windows with no problems, 2+ years and going strong." Ian Grainger, Grad Student
"The PC computer is used for business mostly and runs Quicken® and QuickBooks™ programs. I always have both of them open and am always going back and forth to Mac where I have database and other info. Using the Coherence view is very nice for this." Bernie Nelson
"Excellent program. It works great for my new 27-inch iMac® Retina® (with all the options ticked), particularly using my MYOB Accountright business software, which is really only designed for PCs. It's so good to be able to use the full functions of the latest, fabulous iMac Retina at the same time as using all the functions of Windows 8.1 and our business software program. It took a little while to set up the best resolution and a few other control panel features, but now it's just simple to use and couldn't be better." Gary Smith
"I develop Microsoft® .Net and SQL Server® web apps using Visual Studio® 2013, but use Mac computers for the hardware platform. Previously, I used Boot Camp® for two years on my Mac mini®, but was "scared to death" I might lose everything if there ever were a Mac hardware or Windows 7 hiccup requiring me to restore from one of my Winclone 4 backup files. I decided to try Parallels 9 before giving up on Boot Camp on a Mac and going back to a Windows PC. Right now, I am running Windows 8.1 on top of Parallels 10 on an 8 GB RAM mid-2011 Mac mini. So far, so good. Windows 8.1, Visual Studio 2013, SQL Server 2012, and all other Windows-based dev utilities function flawlessly for me." John L. Heck
"The absolute best way to run Windows on a Mac. I am a professor of computer technology and software development. I teach Windows 8.1 desktop and store software development. I suggest to my students with a Mac to install Parallels and then Windows 8.1. I have found Parallels to be superior to Fusion and light years ahead of VirtualBox, all of which I have extensive and long-term experience with. I am currently running the WAMP server on a Windows 8.1 Parallels VM so I can develop and test websites locally. I may try to create an OS X® VM using Parallels. I am running Yosemite. I absolutely love the integration with OS X. That alone is worth the price of admission. So easy to move stuff back and forth and have full access to all drives. Nice job, guys! You get an A+ from me." Marc R. Levin, Professor
Try Parallels Desktop for free for 14 days!
Have you tried Parallels Desktop for Mac Business? Share your opinion with us in a comment, or reach out to us on Facebook or Twitter.