Heads-up, Admins: Apple Is Changing Their Business Services | Managing Mac with SCCM
---
Anyone handling a sizeable fleet of Mac® computers in a business or educational institution is most likely familiar with the service programs Apple® provides: Apple Device Enrollment Program (DEP), Apple Volume Purchase Program and Apple School Manager. These services have one thing in common: Apple is restructuring them and will not be continuing to offer them in their present forms. All these services are being transferred to new business and educational accounts. The Apple Business Manager is the new place to go for businesses—Apple School Manager is for educational institutions.
November 1, 2019 is the deadline for this readjustment. All organizations will have to make the change to their new accounts by this date. What this involves depends on the services used beforehand. Anyone who has only used the VPP can create a new business or school account and load their previous purchasing account(s) into the new Manager Service. Organizations presently using the DEP should simply follow the directions posted in the old online services to help with migrating accounts.
More system functionality for businesses
The online platform change coincides with the release of iOS 13 and macOS® Catalina in late summer and autumn 2019. Apple is introducing new device management features concurrently with the platform change.
Specifically, bring your own device (BYOD) is intended to be made easier and safer by separating private and business data in a better way. This is done by enabling users to utilize private and business iCloud accounts at the same time—their organization only has access to the corporate section and the data stored there. Private phone book entries and a list of installed private apps are off-limits for the organization's IT team, for instance. This not only makes handling private devices inside the organization easier but also helps organizations comply with data privacy regulations.
On the other hand, managed apps, policies and data are directly connected to Apple IDs created by the organization for employees in Business Manager. All the device's other data and user rights remain unaffected.
Learn more about how to manage Mac devices like PCs with Parallels Mac Management for Microsoft SCCM in our weekly webinars. Register now for free!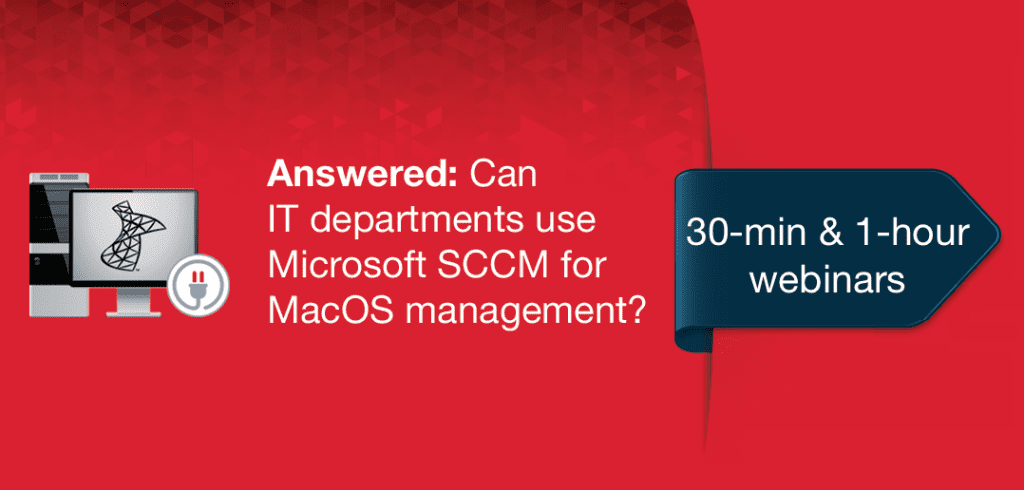 Learn more
Parallels Blog | How to Enroll Mac Computers Easily with Apple DEP or Business Manager
Apple at work | Business Functionality
Apple Business Manager | Log-in