Parallels Mac Management v4.5 Now Available for Microsoft System Center Configuration Manager
Parallels Mac Management v4.5 Now Available for Microsoft System Center Configuration Manager
---
by Yury Averkiev, Program Manager, Parallels, Inc.

---
Parallels Mac Management 4.5 for Microsoft System Center Configuration Manager (SCCM) empowers IT administrators and system architects, as well as CIOs, to quickly and cost-effectively extend their current Microsoft SCCM infrastructure, controlling Mac and PC computers through one interface.
Parallels Mac Management 4.5 for Microsoft SCCM is available today, introducing new features that address top customer requests.
Added Parallels Mac Management 4.5 for Microsoft SCCM Features:
OS X patch management
Active Directory System Discovery support
Inventory:

Report LDAP (organizational unit membership) of Active Directory joined Mac devices
Report logged on users

OS X image deployment: Implemented Capture OS X Image task sequence step
Automatic upgrade of Parallels Mac Client
Reporting of deployment statuses of SCCM Applications
Let's explore the new capabilities in more detail and see how these can help you easily configure, secure, and manage your Mac devices.
OS X Patch Management
Patch management for Windows and other Microsoft products is one of the cornerstones of SCCM's capabilities. With the release of Parallels Mac Management 4.5, we are extending SCCM's powerful patching capabilities to Mac.
As with most of the Parallels Mac Management features, our goal is to keep the management workflow of Windows and Mac devices within one pane of glass. The new OS X patch management feature is no exception.
The SCCM administrator will see the list of available patches from Apple under the "Software Updates \ All Software Updates" folder:
The administrator will then need to create a software update group…
…and deploy it to a collection with Mac computers. It's that simple!
Active Directory System Discovery Support
Because we are seeing more customers enrolling their Mac devices into Active Directory, we have implemented support for SCCM Active Directory System Discovery to make it extremely easy for customers to enroll Mac machines into SCCM. Just as when you enroll Windows devices with Active Directory System Discovery, you will need to configure the discovery settings and then configure the Parallels Mac Client push installation settings:
Inventory Improvements
Parallels Mac Management 4.5 contains two very important additions to the information that Parallels Mac Client reports to SCCM:
Reporting User Logon Information
We have added the ability to report information about users who are logged into a Mac, as well as information about network login profiles available on Mac devices: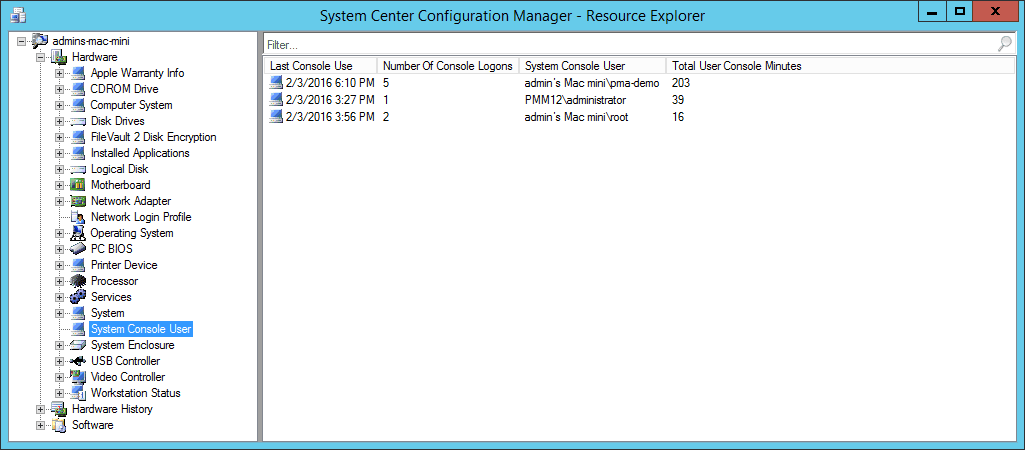 Reporting LDAP Patch of Active Directory-Joined Mac Devices
For Mac devices that are joined to Active Directory, Parallels Mac Client now reports its LDAP patch, which is shown as the Distinguished Name in the device properties:
Capture OS X Image Task Sequence Step
Last year, Parallels Mac Management added support for SCCM task sequence steps, and in this latest update, we have implemented support for Capture OS X Image task sequence steps, which significantly simplifies the process of taking an image of a "golden" Mac:
Automatic Upgrade of Parallels Mac Client
Every time a new version of Parallels Mac Management is released, it is highly recommended, and in some cases, required, to upgrade the Parallels Mac Client on managed Mac devices to the latest version. Parallels Mac Management 4.5 adds an auto-upgrade capability to the Parallels Mac Client. From now on, the process of upgrading the Parallels Mac Client is as simple as checking a box.
Availability and Pricing
Parallels Mac Management 4.5 is available now. The pricing starts at $30 annually per Mac.
What's Next?
We are already hard at work on the next Parallels Mac Management update. As we continue to introduce more managing capabilities for Mac devices via SCCM, we'll share the latest updates on this blog.
Meanwhile, go ahead and try Parallels Mac Management for Microsoft SCCM and tell us via our web forum what additional Mac management capabilities you'd like to see added in future releases.