Break Free From Microsoft Application Virtualization Limitations
Virtualization started off as a way to optimize mainframe computers and scale up resources, but has now become inevitable for businesses of all sizes. Be it a server, network, storage system or an application, any resource can be virtualized for better use of business infrastructure. According to CIO INSIGHT, 50% of server load is virtualized as of 2014, and this number is expected to reach 86% by 2016. Today, more than 15 million applications are deployed on virtual infrastructures. Microsoft Application Virtualization has turned out to be an economic option for businesses, as they can deploy virtual applications to a client without deploying the entire OS. This option is included in Microsoft Windows Server 2012 R2.
Limitations of Microsoft Application Virtualization
Microsoft Application Virtualization was a complex task in Server 2008 R2. However, the new edition of server software from Windows comes with improved performance with regard to application publishing. Server-based applications are delivered to client computers with a centralized management system. Though remotely published, applications are executed locally and use local resources. You can allow the application to use the system cache and set policy-based access as well.
While Microsoft Application Virtualization (App-V) comes with powerful features, managing this tool requires a certain level of expertise, with a number of components that need handling. For instance, SystemGuard creates the virtual environment for an application in the virtual registry. Dynamic Suite Composition (DSC) is another component that allows you to merge two virtual environments so that one virtual application can communicate with another.
Microsoft Application Virtualization has other limitations. It is a complex task to filter applications based on groups and users. The load balancer does not come by default, so you need to install Network Load Balancing (NLB) Services for this purpose, and even so, resource-based load balancing and support for farm-oriented infrastructure are limited. Another big concern is the lack of support for a variety of devices: App-V services cannot be fully extended to non-Windows clients.
2X RAS (Remote Application Server) augments Microsoft Application Virtualization.
2X RAS and Microsoft Application Virtualization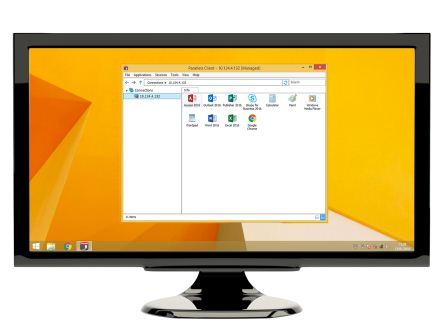 2X RAS delivers the full potential of Microsoft Application Virtualization (App-V) services by making it easy to publish remote applications, and also adding extra, useful features. With 2X RAS, it becomes easy to securely publish applications hosted on RDS servers to remote clients. You can filter applications based on users and groups, and there is support for farm-oriented infrastructure as well. Resource-based load balancing ensures business continuity. Importantly, 2X RAS allows you to extend the virtual environment to a variety of non-Windows clients such as iOS, Android and Linux clients, enabling you to break free from Microsoft Application Virtualization limitations.
With a cost-effective licensing model, 2X RAS fits into every budget.
References
 Useful Virtualization Stats, Trends and Practices | cioinsight.com
 Application virtualization | wikipedia.org
 Applications Virtualization | microsoft.com
 App-V for Windows | microsoft.com
 Installing Microsoft Application Virtualization (Part 1) | virtualizationadmin.com
Microsoft Application Virtualization: Limitations of App-V | apppackaging.wordpress.com