New! Parallels Toolbox Disk and System Pack for macOS or Windows
Introducing Parallels® Toolbox Disk and System Pack
Available for Parallels Toolbox for Mac and Parallels Toolbox for Windows: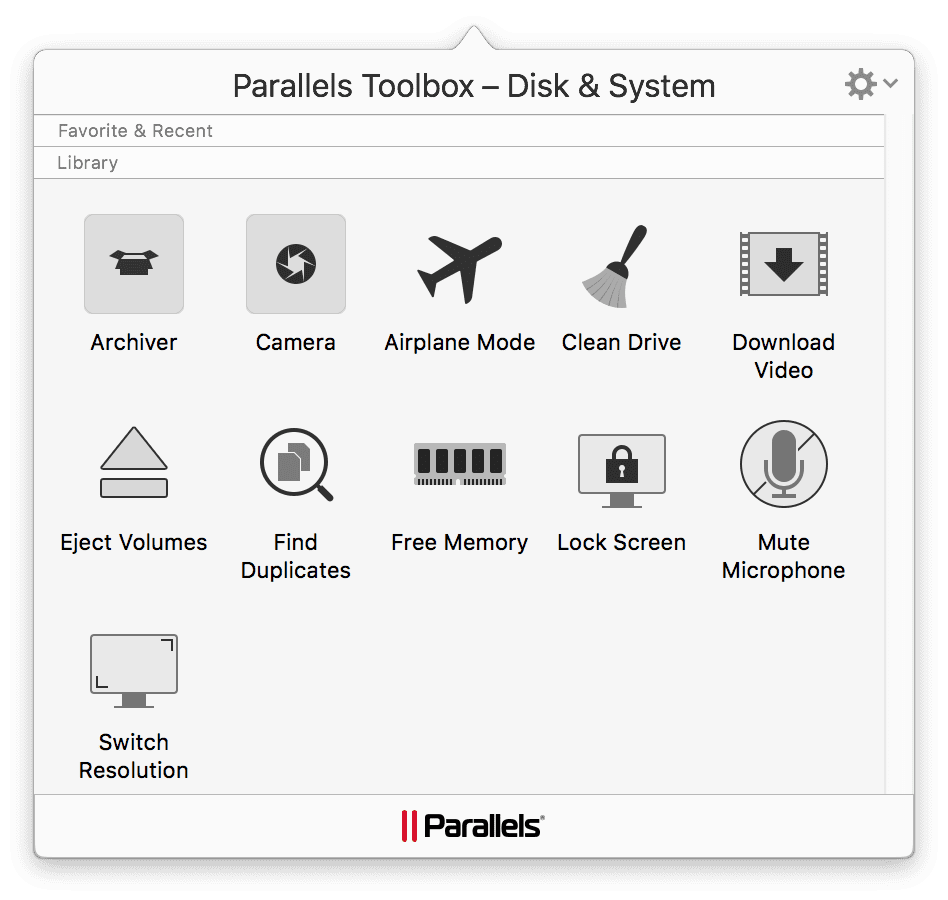 11+ time-saving tools to help optimize your workday.
Created with both basic and power users in mind. Also made for small business owners, developers, system administrators, or IT users who need to save space with a simple set of tools.
Easily optimize your hard drive storage with tools like Clean Drive, Find Duplicates, or Free Memory to free up extra disk space.
Be in complete control of your privacy with system tools such as Airplane Mode, Disable Camera, Lock Screen, and Mute Microphone.
Manage your ever-changing workflow with Archive for your files, Eject Volumes for external drives, or Switch Resolution for monitors.
Affordable cost of $9.99 per year for macOS or Windows.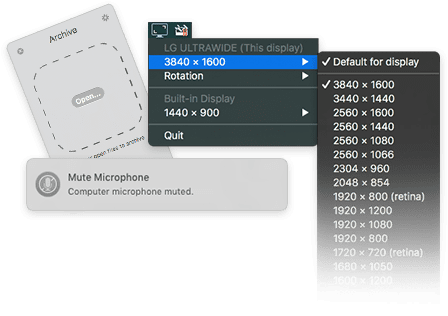 Whether you're a Mac® or PC user, eventually you'll find yourself needing to utilize and optimize your machine. Parallels Toolbox Disk and System Pack is a simple yet powerful set of tools to fix common problems and equip your workday with the right tool for the job at hand. We have the building blocks for better productivity—all available with one click. 
All tools included in Parallels Toolbox Disk and System Pack: Archiver, Camera, Airplane Mode, Clean Drive, Download Video, Eject Volumes, Find Duplicates, Free Memory, Lock Screen, and Mute Microphone—plus more tools to come! Subscribe today and unlock the potential of your Mac or PC for only US$9.99 per year.
Visit the Parallels Toolbox Disk and System Pack product page to see the tools in action, download a trial for macOS or Windows, or buy today!
"In general, I'm not a fan of multipurpose software or devices, but Parallels Toolbox ($19.95 a year for Windows or Macs with a 7-day free trial) is an exception. It's a simple suite of utilities that's always handy. And, like a handyman with a real toolbox, I found myself opening it up several times a day…."
"The new Parallels Toolbox suite of easy-to-use tools simplifies tedious everyday computing chores down to just a click or two, so PC users can quickly get the job done and supercharge their productivity."
– CIO, PCWorld, ComputerWorld, CMO, CSO, ARN and TechWorld

 
"I work with a lot of images in a day, and being able to carry out batch resizing or switch between file formats easily is a massive time saver. I've used this to batch convert well over 100 images and it handled it quickly, easily and effortlessly, and was much better than my previous workflow that involved either Photoshop or using SnagIt." 
– ZDNet, Adrian Kingsley-Hughes (View article)
"Parallels Toolbox is a Swiss Army knife for Windows 10. Parallels Toolbox brings together some of the most popular tools for productivity and wraps them nicely into one convenient space."
"Parallels Toolbox update includes Presentation Mode, video editing tools, much more. Parallels Toolbox, an ever-growing suite of handy single-purpose tools that simplify common computing tasks to just a click or two, has received a major update for both Mac and PC users. New tools and key features include presentation mode, capture for lengthy webpages, free memory reclaim, quick resolution switching, and time-saving tools to download and edit videos or make a GIF. A Parallels Business Edition also launched today, which gives IT the control they need to easily provide employees with tools to be more productive."
"With Parallels Toolbox Business Edition, IT administrators can manage and deploy tools in one go, saving time and reducing help desk tickets according to the needs of each employee." 
– Mac Treasure Tracing Club, Japan 
Tim Cook said it best: "For us, the most important thing we can do is raise people up—that is, either by giving the ability to do things they could not otherwise do, allow them to create things they couldn't otherwise create. It's about giving them tools; it is about empowering people."
Here at Parallels, we're excited to empower users with Parallels Toolbox Disk and System Pack for both macOS and Windows. We simply can't wait to hear what you think about it! Get started with a 7-day trial for free, or buy for USD $9.99 per year.