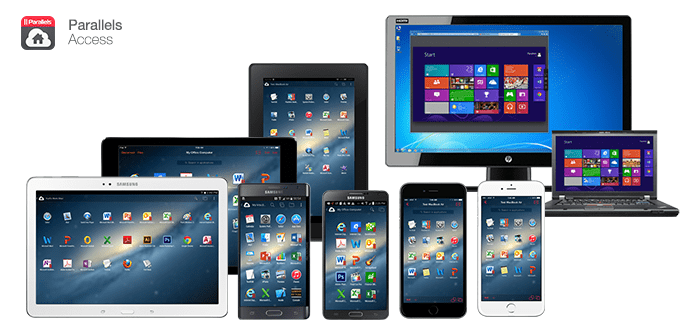 Parallels Access 2.5 Now Available!
---
Today we released a new version of Parallels Access for iOS, for Android, and Kindle: Parallels Access 2.5. (Yes, I know that Kindle is Android underneath—but it's different enough to deserve special mention.)
There are a number of new features in this release, but for now I'll just discuss two of them: computer-to-computer access and iOS File Manager. Future posts will cover the rest.
Computer-to-Computer Access
Parallels Access has always provided a way for you to access your remote computers from your tablet or your phone. With Parallels Access 2.5, you can now also access your remote computers from any other computer—even one you're using temporarily at a hotel, a library, or an airport lounge. Just walk up to any computer with a web browser, and you can connect to any of the remote computers listed in your Parallels Access account.
Conceptually, it looks like this:
In practice, it looks like this:
This is a major expansion of Parallels Access functionality. With this new release, you can access your machines easily from almost anywhere—there's nothing to install on a computer you're using temporarily.
It couldn't be easier to take advantage of this new feature: just go to parallels.com and log in under "My Account". Then you'll see the list of computers you can access. If the computer has this icon next to it:

Just click on the computer to establish a connection. By way of example, here's my computer list:
iOS File Manager
For iPad and iPhone devices, the File Browser from the previous version of Parallels Access has been enhanced and upgraded to a full File Manager. This tool can now:
Store files locally with Parallels Access and preview them.
View and copy files from Dropbox and Google Drive™ cloud storage accounts.
Search for files on remote computers.
Open files stored locally in Parallels Access with other apps.
Transfer locally stored files to remote computers and open them with desktop applications.
Share files using iOS sharing tools.
iOS File Manager is very touch-friendly, with large controls that are easy to use:
These are only two of the many new features offered in Parallels Access 2.5. Find the new version now at the App Store on iTunes, Google Play, or the Amazon AppStore for Android.
Important: After you upgrade the Parallels Access client on your tablet or phone, don't forget to upgrade the Parallels Access agents on your computers as well. Without taking both these steps, you won't see all the killer features available in Parallels Access 2.5.