Parallels Access 7.0 released
It has been about 10 months since I wrote about Parallels Access™ here in the Parallels® blog or in the Parallels YouTube channel. During this time, the engineering team has been busy ensuring that Parallels Access runs on the latest OS releases and adding new features.
In case you are not familiar with it, Parallels Access provides a flexible and easy-to-use way to connect your phone or tablet to a remote computer to access apps and files. There are three situations in which Parallels Access is optimized for:
A computer that you own, almost regardless of where it is physically located.
A computer that you are the exclusive user of. For example, a computer that is owned by your employer but you are the only one who uses it. Here too, it really doesn't matter where this computer is physically located: in the office, at your home, or at a remote location of your employer.
A computer that you have been invited to access. For example, a friend who has asked you for help with their computer. Here too, almost regardless of where it is physically located, you will be able to connect using Parallels Access.
Since its first release in 2013, Parallels Access has regularly added significant new features like file management, a web portal and support for split-screen multitasking on iPad.  
You might be surprised to learn that often the largest engineering task for any new version of an established product is ensuring compatibility with the constantly changing digital world. Since Parallels Access has components that run on macOS, iOS, iPadOS, Windows, and Android, ensuring its compatibility with Apple, Microsoft, and Google ecosystems is an even larger task than most other products. And, of course, ensuring as much backward compatibility as possible is also required. In recognition of the effort involved, I made a short video showing the newly released Parallels Access 7.0 running in several different systems. (See Video1.)
However, the Parallels Access engineers also found the time to add some new features. I have divided these features into three themed categories: improvements to security and privacy, web console improvements, and compatibility improvements with new operating systems.
Theme 1: Improved security and privacy
Keychain integration on Mac/iOS, which enables automatic credentials fill-in for authentication dialogs and makes for easier sign-in to the Parallels Access application.
Support for two-factor authentication (2FA) on iOS and Android.
Support for the built-in 2FA on iOS.
Theme 2: New web console
All modern browsers now support Media Source Extensions that enables sending H264 video stream from a remote computer to a web browser. This provides a smoother and more native experience, and it enables Parallels Access in the future to make use of a web browser as a powerful alternative to mobile apps on phones and tablets.
Improved set of keyboard shortcuts is another feature of the new web console, making it easier to use, especially in the personal help scenarios.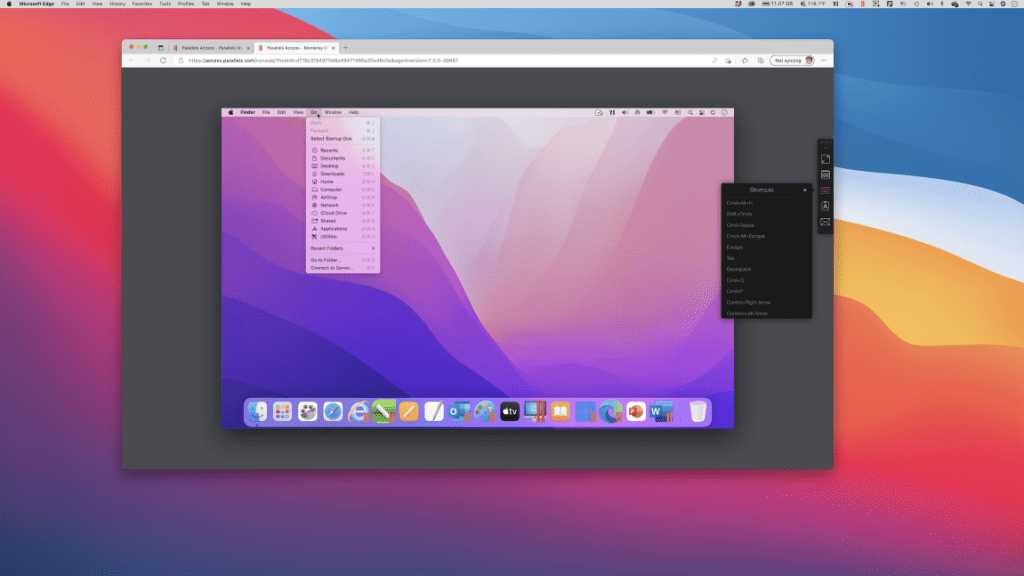 Theme 3: Compatibility with new OSs/technologies, and other features
General
Added chat notifications in personal help scenarios during remote connections.
Specific for iOS and iPadOS:
Improved performance with completely revamped graphics engine utilizing Apple Metal.
Specific for Android:
The product tutorial has been improved and simplified.
Product help systems have been unified – the tutorial, links to knowledge base articles and links to get support are all in one place now.
Added compatibility with Android 12 and its new file restrictions.
Upgrading to the new 7.0 version is free. Remember that Parallels Access has two components: one on your tablet or phone, and one on your remote computers, so be sure to check that you have the latest version everywhere. (There is a Parallels Access setting to check for updates, and to download and install them, but it never hurts to double check.)
Let us know in the Forums what your Parallels Access most used scenario is, and if you have suggestions for new future features, please let us know.
Download a free trial and remotely access your computer from anywhere.