Azure RemoteApp is ending, but alternatives are better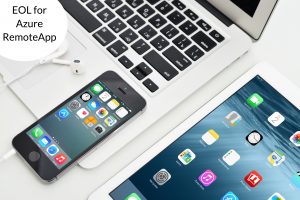 Parallels Remote Application Server is back in the news and for good reason: IT experts consider this award-winning application delivery solution a sound alternative to Azure RemoteApp (ARA). Microsoft recently announced that its going to discontinue ARA in 2017 and will partner with Citrix to offer Citrix Virtual Apps (formerly Citrix XenApp) Essentials as an alternative. New purchases of Azure RemoteApp will end as of October 1st, 2016. In light of this announcement, organizations are now exploring whether to go with Citrix or migrate to a new solution. Parallels Remote Application Server has been the right choice for many in this regard for a number of reasons.
Azure RemoteApp – Challenges with RDS and ARA
There are multiple components involved in Microsoft Remote Desktop Services, including Remote Desktop Web Access (RDWA), Remote Desktop Gateway (RDG), Remote Desktop Session Host (RDSH), Remote Desktop Virtualization Host (RDVH), and Remote Desktop Connection Broker (RDCB). RemoteApp programs are hosted on RDSH and are accessed through RDS. All these roles are installed and configured separately. In addition, you need to install additional components for load balancing, reporting, etc. Even though Azure RemoteApp is a cloud-based service, you still need an understanding of server templates and virtualization to publish applications.
ARA has no HTML5 support. The tool supports only limited platforms such as Windows, iOS, Android, and Mac OS X. While RDS allows remote access based on domain users and groups, ARA only allows you to add users with their email addresses. You can't add users to multiple connections, and VDIs aren't delivered with ARA. Moreover, it supports only Windows Server 2012 and IE 11. For client management, you have to acquire and manage third-party solutions, and reporting options and backup aren't available. The licensing structure is complex and costly as well.
What about Citrix Essentials?
Citrix virtualization solutions come with similar challenges. Citrix users have to install and configure multiple components to set up the remote network. Secondly, Citrix solutions are quite expensive. Users moving to Citrix Essentials would have to deal with all these challenges as well. Parallels has already assisted many organizations in the migration from Citrix Virtual Apps (formerly Citrix XenApp) to Parallels Remote Application Server, and our value as the best alternative is also apparent when compared to Citrix Essentials. It provides all the same features and many more while eliminating pain points.
Where does Parallels Remote Application Server (RAS) stand?
Parallels Remote Application Server is a comprehensive application delivery solution that enables you to monitor and manage the entire infrastructure with ease. It is easy to deploy and use. Using a simple wizard, the solution can be up and running in a couple of hours. This all-in-one solution leverages RDS and provides a centralized management system to easily manage your virtual environments. All features are included with the standard license, and the interface is easy to navigate and use. Web-based features such as the Cloud Portal and HTML5 client access are also supported. It also supports all major hypervisors and platforms including iOS, Android, Windows, Linux and Mac. Parallels RAS is a cost-effective solution that outweighs ARA in features while eliminating the pain points. Neither current nor new Azure RemoteApp customers have to worry about its EOL. With Parallels RAS, you don't need to migrate to another solution.
Try a free 30-day trial of Parallels RAS today.
---
References
Azure RemoteApp: What is Azure RemoteApp? | azure.microsoft.com
Azure RemoteApp: Citrix replacement for Microsoft Azure RemoteApp is coming in 2017 | zdnet.com
Azure RemoteApp: Microsoft Shuttering Azure RemoteApp, Turns to Citrix | eweek.com
Azure RemoteApp: Microsoft Azure RemoteApp (Remote Application Services) | searchwindowsserver.techtarget.com
Azure RemoteApp: Application remoting and the Cloud | blogs.technet.microsoft.com
Windows Apps in the Cloud: Azure RemoteApp Now Generally Available: techcommunity.microsoft.com