Citrix Virtual Desktop. Get to Know the Basics!
What 
I
s 
a 
Citrix 
V
irtual 
D
esktop?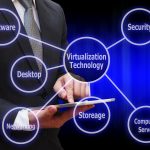 To understand what a Citrix virtual desktop is, we first need to clarify the term "desktop." When used in this context, a desktop is the entire software environment consisting of the operating system, applications, and data that an end user interacts with when using a laptop or desktop computer. It also includes the icons, files, folders, and all other software elements.  
In a Citrix virtual desktop, all these software elements are separate from the underlying hardware. They're processed and stored in a remote server instead of the physical device (laptop or desktop computer) that the user is directly interacting with.  
To support a Citrix virtual desktop, the device must have an installation of Citrix Receiver or a web browser that supports HTML5. Citrix Receiver is a client application installed on endpoints like laptops, desktop computers, tablets, and smartphones. It's responsible for displaying the user interface (UI) onto those endpoints as well as receiving keyboard, mouse, and touchscreen interactions. It then transmits those back to the remote server for processing. 
Because user interactions (and everything else the operating system does) are processed on the server and not on the endpoints, endpoints running virtual desktops require far less system requirements than locally installed desktop OSes. All Citrix virtual desktops are administered in a central location. This lowers IT administration costs while improving information security and business–continuity capabilities.  
Problems 
U
sing Citrix 
V
irtual 
D
esktops
You can have Citrix virtual desktops through the following products: 
Citrix Virtual Desktops Standard (formerly 

XenDesktop

 VDI)

 

Citrix Virtual Apps and Desktops Advanced (formerly 

XenDesktop

 Enterprise)

 

Citrix Virtual Apps an

d Desktops Premium (formerly 

XenDesktop

 Platinum)

 
Because there are several editions—not to mention different types of virtual desktops (e.g. session-based or virtual desktop infrastructure)—to choose from, it's usually difficult to pick the right solution for your organization.  
Worse, the process of setting up the underlying infrastructure can be costly, complicated, and time-consuming. Depending on the type of virtual desktop you want, you'll need to pick from multiple products (and even multiple editions of each product). And that's just the beginning. Once you start studying the installation process, you'll realize that a lot of components are going to be involved.   
You'll need to understand the individual nuances of components like Delivery Controllers, Citrix Studio, Citrix Director, and StoreFront before you can start installing your desired edition of Citrix Virtual Apps or Citrix Virtual Apps and Desktops. It can be overwhelming. In fact, most customers end up hiring Citrix-certified consultants just for installation and deployment.  
Parallels RAS
:
t
he best alternative
Citrix isn't the only option if you want to work with virtual desktops. A better way of delivering virtual desktops is Parallels® Remote Application Server (RAS). Parallels RAS is an all-in-one product that delivers virtual applications and desktops through a simple installation process—and at a much lower cost.  
There's no need to pick between different products or editions. No need to install a lot of additional components. And—unless you have zero IT admins in your organization—no need to hire a third party just to set up the underlying infrastructure. 
Try Parallels RAS for free now.
References:
Pluralsight Youtube channel | Citrix XenDesktop 
TechTarget | What is virtual desktop 
WilyIT | Install Citrix Virtual Apps & Desktops 7.13 on Windows Server 2016 (Standard – Desktop Experience) 
Reddit | Citrix – How difficult is it to learn? 
Ask The Architect: | Virtual Apps and Desktops (XenApp and XenDesktop) Architecture Poster