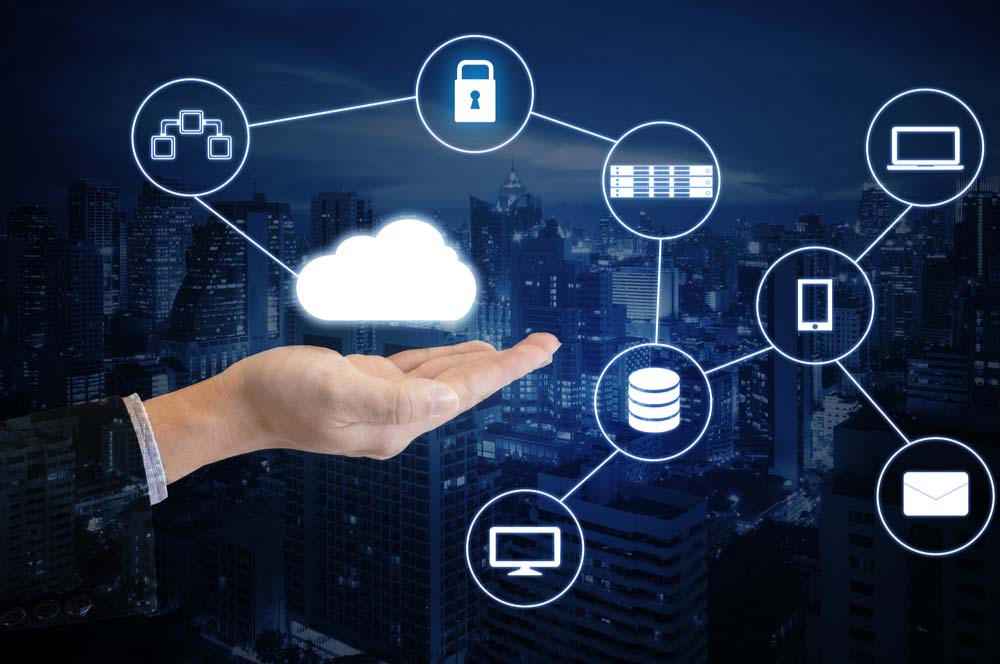 Cloud Management Platform: When Is It Needed and Why?
The continued ascent and evolution of cloud computing have paved the way for a handful of solutions. One of these solutions is the Cloud Management Platform or CMP.  
What is a Cloud Management Platform?
As the name suggests, CMP is a suite of integrated products that manages, monitors, and controls public, private, and hybrid cloud environments. CMP includes products like provision system images, self-service interfaces, external enterprise management systems, metering, and billing services, and workload optimization services.
The features of CMP vary from vendor to vendor, but most vendors generally deliver it as software as a service model or as on-premises applications. The question here is, why exactly is it gaining popularity? 
How Cloud Management Platforms Work
The traditional IT architecture is extended by modern CMPs. This gives IT a "flexible compute approach" that greatly improves the flexibility and speed with which digital services are delivered. The aim would be to automate all operations in even the most difficult circumstances.
Characteristics of a Cloud Management Platform
The cloud management platform space is still evolving. But while it's almost as if each CMP is designed to address a unique set of problems, they certainly have some common characteristics. Most CMPs allow you to manage at least one of these items in your cloud infrastructure: cost, security, and operations.
Cost
Cloud management platforms with cost management capabilities usually enable cloud admins to rightsize resource (CPU, storage, memory, I/O) consumptions with actual workloads, perform budgeting, deal with allocations and chargebacks, and set up monitors and alerts. These CMPs help organizations avoid wastages, streamline consumption, and optimize spending.
Security
CMPs with security capabilities, on the other hand, help admins identify and fix infrastructure vulnerabilities; meet compliance requirements; perform risk assessment and auditing; carry out threat protection, containment and remediation; and configure/generate reports and monitors. These types of platforms are often also used by security analysts.
Operations
Last but not the least, cloud management platforms with operations-focused capabilities usually enable admins to automate routinary tasks, set up automated actions that respond to certain triggers or events, set up performance/health checks, orchestrate the cloud infrastructure and services, carry out various analytics, create templates for provisioning and optimize workloads.
All of these platforms typically have a self-service portal where admins can log in and perform the various functions mentioned earlier from a single pane of glass. It's also from this same interface where admins can view various metrics, visualizations, and reports in order to gain insight into the health, efficiency and security of the cloud infrastructure.
The Capabilities of a Cloud Management Platform
A cloud management platform, in general, contains five primary functions, as per the Cloud Standards Customer Council (CSCC), a cloud end-user advocacy group:
Financial Management
Provides the ability to track and distribute cloud computing spending to individual users or business units automatically. The ability to produce chargeback reports and anticipate future cloud expenses are also included in these financial management services.
Resource Management
With features like resource detection, tagging, provisioning, automation, and orchestration, it provides tools to monitor cloud computing resources such as virtual machines, storage, and networks. Furthermore, the cloud management platform could support resource migration across environments, like private and public clouds.
Service Management
Allows an IT team to keep track of cloud-based services in order to assist in capacity planning, workload deployment, and ensuring that all availability and performance criteria are satisfied.
Governance and Security
Allows an administrator to administer cloud resources using policies, and includes security features like encrypting and identity management.
General Services
To get insight into the enterprise's cloud service usage patterns, it offers additional self-service capabilities but also reporting and analytics functionalities.
Evaluation Criteria for a Cloud Management Platform
Most CMPs are still evolving and performing the same core functions. However, they differ in design philosophies and the specific environments they operate. As such, you're unlikely to find a "one-size-fits-all" cloud solution. For this reason, you should analyze your organization's overall strategy and pursue a CMP that has a consistent approach as yours.
When evaluating CMPs, you should consider the following:
Technology and architecture requirements
Operation requirements
Business requirements
Technology and Architecture Requirements
Managing applications can be repetitive and tedious, especially in large and diverse cloud environments. Deploying a CMP with the appropriate technology and architecture can help you promote your bottom line. Your evaluation should incorporate the following:
Does the platform have sufficient cloud service provider (CSP) and cloud infrastructure integrations? The CMP should have sufficient abstraction and integration for public, private, and hybrid cloud services.
Does the platform support agent or agent-less architecture? While both options can get the job done, it is vital to consider the CMP's architecture. With agent-based CMPs, you manage security at the virtual machine (VM) level, albeit with operational overheads. Agent-less CMPs, on the other hand, don't have operational overheads, but you can't manage security at an instance level.
Does the CMP have necessary cloud ecosystem integrations? If you deploy a CMP with inadequate inbuilt tool integrations, you must develop them on your own, potentially adding costs and risks for the organization.
Does the platform have adequate security safeguards? Security is a fundamental concept in cloud deployments. As such, you should vet the CMP to ensure there are no vulnerabilities. Additionally, you should ensure the CMP meets all the regulatory and statutory requirements.
Operation Requirements
When it comes to operations, you should consider the following:
What are the platform's hosting environment requirements? Some providers offer CMPs for on-site cloud deployments while others may deploy them to the customers within a cloud service. The option you choose impacts network connectivity, skill requirements, and total cost of ownership (TCO).
Does the platform provide administrative capabilities? At a basic level, the CMP you choose must offer automated features such as cloud resources visibility, operational metrics and reporting, security management, and governance control.
Does the platform offer provisioning orchestration? The CMP you select must facilitate the orchestration of apps and execute scripts to simplify overall cloud management.
How does the CMP provide support and patches? Patching cycles and the frequency of releases have an impact on the overall user experience. As such, you should understand how the vendor handles support and patching issues.
Business Requirements
When mapping out business requirements, you should consider:
The total cost of ownership (TCO) for both acquisition and recurring operations. Deploying a CMP may require additional integrations. You should consider the costs for additional integrations before deploying a CMP. Additionally, you should consider the cost of exiting from CMP.
Vendor's financial stability. The CMP marketplace is still evolving. You should look out for acquisitions, consolidations, and marketplace instability when deploying a CMP. This is because any switch can affect your business operations.
Product licensing. You should understand the terms of using the CMP concerning support and licensing agreements or service level agreements (SLAs). This can help you achieve goals within the defined capital expenditures (CAPEX) and operational expenditures (OPEX) budgets.
Why Do Businesses Need a Cloud Management Platform?
Among the benefits of having a CMP are:
Simplified IT management: A combination of public, private, and hybrid clouds can increasingly become more complex, even as organizations add more to the mix. With A CMP, order can be brought to chaos, allowing your clouds to be viewed as part of a comprehensive whole. In the process, gridlocks are identified, solutions posed, efficiencies realized, and managers able to make informed decisions regarding your cloud infrastructure.
Optimal use of resources: With several clouds in an organization, IT staff manages more resources. However, it does not follow that these resources are efficiently used. A CMP's centralized dashboard can help identify those resources that are not fully utilized, allowing them to be allocated to where they are most useful. Workloads can also be shifted to under-utilized resources.
More secure cloud infrastructure: Security may be unevenly applied across your clouds. For example, while one cloud can secure personally identifiable information (PII) from prying eyes, another may not. With a CMP, common security practices can be applied across the entire infrastructure, helping identify which clouds need to be more secure and allowing improvements to be applied accordingly. Standards compliance is thus strengthened.
Improved performance and quality of service: Service degradation may happen when clouds are not acting perfectly in sync with each other. Performance and quality of service suffer as a result. Organizations can prevent this from happening with a CMP that is able to identify sources and proactively prevent potential breakdown.
Why a Cloud Management Platform is Suitable for Single and Multi-Cloud Infrastructures
A cloud management platform can also be used to manage a single cloud infrastructure. However, that's not where you'll get a good return on investment (ROI) from a CMP investment. For example, Amazon Web Services (AWS), Microsoft Azure, and Google Cloud all have management consoles that can be used in conjunction with a CMP to improve VMs and resource management.
Cloud Management Platform Main Drivers: Hybrid and Multi-Cloud Infrastructures
Who else is still using just one cloud? According to the Flexera 2021 State of the Cloud Report, 87% of enterprises currently adopt a hybrid cloud strategy. The same report also indicates that organizations use an average of 2.2 public clouds and 2.2 private clouds. Hybrid cloud initiatives, which involve a mix of one or more public and private clouds, are replacing cloud strategies that rely on just a single CSP or datacenter—a trend that bodes well for CMPs.  
A CMP makes it easier for a cloud admin to manage different clouds in a hybrid cloud environment. Instead of having to shift from one console to the next, admins can just stick to one console and get all the information or perform all the tasks needed, such as:  
Provisioning and managing VMs/service

 

Forecasting and reporting costs

 

Optimizing, automating, and orchestrating workloads

 
Parallels RAS Works as a Cloud Management Platform
When embarking on a hybrid cloud project, it is best to pick solutions that already support hybrid cloud deployments. Parallels® Remote Application Server (RAS) is an ideal fit for companies looking for a virtual application and desktop delivery solution.
Parallels RAS can be deployed on popular public clouds like Microsoft Azure and AWS, as well as on-premises or in a hybrid cloud deployment model.
Moreover, with Parallels RAS you can mix and match different workloads such as Remote Desktop Session Host (RDSH), virtual desktop infrastructure (VDI), hypervisors, hyperconverged infrastructures, and cloud providers.
Parallels RAS also integrates with Azure Virtual Desktop (formerly Windows Virtual Desktop) to manage and unify all virtual workloads from a centralized console, including Windows 10 Enterprise multi-session.
Download the Parallels RAS trial and experience the benefits of hybrid clouds through an affordable and easy-to-use solution.