Creating a RAS Template using Parallels Remote Application Server
Parallels® Remote Application Server automatically generates and deploys VDI desktops on demand using customized templates. This allows administrators to create and deploy guest virtual machines on the fly, saving a great deal of time. Follow these steps to deploy a RAS Template using Parallels Remote Application Server.
First, open the RAS console and click on the Farm category on the left-hand side of the console. Then select the VDI Hosts option.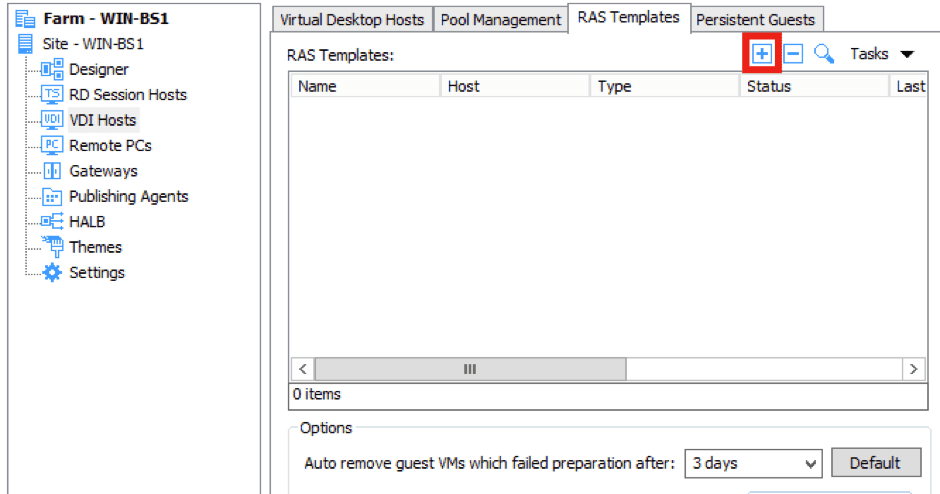 Click on the top right-hand side plus icon (+), as indicated in the above image. Then select the Virtual Guest you would like to use and click the OK button.
Once selected, the RAS Console will check the Guest Agent settings to verify they are installed. Click the Make Template button to continue.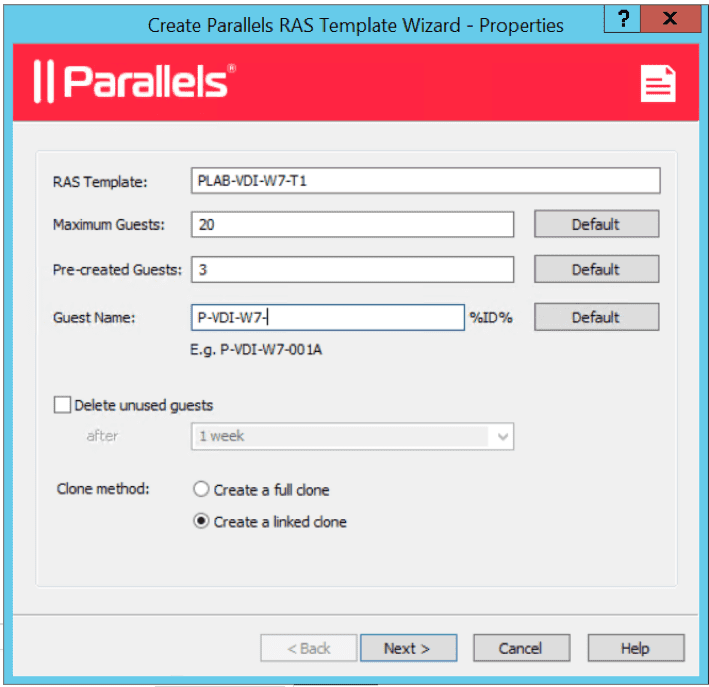 Enter all the properties for the RAS Template Wizard. The clone method chosen for this scenario is the linked clone option. Once you have filled in all of the properties, click the Next > button.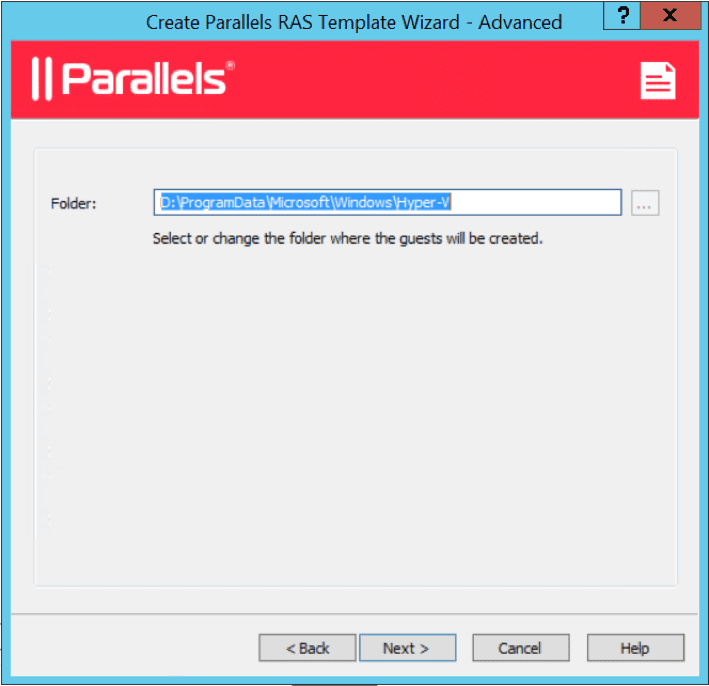 Next, we need to choose the folder where the guests will be created. You can click on the …  button on the right-hand side for a more visual representation. Once you have selected the folder, click on the Next > button to continue.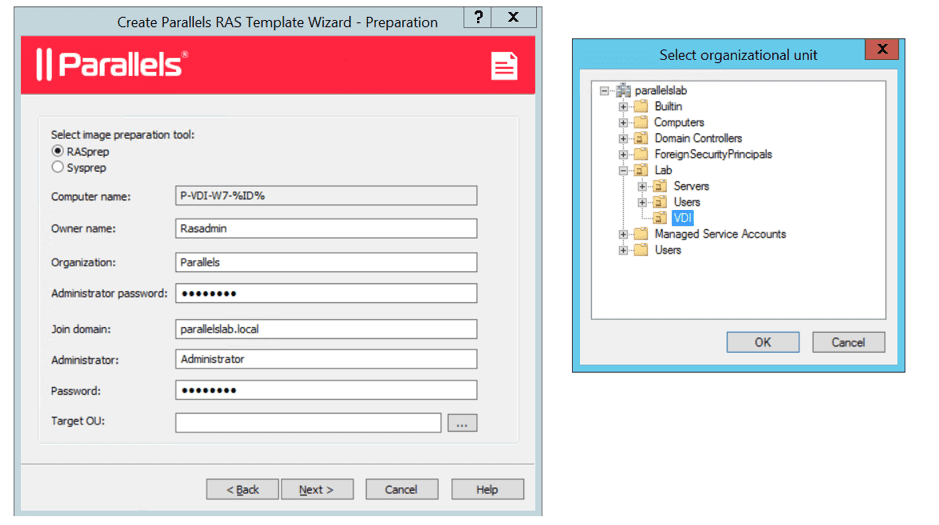 For this scenario, we will be using RASprep, which is a lighter version of Microsoft Sysprep. Enter all of the required details for the Preparation of the Guest. Also select the Target Organizational Unit. Once you have inserted all of the information, click the Next > button.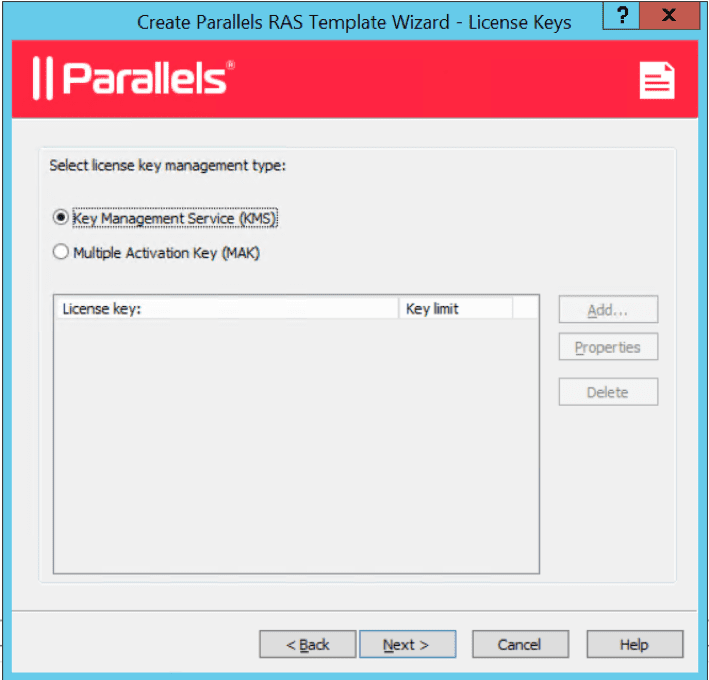 Now select the License Key Management type you would like to use. We will be using Key Management Service (KMS) in this guide.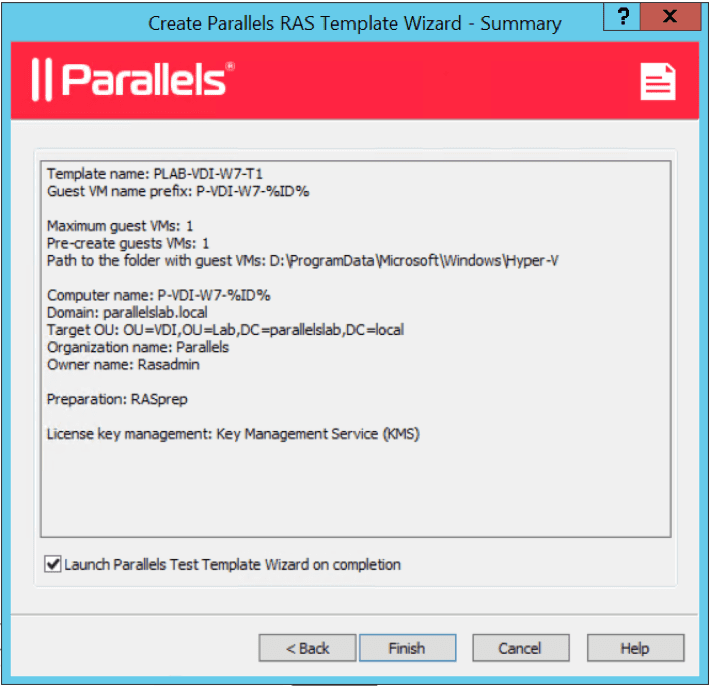 Finally, an overview of all of the settings and configurations set throughout this wizard will be shown. You can select Launch Parallels Test Template Wizard to launch upon completion. This wizard automates VM testing and VM deployment to ensure the template works smoothly.

Once the Test Template Wizard is complete, the new RAS Template will be shown under the RAS Templates tab in the VDI section of the Farm category.
Congratulations, you have successfully created and tested a RAS Template!