CYOD vs BYOD – Why do business leaders choose to adopt a virtualization solution?
CYOD vs BYOD – In today's cutting edge, competitive, and profitable world, businesses must quickly learn how to leverage the latest technology trends without creating a complex IT infrastructure with unmanageable costs. Providing continuous access to line-of-business (LOB) applications to a growing and geographically dispersed workforce can be ineffective without the proper set of tools.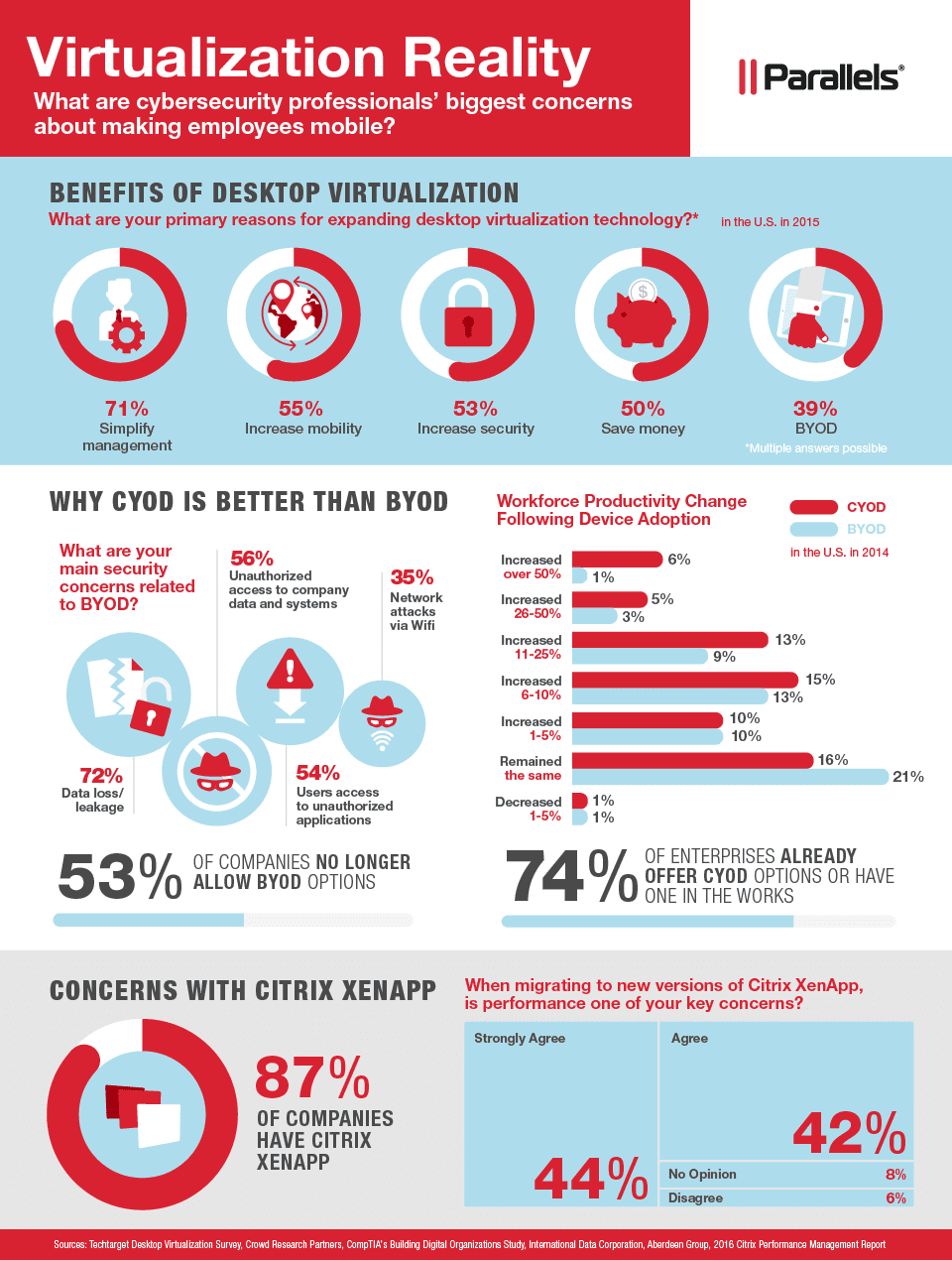 When new employees or third-party contractors join a company, they need resources to perform their job efficiently. Businesses should have a machine ready, which can take hours to provision the traditional way: installing software, patching, and ensuring the computer has the right network credentials.
With the rapid diffusion of smart mobile devices and non-Windows workstations such as Mac, Linux, and Chromebook, companies often choose to implement vs policies. These policies offer employees different ways to access their workspaces and increase their overall productivity. However, to gain advantages from new technologies, organizations have to provide the same user experience across several platforms, which is very difficult to achieve in a traditional application deployment environment. For this reason, more businesses are turning to desktop virtualization as a way to provide computing to their workforce while keeping costs and complexity down.
CYOD vs BYOD with Parallels RAS
While there are many benefits to adopting a virtualization solution in the workplace, this shift toward increased employee mobility has created concerns for cybersecurity professionals.
Parallels asked Statista to create a three-part infographic based on surveys from a range of sources to illustrate the top benefits and concerns for companies when choosing a virtualization solution.
Specifically, the three-part graphic illustration of the survey data shows:
Why business leaders choose to adopt a virtualization solution – Simplifying IT management is the leading reason organizations would like to move to a virtualized desktop infrastructure.
Why more companies are opting for "choose-your-own-device" (CYOD) over "bring-your-own-device" (BYOD) policies – Data security and productivity are the main drivers for the adoption of bring- and choose-your-own-device policies.
Concerns businesses have when using Citrix Virtual Apps (formerly Citrix XenApp) – Citrix holds an 87% market share among those interviewed. However, since the introduction of XenApp 7.X and the end of life of versions 4.x, 5.x and 6.x, more than 80% of respondents are afraid of the impact on performance when migrating to the 7.x version.
Looking for an easy, scalable, and secure application and desktop delivery solution?
Parallels Remote Application Server (RAS) is a comprehensive virtual application and desktop delivery solution that allows your employees to access and use applications and data from any device. Parallels RAS is seamless and easy to deploy, configure, and maintain.
Take the next step! Click here to download a free 30-day trial now.