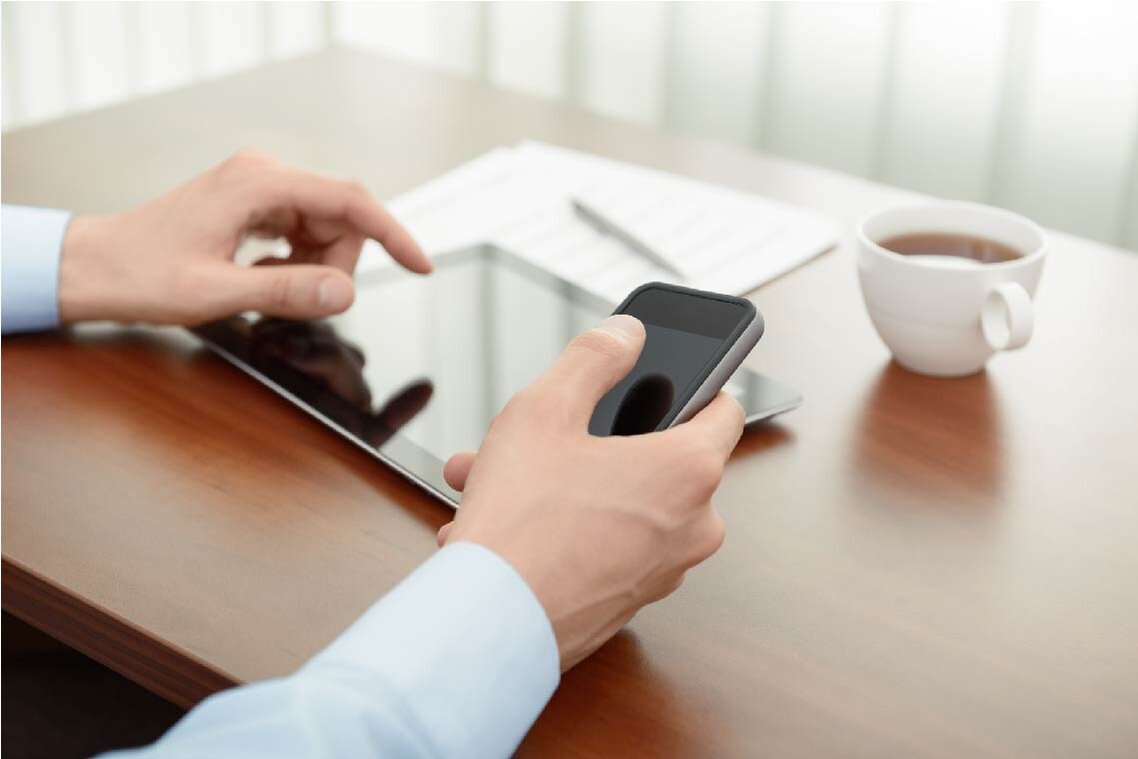 An Overview of Enterprise Mobility Solutions
Until recently, company-purchased, IT-provisioned desktops dominated the enterprise computing landscape. This isn't the case anymore as the workforce becomes increasingly mobile. Using two or more mobile devices, it is now commonplace for workers to stay connected to corporate resources—whether in the office, working from home, or traveling on business.
This shift has caused many organizations to embrace enterprise mobility solutions. This allows employees to execute vital business functions at their convenience while securing corporate resources. Discover how you can leverage enterprise mobility solutions to securely deliver business-critical resources to mobile employees.
Definition of Enterprise Mobility
Enterprise mobility (also called business mobility) is an emerging trend where businesses deliver corporate resources to their employees through various mobile devices and applications. Enterprise mobility has evolved over the years, mainly driven by three factors: a more ubiquitous broadband internet, powerful and affordable mobile devices, and popular mobile applications.
Every ten years or so, the performance of wireless broadband and cellular networks takes a significant leap forward. For example, in 2009, the fourth-generation (4G) succeeded the third-generation (3G) mobile communication standard. And 2019 unveiled the fifth-generation (5G) standard. All these developments promise a greater load capacity, faster speeds, and lower latency, allowing employees to access vast data over the network.
Why Use Enterprise Mobility Solutions?
The growth of iPhones and Android smartphones has also helped drive enterprise mobility. Recent research shows roughly 10 billion mobile devices in use as of 2020, with smartphones emerging as the preferred devices for working for most employees. As more users purchased iPhones and Android smartphones, the number of enterprise applications rose.
This led to the emergence of the bring-your-own-device (BYOD) trend, where employees used personal devices for work. Employees preferred these devices—often without employer permission—because they could get their jobs done quickly. Mobile devices also allowed them to access a more streamlined and familiar user interface than company-owned desktops.
Later, organizations adopted BYOD policies, formally embracing enterprise mobility and flexible working styles in response to these converging trends. However, BYOD isn't the only enterprise mobility strategy option available. You can purchase your own devices and lock them down strictly for corporate use, especially in highly regulated industries such as finance.
You can also leverage the corporate-owned personally-enabled (COPE) trend to deliver organizational resources to employees. With COPE, the company buys the devices for employees to use for personal and business tasks.
Different Kinds of Enterprise Mobility Solutions
The most common corporate mobility enterprise solutions are listed below:
App Administration. As more employees bring their own mobile devices to work, this kind of organizational mobility management has become highly popular. Organizations now have the option to control software rather than hardware thanks to app management.
Device Administration. Device management often entails installing profiles that enable remote control, data encryption, and security standard enforcement on mobile devices like smartphones and tablets.
identity administration. This strategy's primary goal is to guarantee that only approved people and gadgets have access to company information, programs, and procedures. Organizations may grant department-level credentials using identity management to guarantee that all team members have the same access to crucial data and applications.
Expense Control. This workplace mobility solution aims to aid businesses in managing and tracking their expenses. This is helpful if your company offers mobile devices to employees or pays them a stipend for using their own devices.
Management of content. Information management is extremely comparable to this other type of workplace mobility solution. Access to content, as opposed to database access, is the focus of content management.
Management of information. Since remote databases are the main focus of this kind of service, information management is typically integrated with device and app management services. When your company uses cloud-based database technologies, this is a crucial part of workplace mobility to take into account.
Purpose of Enterprise Mobility Solutions
Enterprise mobility solutions have several goals, including:
Increased productivity. Enterprise mobility solutions allow employees to access corporate resources from their endpoints at any time, irrespective of their geographical locations. This flexibility and automated work pattern improve productivity in an organization.
Enhanced employee responsiveness. Enterprise mobility solutions facilitate real-time interaction, allowing employees to quickly communicate and collaborate with their colleagues, vendors, and customers. This simplifies internal and external communication channels that enable the organization to respond promptly to all stakeholders' concerns.
Decreased operational costs. Seamless data interaction across mobile devices automates business processes by minimizing paperwork and human intervention. This allows the organization to save time and operating costs.
Enhanced, business-friendly work culture. Allowing employees to use devices of their choice makes them comfortable, which boosts business-friendly work culture. It can also improve employee retention rates and create a more stable workforce.
Simplified IT administration. Enterprise mobility solutions provide various services such as remote wipe capabilities, password protection, and data loss prevention mechanisms. IT administrators can use these services to simplify IT administration.
Benefits
Business mobility solutions provide several benefits. Below are a few of them:
Facilitate efficient and cost-effective operations. Most enterprise mobility solutions provide a single pane of glass for accessing and managing corporate resources. This improves the efficiency with which employees access official data.
Enhance data security. Most enterprise mobility solutions have inbuilt security tools, including identity and access management (IAM), mobile device management (MDM), and mobile application management (MAM). Organizations can use these tools to enforce security when users access corporate assets.
Improve data collection and analytics. Modern business mobility solutions integrate the internet of things (IoT) and artificial intelligence (AI) in their frameworks. Companies can leverage these tools to build an integrated ecosystem that unearths valuable data collection and analytics insights.
Improve customer experience. By providing prompt responses to user queries on various mobile devices, enterprise mobility solutions allow organizations to enhance customer experiences. This can, in turn, help the organization to achieve a competitive advantage.
Future Expectations of Enterprise Mobility Solutions
Modern businesses no longer perceive mobility regarding how well employees can move from place to place. Instead, organizations increasingly perceive enterprise mobility with how well employees get the work done while moving. And many employees—especially millennials—seem hungry for changes that enterprise mobility solutions promise.
Because of this increasing momentum, organizations should craft sound business mobility management strategies in readiness for this eventuality. Here are four enterprise mobility developments and trends to expect in the future:
BYOD Trend Will Continue to Rise
The BYOD trend is no longer just a nice-to-have framework in an organization. It has emerged as the first go-to, end-user computing model that drives business continuity in the wake of coronavirus pandemic times. According to ResearchandMarkets.com, the global BYOD market will continue to grow at a compound annual growth rate (CAGR) of 16.7% to reach US$180.8 billion by 2027. This means the BYOD phenomenon will continue to rise.
IoT Use Will Expand
As of 2021, the number of connected internet of things (IoT) devices is 46 billion, a figure that surpasses smartphones (currently at 3.8 billion) by a staggering 42 billion. While most organizations are currently not using IoTs for enterprise mobility extensively, the future will witness an increased usage of these devices in supervision, monitoring, and control of business processes.
Artificial Intelligence Will Continue to Rise
As the scope of artificial intelligence (AI) increases, so will its effects on enterprise mobility. In the future, enterprise mobility will see more AI-powered mobile devices that can analyze device patterns and user behavior used by organizations. AI-based security will also become a crucial element in enterprise mobility as organizations design secure environments for deploying BYOD.
Chatbots Will Become Even More Popular
Today, most organizations are using chatbots to instantly provide answers to customers' queries, helping to drive customer satisfaction. This trend will continue to grow in the enterprise mobility arena as organizations strive to provide quality services to their customers.
Access Windows Desktops in Any HTML5 Browser with Parallels RAS
Enterprise mobility has far-reaching implications on how business-critical applications are deployed, managed, and delivered to users in an organization. It also affects how an organization creates and improves its core business processes and operations. A holistic business mobility strategy can help you reduce costs, boost productivity, simplify IT management and optimize security.
Parallels® Remote Application Server (RAS) is a holistic enterprise-mobility solution that you can leverage to minimize costs, foster productivity, simplify IT administration, and optimize security. As an out-of-the-box virtual desktop infrastructure (VDI) solution, Parallels RAS delivers virtual desktops and applications across desktop and mobile environments. This allows employees to access corporate resources anywhere, anytime, from any device, and any platform that provides an HTML5 compatible browser.
When using the HTML5 Client, you don't need to install or configure anything. This means employees get to launch virtual applications and desktops securely via hypertext transfer protocol secure (HTTPS) in minutes! They can also use the HTML5 Client portal to launch applications and desktops via the platform-specific Parallels Client if required.
Most importantly, Parallels RAS uses modern IAM solutions such as Ping Identity, Gemalto, Microsoft Azure, and Okta. These solutions help organizations streamline user access across multiple devices while protecting sensitive corporate resources.
Streamline user access to Windows applications and desktops by downloading the Parallels RAS trial today!