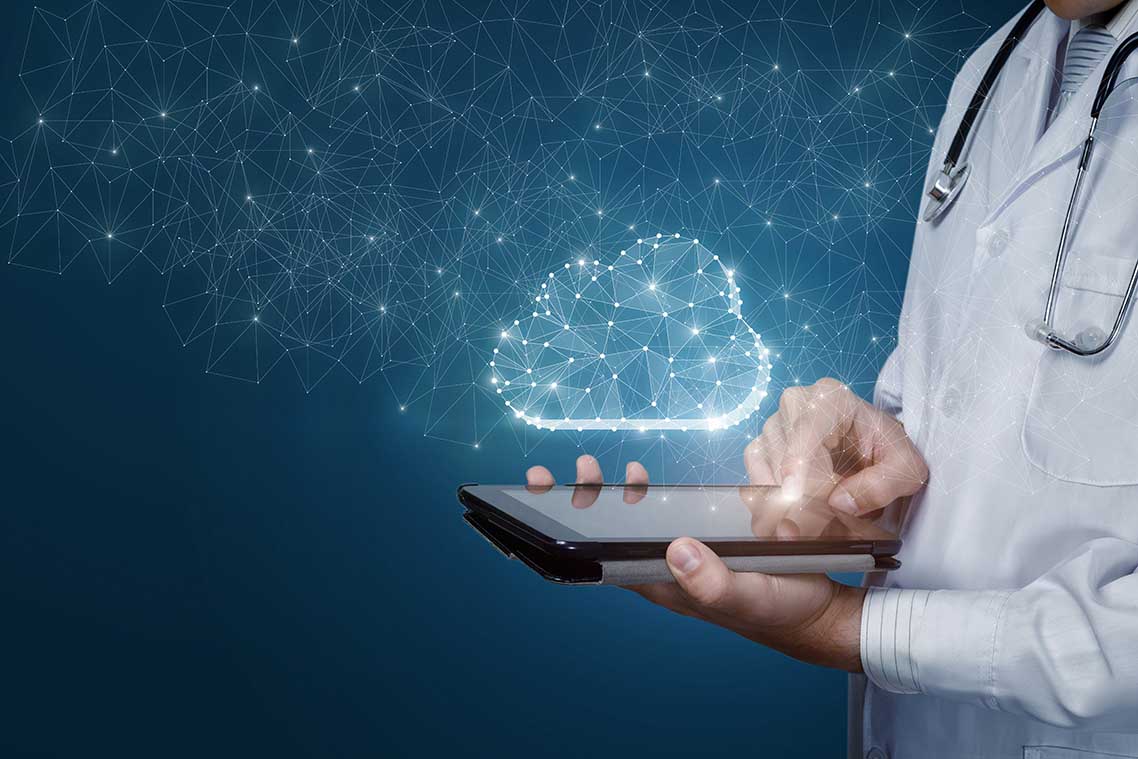 Should You Invest in Healthcare Cloud Services?
In 2011, Centers for Medicare and Medicaid Services (CMS) established the Promoting Interoperability Programs, which encourage clinicians and healthcare organizations to adopt electronic health record (EHR) software into their practices. A patient's EHR contains important medical information, such as lab results, medications, provider notes and communication between the patient and care providers.
Healthcare providers collect and generate large volumes of data from a variety of sources, including EHRs, insurance claims, radiology images and more. Systems to store this data may be on-premises or cloud-based. On-premises servers require significant IT bandwidth to handle the data load, while healthcare cloud systems store data on external servers without the extra costs of maintaining physical servers.
While in-house storage has been the norm, healthcare organizations are shifting their investment to cloud services. According to MarketsandMarkets™, the market for healthcare cloud computing is slated to reach $64.7 billion by 2025.
In this article, we'll explore the benefits of shifting to cloud computing and cloud-based software to streamline operations, reduce costs and improve quality of care.
COVID-19 Increased Demand for Healthcare Cloud Solutions
The COVID-19 pandemic accelerated digital transformation across nearly all job industries and organizations. In March 2020, the US Surgeon General and CMS advised healthcare systems to cancel or postpone elective, non-essential procedures to brace for the impact of the COVID-19 outbreak.
Outpatient services shifted to telehealth interactions, and policymakers and insurance companies eliminated copays for telehealth visits and allowed for reimbursement on par with in-person visits.
Cloud systems can help maintain business continuity and online collaboration, both of which were critical for the success of remote work environments during pandemic-related lockdowns. Unlike on-site infrastructure that accommodates a set number of users, cloud-based solutions can scale bandwidth up and down in response to changing network traffic demands. This load-balancing process spreads network or application traffic across a group of servers, increasing the infrastructure's availability and reliability.
With around 33% of healthcare employees working remotely full-time from October 2020 to April 2021 and the trend currently continuing, cloud-based applications and desktops can help ensure that all employees can connect to the resources they need, whether they are in the office or off-site.
Healthcare infrastructure and resources were strained by the pandemic. For example, health officials faced a shortage of ventilators. Even when ventilators were available, treating patients required that hospital personnel wear protective gear every time they entered the room, further reducing limited supplies of personal protective equipment. To solve this issue, organizations looked to cloud-based remote monitoring technologies. One such solution is remote operation of ventilators, which limits staff exposure and preserves medical resources.
In early 2020, Microsoft CEO Satya Nadella reported that the company had seen two years of digital transformation take place in the span of two months, including the adoption of cloud solutions. To better support providers and patients, Microsoft launched a cloud service specifically for healthcare in May 2020. Healthcare systems can leverage this industry-specific cloud service to increase patient engagement, schedule telehealth visits, maintain patient data and ensure Health Insurance Portability and Accountability Act (HIPAA) compliance.
In another example, the Oklahoma State Department of Health deployed an application for medical staff to allow them to follow up with patients who reported symptoms of COVID-19 in just 48 hours. Cloud adoption is expected to increase dramatically in the healthcare sector, driven by rapid advancements in cloud-powered virtual healthcare.
The pandemic's impact on cloud spending is echoed by Gartner, with data indicating that cloud investments could comprise 14.2% of the IT spending market in 2024, compared to 9.1% in 2020.
Investing in Cloud Solutions for Healthcare Has Benefits
Enhanced Data Security
HIPAA-compliant healthcare cloud services increase data security by centralizing and managing data access. Data security is a key concern in the healthcare industry because the personal health information contained in EHRs is among the most valuable personal data sold on the black market. While on-site technologies are primarily reactive to security threats, cloud solutions proactively monitor for system vulnerabilities.
In 2020, the HIPAA Journal reported a 25% increase in healthcare data breaches. Hacking and other IT incidents caused the majority of these breaches. Currently, the US Department of Health and Human Services Office for Civil Rights is investigating over 800 reported health information breaches, which attackers can use for fraudulent insurance claims, fake tax returns and more. Unlike stolen credit cards, which can be reported to a bank and cancelled, there are no straightforward solutions for recovering stolen medical records.
Electronic records are more secure than physical files, and cloud-based systems improve the sharing and storage of health information. Healthcare cloud services offer HIPAA-compliant tools to safely manage patient and organizational data. In addition, cloud data storage reduces breaches caused by loss or theft, which previously accounted for the majority of healthcare data breaches.
Medical data stored in the cloud is kept safe and secure. Information is not stored on a user's device; instead, it's protected within cloud servers. Cloud solutions can also provide high-quality security features, such as file encryption and data storage behind a protective firewall. Data backups can be deployed across multiple locations, which ensures valuable information is safe even if a particular server fails.
Reduced Cost Burdens
The healthcare industry generates a significant amount of data, and on-premises storage requires significant investments in IT infrastructure, bandwidth and computing power. In addition to the upfront investment, healthcare organizations must also handle the ongoing costs associated with managing servers, server storage spaces and cooling solutions.
On-site data sets also take up valuable real estate that could otherwise be used for something else, such as increasing the number of exam rooms. In addition to storage requirements, paper-based patient records would be lost in the event of a fire, flood or other disaster.
Healthcare cloud data storage ensures valuable information is securely backed up in multiple locations, without the added cost of hardware and software installation for client-server systems.
Hospitals and health systems across the US faced unprecedented financial strain due to the pandemic, which disrupted medical equipment supply chains and postponed non-emergency procedures. Smaller practices and rural providers tend to operate under tight budgets, so the financial losses of 2020 left many searching for ways to streamline operations and save money on administrative processes.
Virtual desktop infrastructure (VDI) can be a cost-efficient alternative to setting up dedicated physical desktops for all personnel within a healthcare organization. With VDI, users can access desktops and applications from any device, which reduces hardware provisioning costs.
Improved Scalability and Flexibility
Healthcare facilities must estimate how much capacity they require to build an on-site data storage solution. When they run out of storage space, they must invest more resources to increase that capacity.
Cloud-based systems are more flexible, allowing healthcare entities to increase or decrease storage requirements based on current needs. The flexibility of cloud-based software makes it easy to scale storage capacities without the added expense of additional hardware purchases or software updates.
In addition to adding new users, providers or locations easily, cloud scalability can help manage variations in patient volume. For example, the volume of patients may increase during flu season, so cloud technologies can enable providers to scale data storage and network requirements to meet a temporary increase in service demands.
The flexibility of cloud-based systems also makes it easier to grapple with the ever-changing environment in which healthcare providers operate. For example, the unexpected shift to remote work facilitated by the COVID-19 crisis had industries and organizations scrambling to make sudden changes and accommodations. Natural disasters and other emergencies that lead to an influx of patients can overwhelm hospital systems, but cloud-based dispatch systems ensure that stakeholders get timely and accurate information related to these events.
A healthcare cloud gives personnel secure, off-site access to everything they need to perform important job functions. Having the ability to adjust resources quickly and easily is key to maintaining optimal performance and response times.
Increased Provider Collaboration
Cloud-based storage systems facilitate easy access to patient data across various segments of the healthcare industry. Without this data centralization, a patient would need to keep a distinct medical record for each provider they visit, including primary care doctors, hospital emergency rooms, urgent care facilities, specialists and more.
Some cloud solutions can integrate with one another to synchronize and share information in real time. This process ensures that providers at each facility understand interactions between the patient and other medical institutions. Instead of transferring records manually from one place or provider to another, providers can exchange and access information seamlessly in a cloud environment. This creates a care continuum in which key stakeholders work together to improve health outcomes and customer care.
Exchanging, interpreting and using healthcare information is critical to ensuring successful patient diagnoses, treatments and solutions. Healthcare cloud services help lessen the burden that is often placed on patients when it comes to accessing and sharing their health data.
Parallels RAS Optimizes Healthcare Cloud Services
Parallels® Remote Application Server (RAS) provides healthcare organizations with the option of a cloud-based VDI infrastructure for application desktop and delivery. With comprehensive virtualization features offered in an all-inclusive, single license model, Parallels RAS reduces IT complexity and total cost of ownership (TCO).
Cloud computing use in healthcare is only set to increase, which can lead to a host of benefits for patients, providers and the overall healthcare industry. Parallels RAS has a host of features specific to benefiting healthcare providers. With real-time access to patient data, providers can view and input information from anywhere, increasing productivity and improving patient care.
Because VDI facilitates increase accessibility to patient data, medical professionals can find the information they need from any device while protecting private information. End-to-end security helps organizations meet HIPAA and other regulatory compliance requirements, and only approved personnel can access files and data. And by offering single sign-on (SSO) for users, Parallels RAS helps streamline user identity management to accelerate login times.
Discover how Parallels RAS helps healthcare providers increase the use of cloud computing across their workforces.