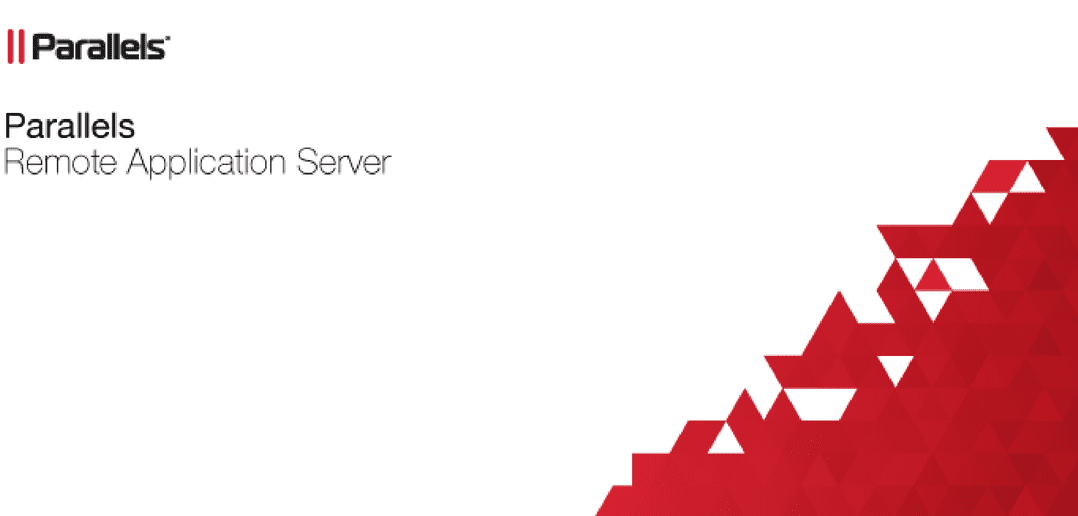 What you need to know before installing Parallels Remote Application Server (RAS)
Parallels Remote Application Server (RAS) features a winning combination of cost-effectiveness, ease of deployment and management, an easy-to-use interface, and most of all, seamless and sophisticated delivery. It publishes applications on almost any device, anywhere. These include PC, Mac, Linux, Android, iOS, Windows Phone, Chrome OS and thin client.
Parallels RAS is so simple to install, it takes hours and days rather than the weeks or months needed to set up other products. Not only that, but it saves you 60% compared to the nearest competitor.
OK, let's get to the good stuff. We'll go into some detail on what the requirements are to run Parallels RAS.
We'll cover three key areas in this post:
Windows Server requirements, roles, and features
Networking requirements
Windows firewall requirements
Windows Server Requirements, Roles, and Features
Except for HALB and VDI virtual appliances, all Parallels RAS farm server components are Windows Server-based. Parallels RAS supports the following Windows Server platforms:
Windows Server 2003 SP1
Windows Server 2008
Windows Server 2008 R2
Windows Server 2012
Window Server 2012 R2
Parallels RAS can be installed using Active Directory or Local Windows Security. Notably, the use of VDI  requires Active Directory. When deploying Parallels RAS in an AD environment, it's important to remember the following:
Make sure that Windows Servers are joined to a domain before the installation of Parallels RAS.
Make sure that the installation of any RAS components on an Active Directory Domain Controller is not supported.
Before installing Parallels RAS on a supported Windows server, you need to keep a few things in mind in terms of servers and agents.
The Publishing Agent Server and Gateway Server operate on all of the above servers and don't require any specific Windows roles or features. However, the Terminal Server Agent does require a few installed roles depending on the server version.
Terminal Server Agent

Windows Version

Windows Server 2003 SP1

Windows Server 2008

Windows Server 2008 R2

Windows Server 2012

Window Server 2012 R2

Required Role

Terminal Server Role

Remote Desktop Session Host *
* Automatically install the Remote Desktop Session Host role using the Add Terminal Server Wizard in Parallels RAS v15 and subsequent versions.
Remember, a Windows Remote Desktop/Terminal Server License server is ALWAYS required. Parallels RAS does NOT replace the need for Microsoft Client Access Licenses (CALs). Lastly, you generally do NOT want to install the License Server on the production Remote Desktop/Terminal Servers.
Networking Requirements
This one is pretty simple. We have one do, one don't, and one choice.
DO use a static or permanently reserved DHCP address.
DON'T change the server hostname after installing Parallels RAS.
On gateway servers, you need to make sure ONE of these conditions is met:
DNS resolution is available.
HOSTS files are configured for DNS resolution.
Windows Firewall Requirements
Are you using Parallels RAS v15 or higher? If so, you are in luck. It automatically configures Windows firewall settings. It also automatically allows communication between different RAS servers in a farm.
If you are manually configuring the Windows firewall, just make sure you do NOT check Add Firewall Rules.
There is a complete list of required firewall ports in the Port Reference section of the Parallels Remote Application Server Administrator's Guide.
Last but not least, when pushing RAS components to another server from the main console, ONE of the following firewall configurations must be used on the remote server:
Open Windows Firewall ports TCP 135, 445, 49179, then push RAS components and let the Windows Firewall ports automatically configure.
Temporarily disable the Windows Firewall, push RAS components, let RAS automatically configure the firewall settings, and then re-enable the Firewall
Manually configure Windows Firewall settings as described in the Port Reference section of

Parallels Remote Application Server Administrator's Guide

and then install RAS components.
So there you have it. Everything you need to know before you get started! Parallels Remote Application Server (RAS) is affordable, easy to use, and delivers massively on mobile applications. See more information here on why this is the solution for your business.