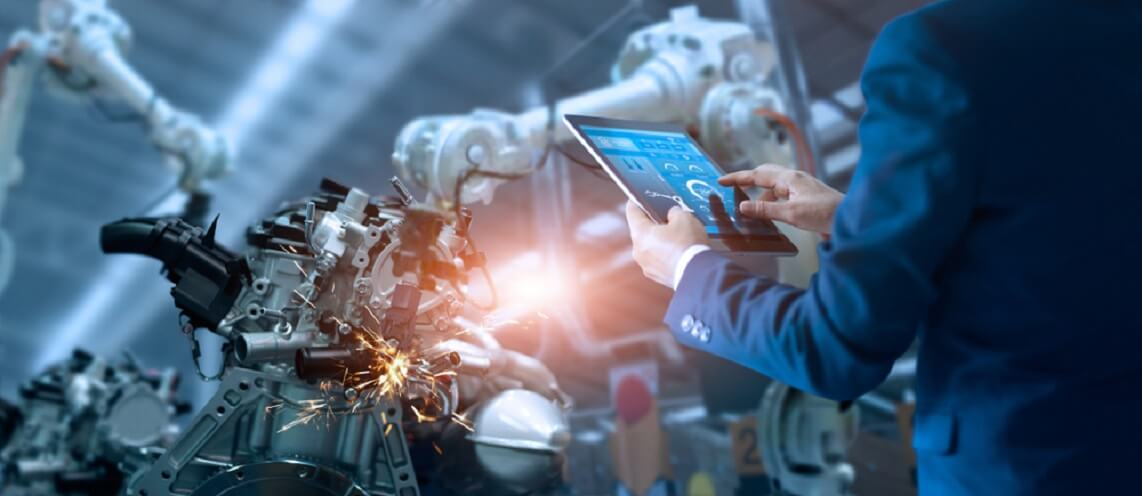 Manufacturing IT Solution Guide for Businesses
Who is this Manufacturing IT Infrastructure Solution Guide Intended For?
This guide is designed for IT professionals who manage the IT infrastructure at a "manufacturing IT" business, and who are looking for an application and desktop delivery solution to improve infrastructure security, reduce costs, and provide employees with more flexibility and productivity tools.
An application and desktop delivery solution should allow the IT professionals to provide remote access to line-of-business (LOB) software while maintaining full control of the IT infrastructure and keeping the business' confidential data secure.
Manufacturing IT Trends
Manufacturing IT has evolved from the time the computing age came about to become a powerhouse today, helped along by ever-increasing demand for IT hardware and equipment from all sectors. Its continued evolution in the years ahead will rely heavily on IT trends. Some of these IT trends in fact are already playing a major role in the industry, from small players up to major ones. These trends include the following:
Cloud Computing: Cloud providers have gained mainstream acceptance because of the many advantages it brings to users. For example, stored data in the cloud is easily accessible from anywhere. Manufacturers are using the cloud to streamline their supply chains. Data is provided from the cloud throughout the manufacturing process, from the time a supplier delivers the materials down to when the final product is shipped to the retailer. One other area where the cloud plays a part is in product customization when data from customers are considered in coming up with the final product.
Industrial Internet of Things (IIoT) and Edge Computing: With IIoT, it is now possible to connect machines, processes, and their human operators seamlessly, making manufacturing more efficient. Also helping is the move towards Edge Computing, in which hardware attached to manufacturing equipment is responsible for processing data coming from the equipment, instead of transmitting that data to the cloud. This secures the data from potential intellectual property theft. Edge computing also leads to better analytics, as it is able to filter useful data from the clutter.
Fast Data: IIoT data is processed and transformed into Fast Data, allowing real-time analytics to be performed on data generated during the manufacturing process. Fast Data allows manufacturers to predict machine failure, monitor manufacturing efficiency, and detect fraud.
Cybersecurity: Manufacturers are increasingly focused on improving cybersecurity in the face of continuing threats posed by malicious cybercriminals. These threats are particularly worrisome given that IoT is becoming increasingly prevalent. Close cooperation between management and IT teams is needed to reduce cybersecurity risks in manufacturing processes.
Why Should Manufacturers Invest in a Virtualization Solution?
Application and desktop delivery solutions provide the IT team with the capability to deliver a reliable, secure, and flexible system that both management and operators can use to improve their workflow and keep up with workplace demands.
Below are a few benefits for a manufacturing IT business that invests in an application delivery solution:
Reduce manufacturing IT overheads
Application and desktop delivery offers many benefits when it comes to lowering overhead and reducing costs. First off, taking advantage of application virtualization allows IT managers to use fewer hardware resources, which can be a significant capital expenditure. IT administrators only have to install an application once on the server, and they can deliver that application on any device. This means you save on overhead by keeping older hardware functional for a longer period. Furthermore, IT staff can centrally manage the IT infrastructure and access to data. When an employee has a problem with a workstation, IT administrators can troubleshoot the issue remotely, without the need to walk through the factory's production line, which in some cases might even lead to accidents.
Guarantee business continuity
Most modern machinery is operated via software, and if the operator cannot use the software, that impacts productivity. An application and desktop delivery allow IT administrators to build a high-availability solution without significant time or budget overhead. A high-availability solution means that LOB software is always available. If problems arise, IT staff can troubleshoot them remotely, within just a few minutes, keeping software, machinery, and manufacturing productivity running smoothly.
Automatic updates
One of the problems of security vulnerability is that the attack is not aimed at the company, but at the device. If it is not updated correctly, it will eventually become vulnerable and increase the risk of being attacked. With the cloud, this weakness disappears, because on the one hand, the server is outside the factory premises, and on the other hand, the system always runs with the latest version of the software.
Data safety
Improve data security, which is a key issue for users. The data stored in cloud manufacturing is encrypted, and there is an automatic backup system to obtain regular backups. By using an application and desktop delivery solution, IT administrators can move all data and processing requirements to a data center or the cloud and use low-cost hardware on the production line. As a result, when hardware problems arise, IT administrators can replace the production line workstation, and the operators can be up and running again within minutes.
Worker Mobility
Since you only need to connect to the internet, you can work anywhere, no matter which device you want to access the system from. You are no longer limited to physical spaces to process information.
Challenges in Manufacturing IT
Hardware issues
Production lines aren't the ideal environment for computers. The excessive heat and dust that is typical in that environment frequently lead to hardware issues, which can sometimes cause loss of data. It also means IT staff has to spend time troubleshooting issues and restoring the workstations.
Local Computers
Most line-of-business (LOB) software used to operate machinery is typically installed locally on a computer near the machine. Therefore, engineers must physically visit the local machine to troubleshoot or supervise the operator's progress, which can be inconvenient and time-consuming. In addition, the software can only be used in one place and isn't available over mobile devices, or other locations.
Cost of downtime
Downtime is the killer of profit. Maintaining uptime across all businesses is critical in this day and time. The cost of downtime equals is expensive and building better IT solutions is the answer to this. The best way to maintain continual uptime in an IT network is to proactively and predictively maintain systems. Doing this enables machines to relay granular levels of data, prevent breakdowns by sending alerts when the infrastructure is under serious levels of strain.
Incorporating new technologies
To keep up with increasingly competitive technologies, IT companies need to incorporate new technologies strategically.  There are a lot of data management platforms that are being introduced daily and the next concept when it comes to manufacturing IT is the internet of things (IoT). Additionally, setting up reliable systems and networks is also critical to stay relevant in this era where new technologies are being added every single day. Incorporating new technologies requires the proper study of their usability, security and long-term effectiveness.
Parallels RAS: A Streamlined Application Delivery Solution
Parallels® Remote Application Server (RAS) is an industry-leading solution for virtual application and desktop delivery. This cloud-ready product supports public cloud deployment through Microsoft Azure and Amazon Web Services (AWS), on-premises and a hybrid of both. Parallels RAS offers an impressive, native-like mobile experience on iOS, Android and Chromebook devices. With minimal effort and maximum scalability, it enhances Microsoft Remote Desktop Services (RDS) and works with most major hypervisors.
With an easy-to-use interface, time-saving administration tools and reliable security protocols, Parallels RAS is the perfect solution for meeting the manufacturing industry's virtualized IT infrastructure needs.
Easy to use, with straightforward management
Parallels RAS is easier to use and maintain than competing software offerings on the market. The IT team does not have to spend days planning the IT infrastructure and reading through a stack of documents to understand the product. Through the intuitive setup wizards, Parallels RAS allows IT administrators to set up a private cloud and an application and virtual desktop delivery tool within hours.
An easy-to-use IT system also means less maintenance. Most of the features, such as the resource-based load balancer and universal printing, are automatically configured. Other tasks, such as scaling up the infrastructure, can be accomplished via user-friendly wizards and can be done remotely within just a few minutes. Moreover, managing the shared resources, including applications and desktops, is straightforward from a single pane of glass.
Extend the lifespan of old hardware
Parallels RAS allows manufacturing IT administrators to replace the Windows® shell with a secure Parallels shell to reinforce security and create a lightweight, pseudo-thin-client on end-user terminals. From there, IT administrators can define which applications the end-user can run locally and which will be run by RAS. This won't, however, change the structure of the client machine, and IT staff and manufacturing employees can still access the network using a top-of-the-line PC.
As a result of the thin-client capabilities, IT administrators can extend the lifespan of old hardware by allowing users to operate any LOB and Windows applications on any machine with Windows 7 onwards. IT administrators can also use the thin-client mode to replace the Windows shell and secure the machine against viruses and security breaches by blocking the use of local applications. By extending the lifespan of old hardware, the IT department will reduce the yearly expenditure that is needed to replace and upgrade old hardware.
Centralize data for improved security, management and backups
Parallels RAS allows IT administrators to centralize all the data in a secure and closely monitored location. IT staff also has all the necessary tools to control who can access what and when. Furthermore, IT managers can monitor and keep track of any infrastructure changes made by other members of the team.
By centralizing all business data, it can be both easily backed up and protected from possible data breaches, corruption, or theft. Moreover, storing the data on a cloud system means the data is not affected or lost in the event an end-user workstation goes offline.
CYOD, BYOD and out-of-the-box mobility
Interdepartmental communication is widespread in the manufacturing industry; designers exchange ideas and get feedback from engineers, and engineers get feedback from operators on the production line.
To facilitate this communication, Parallels RAS comes with out-of-the-box mobility features. With Parallels RAS implemented, workers can access their data and personalized desktop from any mobile device such as an iPhone, Android, iPad or Chromebook. Therefore, users are not restricted to their desks and can gather feedback from their colleagues by going to separate warehouses or buildings, if necessary. Mobile access to business data also encourages the employees to collaborate when they're not at the office. Furthermore, manufacturing businesses can implement choose your own device (CYOD) and bring your own device (BYOD) policies.
Multisite support for central management of IT resources
Manufacturing IT businesses often have several buildings in different locations. When using Parallels RAS, IT administrators can set up a private cloud and virtualization solution in every building and then connect them through the central management console in a multi-site setup.
In a multi-site setup, IT staff can also allow users to access published resources from a private cloud even if they aren't directly connected to it. This eases business operations and logistics, thus improving production while consuming fewer resources.
Recommended Implementation and Features for Manufacturing IT
Centrally manage the manufacturing IT infrastructure
IT administrators can install a Parallels RAS site in each building or location. From there, the IT department can manage all of the sites and published resources from a central management console. In a multi-site environment, employees can access resources on sites to which they are not directly connected. For example, operators whose jobs switch between different buildings can check when they're needed in other departments via the remote system.

Delegate the management of sites
Parallels RAS allows IT executives to configure granular permissions for different administrator accounts. This means CIOs can easily delegate administrative and maintenance tasks to subordinates, freeing up their time to focus on the global IT infrastructure operations.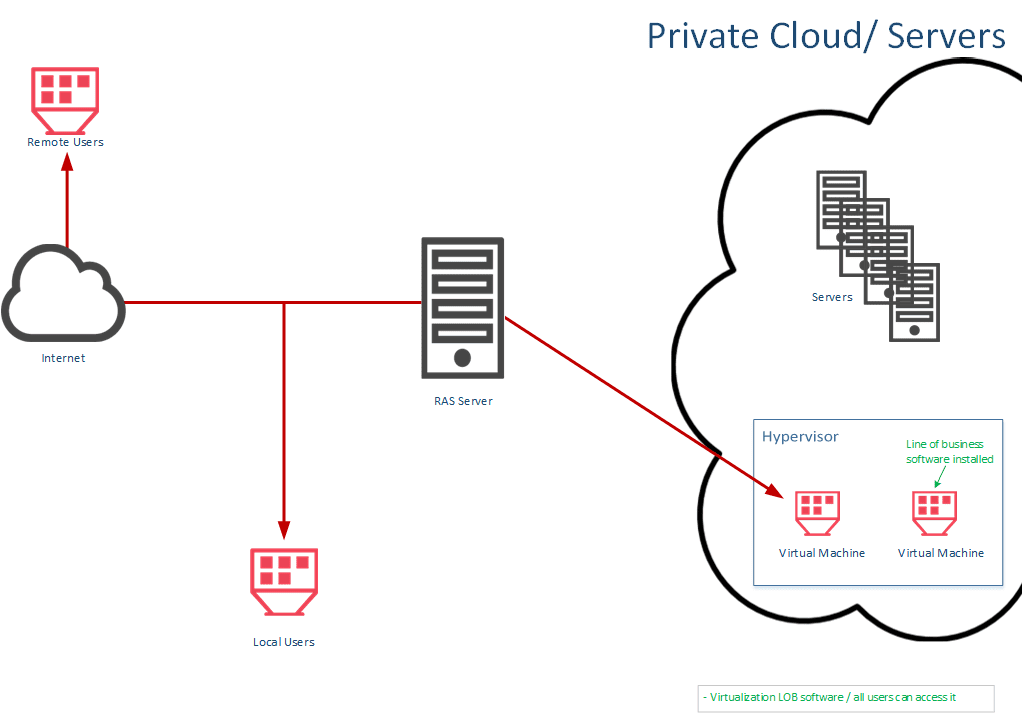 Improve the security of IT Infrastructures
With Parallels RAS, IT administrators can allow employees to access business data from a remote location without worrying about security issues. Integrate Parallels RAS with Gemalto or Deepnet authentication servers and implement a more robust authentication mechanism. The IT department can also implement smart card authentication for both Windows and Linux.
Finally, use the filtering options to specify who can access a published resource and when it can be accessed. To configure who can access the application, IT administrators have a variety of options and can restrict access by username, client machine, IP address, gateway and more.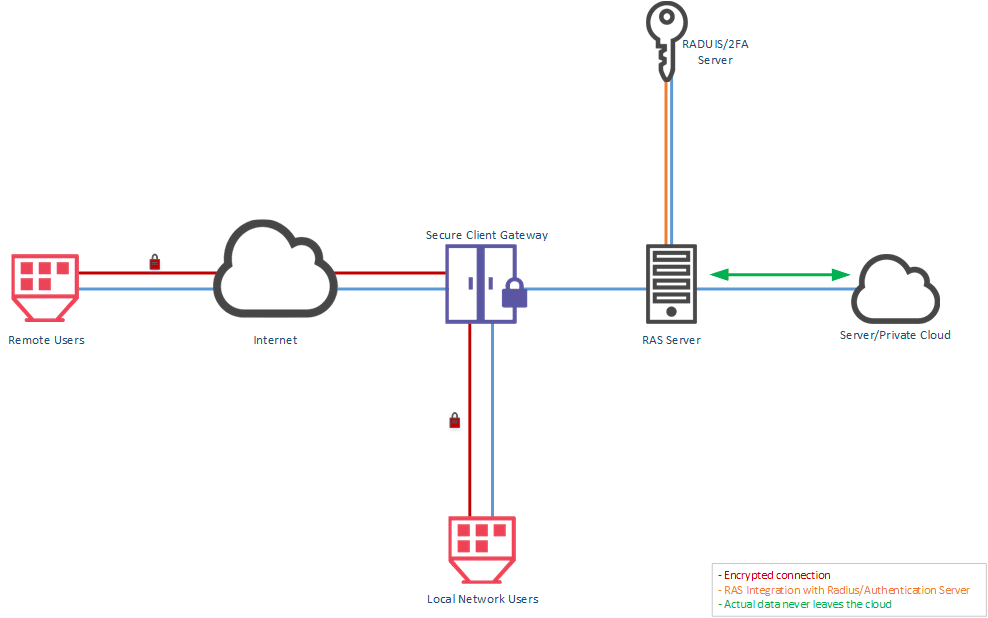 Use desktop replacement features to safeguard business data
Production lines tend to be hectic and unclean places, and therefore, it's not recommended to risk storing data on desktop computers. Use the desktop replacement features in Parallels RAS to convert them into pseudo-thin-client terminals and store the data in the centrally managed private cloud. By locking down and converting the production line's machines into dumb terminals, the IT department also ensures that none of the operators can tamper with or steal any sensitive information.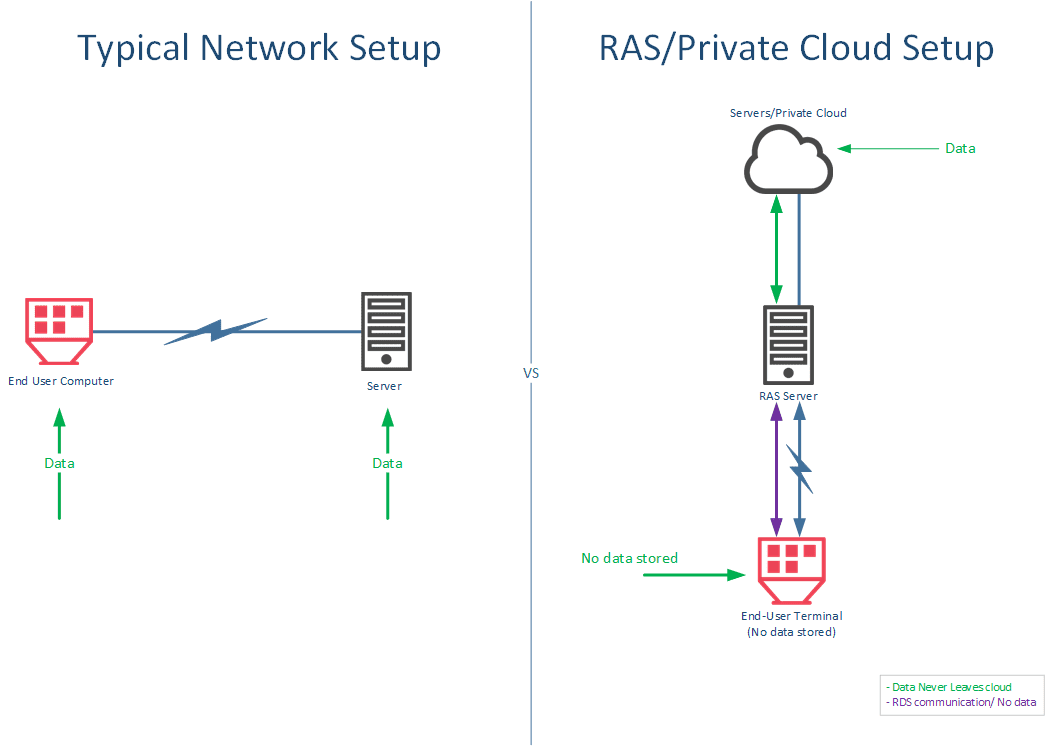 Want to try Parallels RAS out for yourself? Download your free 30-day trial.