Parallels Client and iPad as a Desktop Replacement
As a program manager for Parallels® Remote Application Server, I had the chance to use Parallels Client since the early alpha builds. It was like being a parent and watching your baby grow and mature. And, oh boy, the baby has grown big and strong! All the tricks that Parallels Client on iOS and Android can do—such as mobile OS gestures, native text selection, different mouse modes, and Quick Keypads—significantly improve the experience of using desktop Windows applications on a mobile device.
I'm an Apple® guy, although before I was a ThinkPad, Windows Mobile, and later a Windows Phone guy. So when the iPad Pro® 10.5″ was released, I got one the first week it went on sale.
My primary computer is a MacBook Pro® 13''; it is powerful enough, and at the same time lightweight and compact. It is always with me on my business trips and vacations. But since buying the iPad Pro 10.5″, I had a thought that when I go on my next vacation, I want to try and travel light. The question was, what would I need in order to productively use Windows desktop applications, such as Outlook and Visio, on my iPad?
Parallels Client and iPad
To take a vacation or business trip that is not weighed down by your laptop and charger, you need the following:
iPad – In my case, it is an iPad Pro 10.5″, but it can be any iPad.
Smart Keyboard for iPad Pro
Swiftpoint GT Mouse – That is one of the unique capabilities of Parallels Client: support for external Bluetooth Swiftpoint GT mouse. Read more about integration with Swiftpoint GT.
Parallels Client (iOS)
Here is how my setup looks: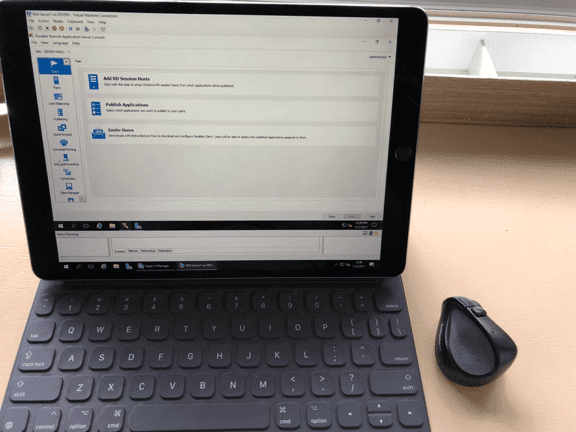 I use it to access a Parallels RAS deployment that is running on my home server. The Parallels Client support for external mouse and keyboard allows me to work as productively as if I were using a regular desktop computer. And when I don't need the external mouse and keyboard, in an instant I can simply switch to using the Parallels Client (iOS) touch interface and gestures. So it's a double win!
Now think about all those Parallels RAS end users in healthcare, education, and other industries that could take advantage of such a lightweight, flexible setup. The possibilities are endless!
Interested in learning more about the unbeatable mobile experience offered by Parallels RAS? Try a free 30-day download today.
Feedback
If you would like to suggest a feature for Parallels RAS and Parallels Client, please post your ideas in the Feature Suggestions forum.
---
References
Parallels Client: working with applications – kb.parallels.com/en/124032 
Using Parallels Client – kb.parallels.com/en/123586
Using mobile Parallels Client – kb.parallels.com/en/123939