Phase 4 – Adding and Publishing Applications
Adding and Publishing Applications Using Parallels® RAS Console (Phase 4)
After the successful configuration of RD Session Hosts in the Parallels® Remote Application Server (RAS) Console, you can start adding and publishing applications. Navigate to the Start category on the left-hand side of the console; alternatively, you may also click "View" from the top toolbar and click "Start".
Once you have opened the Start category, click on Publish Applications.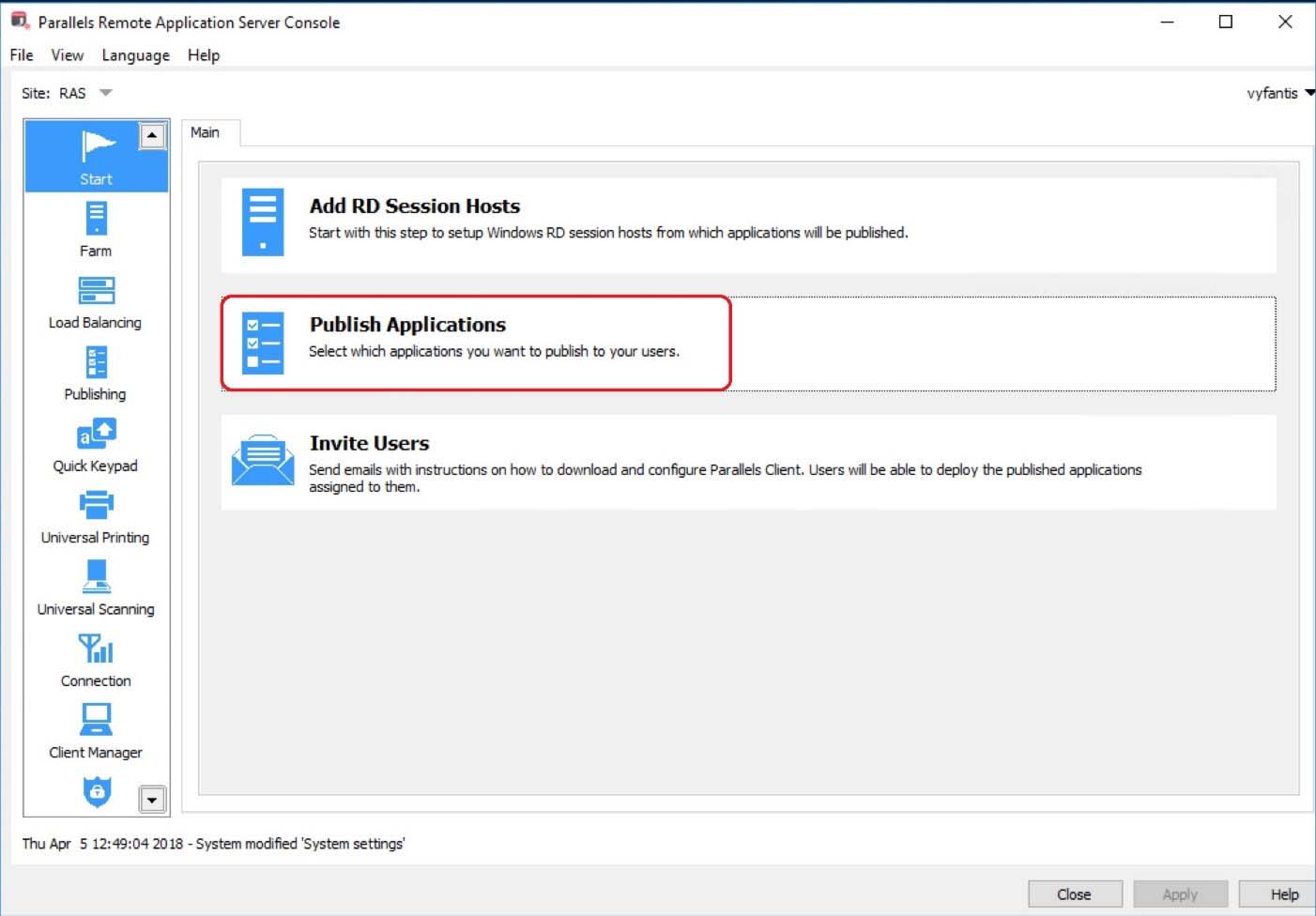 Through the Parallels RAS Console, you can publish applications from:
All servers in site
Preconfigured server groups
Individual servers by selecting the RD Session Host server you want to publish from
After you have selected your preferred option, click "Next >" to continue. In this tutorial, you will select the newly added RD Session Host that you configured in the previous step.
NOTE: This step is only available if you have more than one RD Session Hosts implemented. If you have only one RD Session Host configured, this step is skipped and the default RD Session Host is used.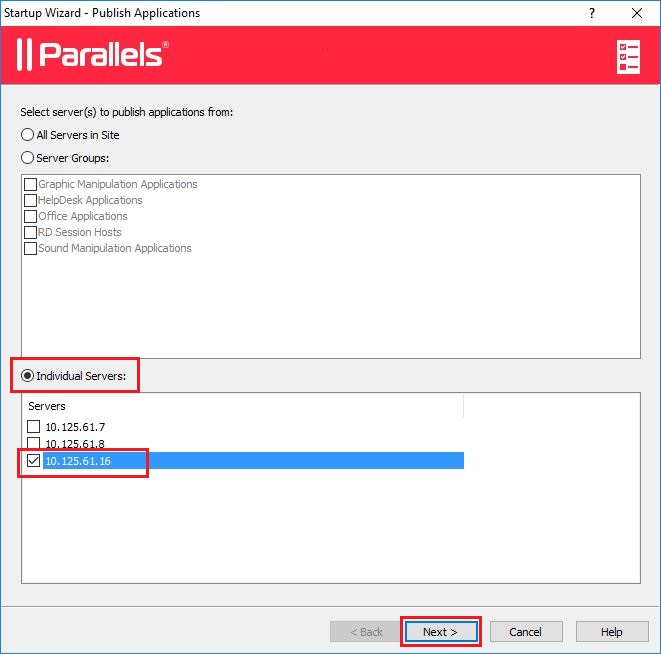 All the applications available on the server you chose are displayed in the window as shown below. Select the applications that you want to publish by ticking the checkbox next to the application. You can also tick on the folder which publishes all the applications listed under that folder. For the purposes of this tutorial, you will publish a few free applications and some Windows accessories. When you have chosen all the applications you want to publish, click "Next >" to continue with the Wizard process.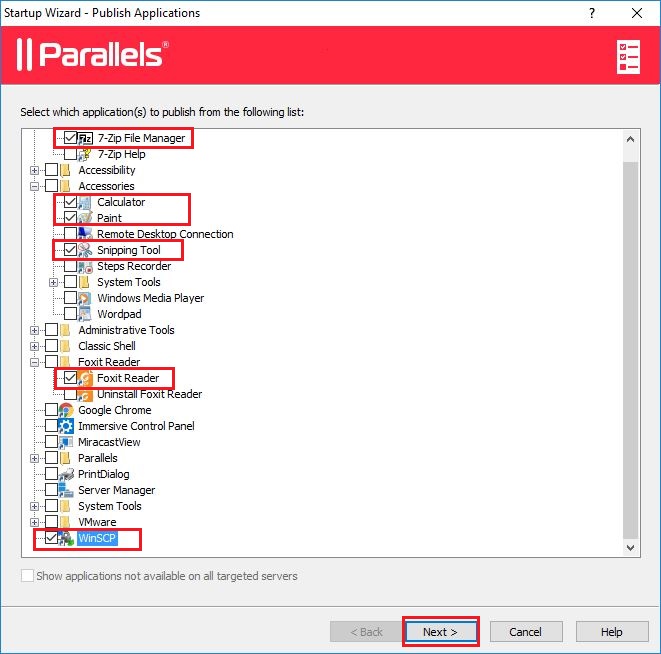 A summary of all the configurations made are shown below. If you want to make any changes to the defined settings, click on the "< Back" button. If not, click "Next >" to publish the applications.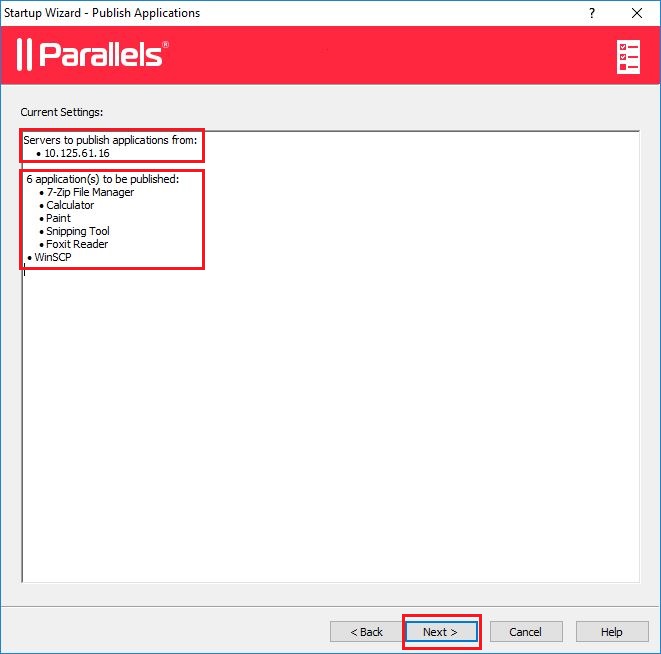 As we can see in the window below, all six applications have been published. Click "Finish" to end the Wizard.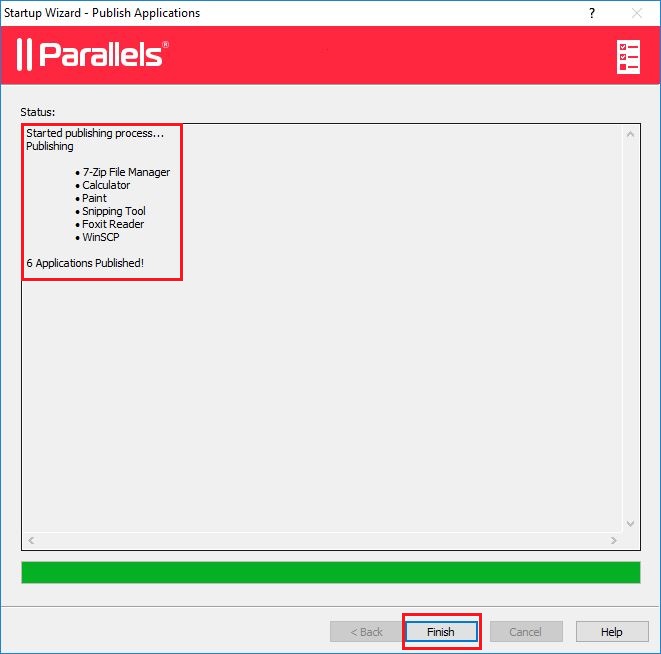 Additionally, you can inspect the properties of a published application by checking it from the console as shown below. Navigate to Publishing from the left-side menu and select the application you want to view.