Remote Teaching: A Secure Solution for Education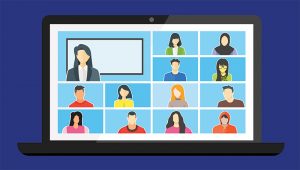 COVID-19 has challenged each and every educational institution to rethink their capabilities and find the best mixture of in-person and remote learning experiences to help create a safer environment for students, educators, and administrators when they return to school. Educational spaces built before COVID-19 were not designed with disease mitigation in mind. Now educational organizations must make choices to adapt existing spaces with current technologies to meet the new safety challenges presented by the pandemic.
Create digital learning spaces
Learning environments need to be reinvented as science-based evidence and emerging technologies offer new solutions. Before, learning spaces were designed largely for the efficient transfer of knowledge in a cost-effective way. Now, schooling has changed, and educational organizations need more flexibility as well as the ability to adapt quickly to possible health-related, climatic and economic disruptions.
The main concern now is social density. Schools are being forced to think creatively about how to reduce social density on their campuses. By transitioning to distance education, a significant amount of space is opened up in locations such as common areas, classrooms, conference rooms and administrative offices.
With virtualization technologies, such as virtual desktop infrastructure (VDI) and remote desktops, educational organizations can scale both computer and networking capabilities without expensive hardware.
Remote access can improve education
Before health concerns drove many schools to shift to remote learning, some have already given remote access to faculty members and students. This helped prepare these schools for the present reality, and gave them first-hand experience in how remote access can help improve education.
With remote access, teachers and students can access their computers in school using any device. Once connected, they can utilize the full range of software available on the school computers, and are able to do things they would otherwise find difficult if they are using their own devices. For example, they can use video and graphics editing software that can be prohibitively-priced if individually-acquired.
Moreover, both faculty and students can utilize technologies such as screen sharing from the comforts of home. Interaction between teachers and students are improved in the process. Teachers are better able to get their points across to students. In turn, students are better able to grasp concepts.
IT staff benefit from remote access as well. In case of issues encountered by faculty and students, IT administrators can take over the devices, and perform the required troubleshooting procedures, allowing faster problem resolution.
How Parallels RAS helps with Remote Teaching
Parallels® Remote Application Server (RAS) is an all-in-one VDI solution that enables students, faculty and IT to remotely access applications and services from any device, including PC, Mac, Chromebook, iPad, iPhone, Android tablet and phone, Linux or  HTML5 browser. This comprehensive software comes with all of the features packed into one easy-to-use tool that's simple to deploy and manage.
With Parallels RAS, it's possible to create flexible hybrid in-person/remote education plans that can be rolled back when coronavirus spikes or new waves emerge.
Parallels RAS is a remote working solution for education that:
Centralizes management and control of access to digital educational systems.
Provides a hybrid deployment of applications and desktops, enabling remote access from any device.
Easily creates remote labs with simplified access.
Moreover, Parallels RAS helps optimize:
Mobility: Enables access of tools away from the physical office or classroom.
Accessibility: Access applications on any platform and HTML5 web browser.
Virtual Desktops: Allow students/staff to work on their Windows desktops from any device, anytime.
Productivity: Empower students and staff to get their work done efficiently despite unexpected events.
It's straightforward for IT administrators to control and monitor thousands of virtual machines (VMs) from a single central console. Virtualization also encourages a bring-your-own-device (BYOD) culture, allowing students and staff to bring their devices and access all educational resources while limiting the need to touch or interact with shared devices.
To find out more about how Parallels RAS can help your educational organization, download the free trial. 
---
Resources:
Parallels Solutions for Education – https://www.parallels.com/products/ras/use-cases/education-it/
Parallels Webinar: https://b2b.parallels.com/webinar-emea-en-back-to-school.html
Cambridge Assessment International Education | https://www.cambridgeinternational.org/support-and-training-for-schools/teaching-and-learning-when-school-is-closed/tools-remote-teaching-and-learning/
EDUCAUSE Review | https://er.educause.edu/articles/2020/3/the-difference-between-emergency-remote-teaching-and-online-learning
Parallels RAS | https://www.parallels.com/blogs/ras/remote-teaching-solution/