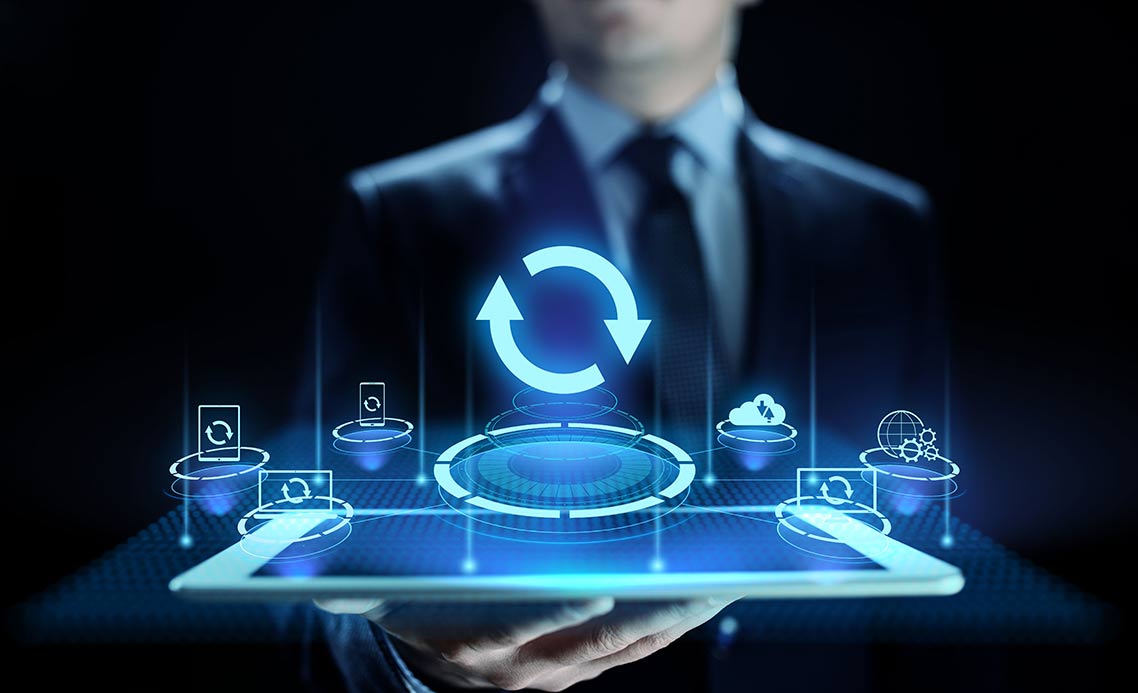 How to enable RemoteFX USB Redirection
RemoteFX USB redirection complements the native Remote Desktop Protocol (RDP) device redirection features in order to provide users with a complete experience when managing different types of devices in a remote session.
Key Features of RemoteFX
The following are some of RemoteFX for WAN's important features:
Automatic network detection that may change to accommodate initial and evolving network circumstances
A UDP transport with best-effort delivery for multimedia content and the ability to use forward error correction (FEC) to recover from losses without re-transmission is designed for networks with packet loss.
When UDP is not accessible, fallback to TCP transport
Industry-standard standards for congestion control and security
Advantages of RemoteFX USB Redirection
One of the main advantages of this feature is that no driver installation is required for USB devices on the client computers and all of them will work through a universal interface. This solution supports a large set of devices, including all-in-one printers, human interface devices, scanners or webcams.
This feature is disabled by default and can be enabled by performing these steps:
To configure it locally in a client PC, run gpedit.msc
For a centralized configuration through Active Directory Group Policies, open the Group Policy Management Console, create a new policy and once you have configured it as shown below, link it to the Organizational Unit where target machines are located.
Navigate to Computer Configuration\Administrative Templates\Windows Components\Remote Desktop Services\Remote Desktop Connection Client\RemoteFX USB Redirection
Set "Allow RDP redirection of other supported RemoteFX USB devices from this computer" option to Enabled
Set who should have RemoteFX USB redirection rights and click OK, then close the policy editor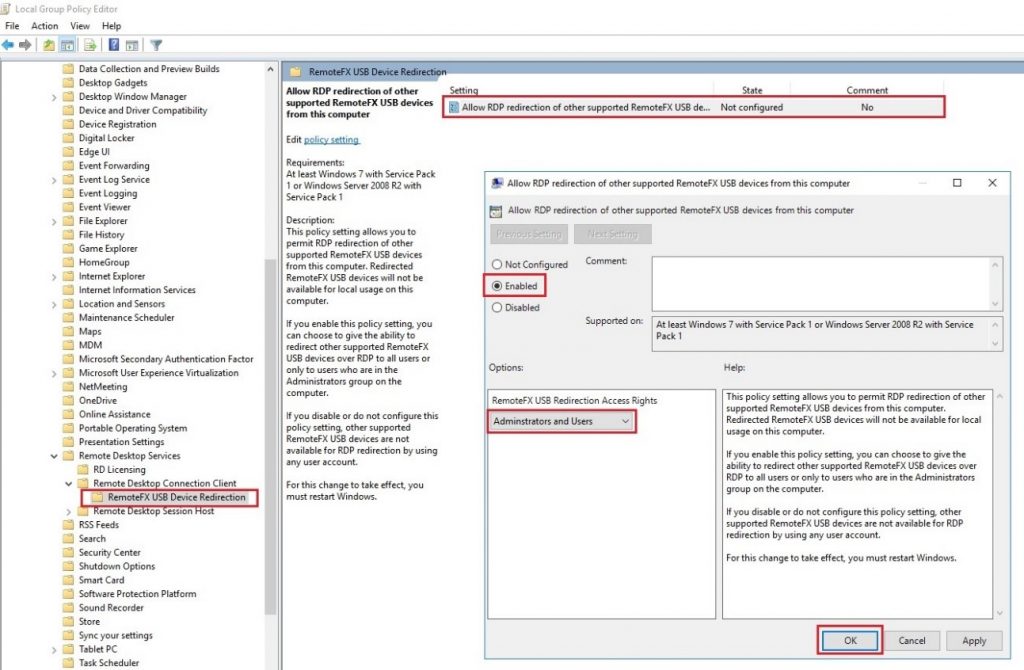 Update the machine's policy by running gpupdate /force
Requirements for RemoteFX USB Redirection
The complicated configuration that RemoteFX necessitates is likely to be your biggest challenge. Additionally, you must ensure that:
Your RDS session host is running Windows Server 2012, 2012 R2, or 2016;
You utilize a VDI desktop and run Windows 7 SP1 (with Remote Desktop Connection 8.1), Windows 8.1, or Windows 10;
On your client PC, you're using Windows Workspot client 2.x.x. (You should have Remote Desktop Connection 8.1 or later and a client that supports RemoteFX));
As you can see, there are a lot of conditions that must be satisfied in order to activate the RemoteFX USB redirection feature.
RDP USB Redirection with Parallels RAS
Parallels Remote Application Server (RAS) provides a seamless experience using RDP USB redirection to local devices, such as printing and audio, with server-based desktops or virtual published applications:
Universal Printing Redirection
Universal Scanning
RemoteFX RDP USB Redirection
Local Drive Redirection
Audio Bidirectional
URL and Email
The full list of capabilities can be found here.
Give Parallels RAS a try now with a 30-day free trial!