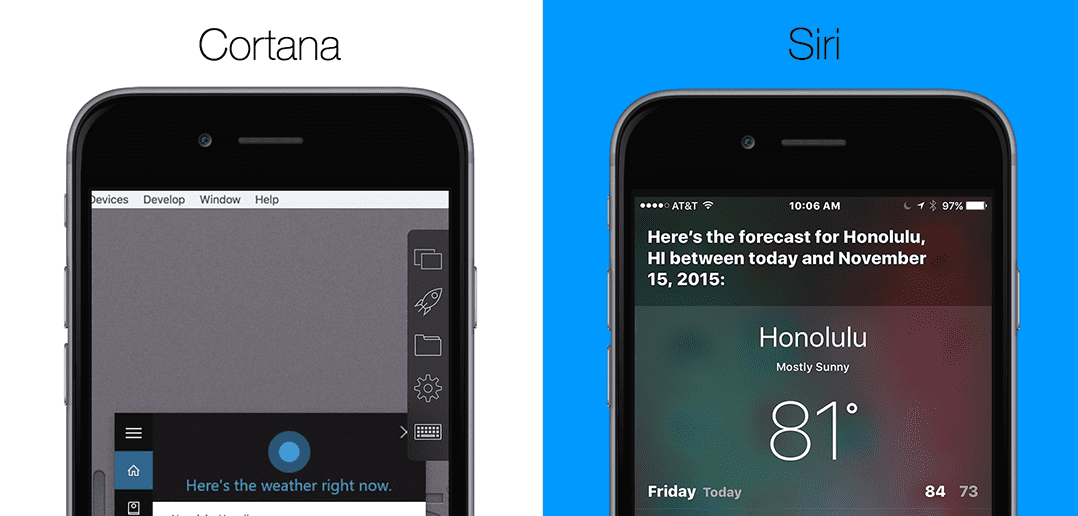 Siri vs. Cortana: Shoot-Out on the iPhone
---
With a Windows 10 virtual machine and Parallels Desktop 11, you have access to Microsoft's personal digital assistant, Cortana, at any time. Whether you're using a Windows app like Internet Explorer or Edge, a Mac app like Keynote or Pages, or just the Mac Finder or Windows Explorer, Cortana is always there. With the addition of Parallels Access, you can use Cortana on your iPhone or iPad, right alongside Apple's personal digital assistant, Siri.
Sounds like just the right conditions for a shoot-out.
(Yes, I know David Pogue did his own version of this kind of contest. Even though he beat me by a couple of days, our questions are slightly different. Nice one, David!)
So, I assembled a list of 20 queries for a digital assistant—mostly legitimate, useful queries, but with a couple of humorous ones tossed in for fun. (See Table 1.)
I decided to rate the responses according to the following scale: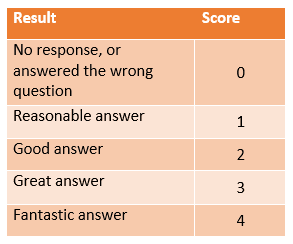 Admittedly, this is quite subjective, but I will show you each of the responses so you can judge for yourself.
Setup
All the tests were on an iPhone 6 Plus running iOS 9.1. Cortana was running in Windows 10 Professional, build 10586, on a Retina MacBook Pro running Parallels Desktop 11.1.0 build 32187 on El Capitan 10.11.1. Parallels Access version 3.0.2 was used to access Cortana from the iPhone 6 Plus. If the query failed on the first attempt, I asked the query two more times. A zero "no response" rating was only given if the assistant failed on all three attempts.
Cumulative Results
I won't keep you in suspense any longer. Both Siri and Cortana did quite well, although each got a zero for a query or two, so both have room for improvement. (See David Pogue's article in Scientific American for some predictions for the future of personal digital assistants.)
But this is a shoot-out, so their has to be a winner, and that winner is Siri, by the slimmest of margins: 38 to 37, out of a theoretical maximum score of 80. However, Cortana had the only laugh-out-loud great response. (See Table 2.)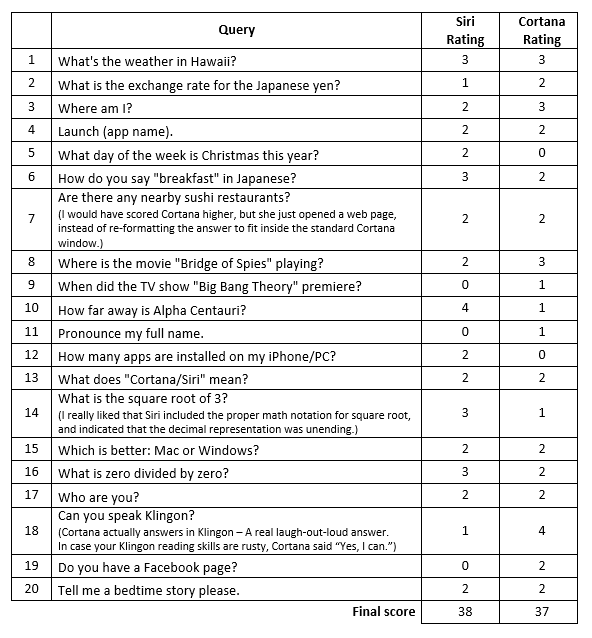 Individual Results
Query 1: What's the weather in Hawaii?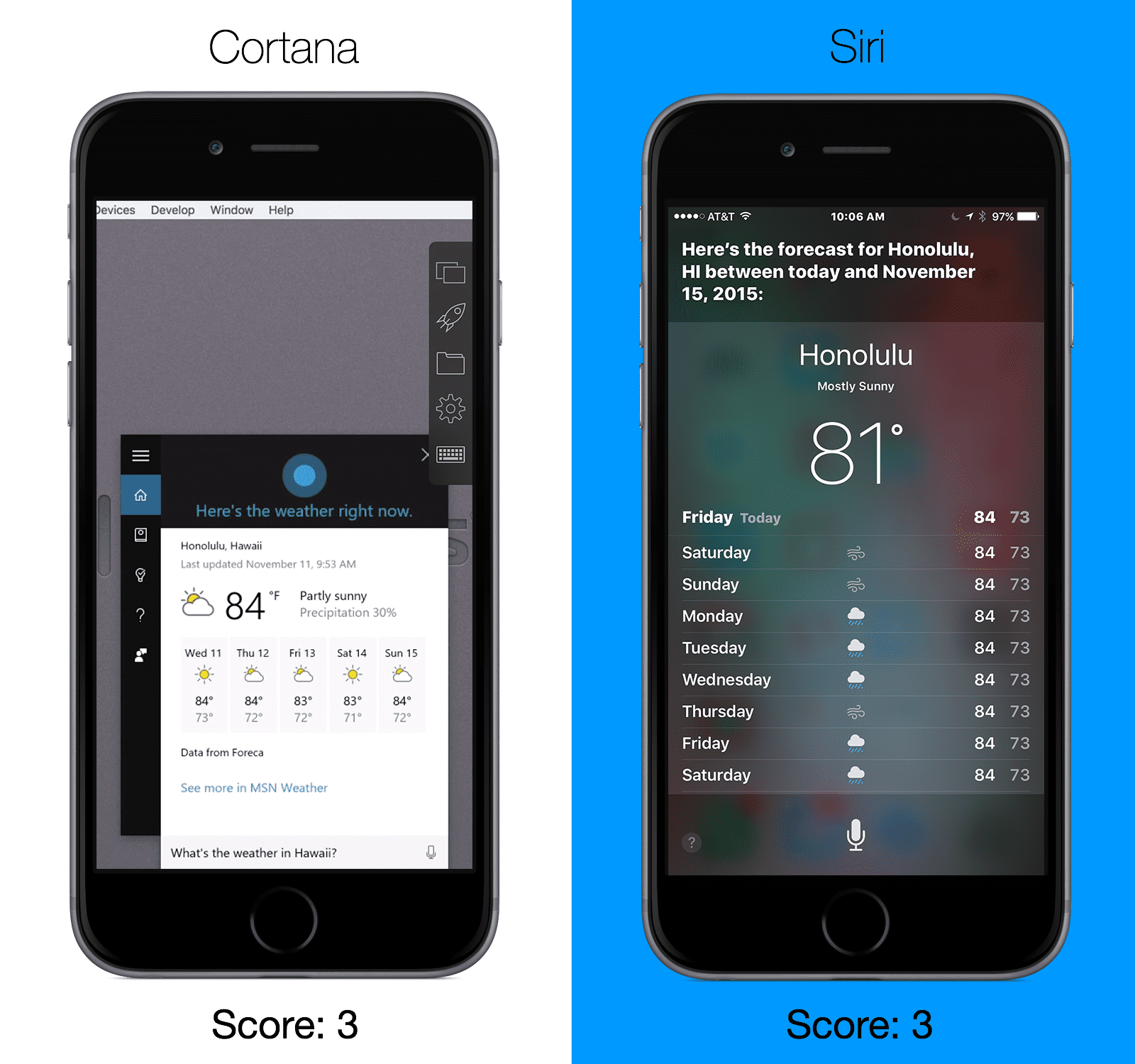 Query 2: What is the exchange rate for the Japanese yen?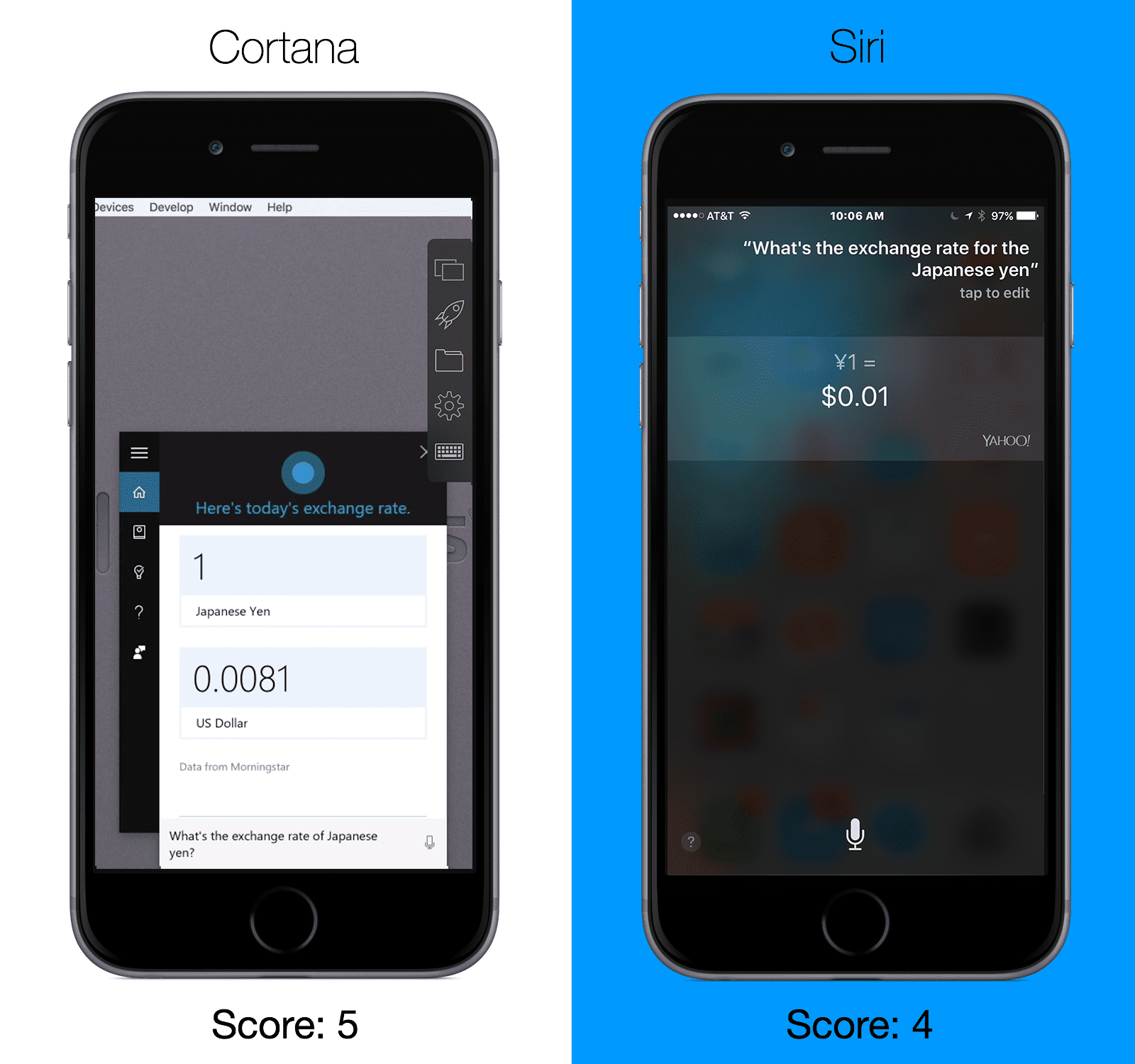 Query 3: Where am I?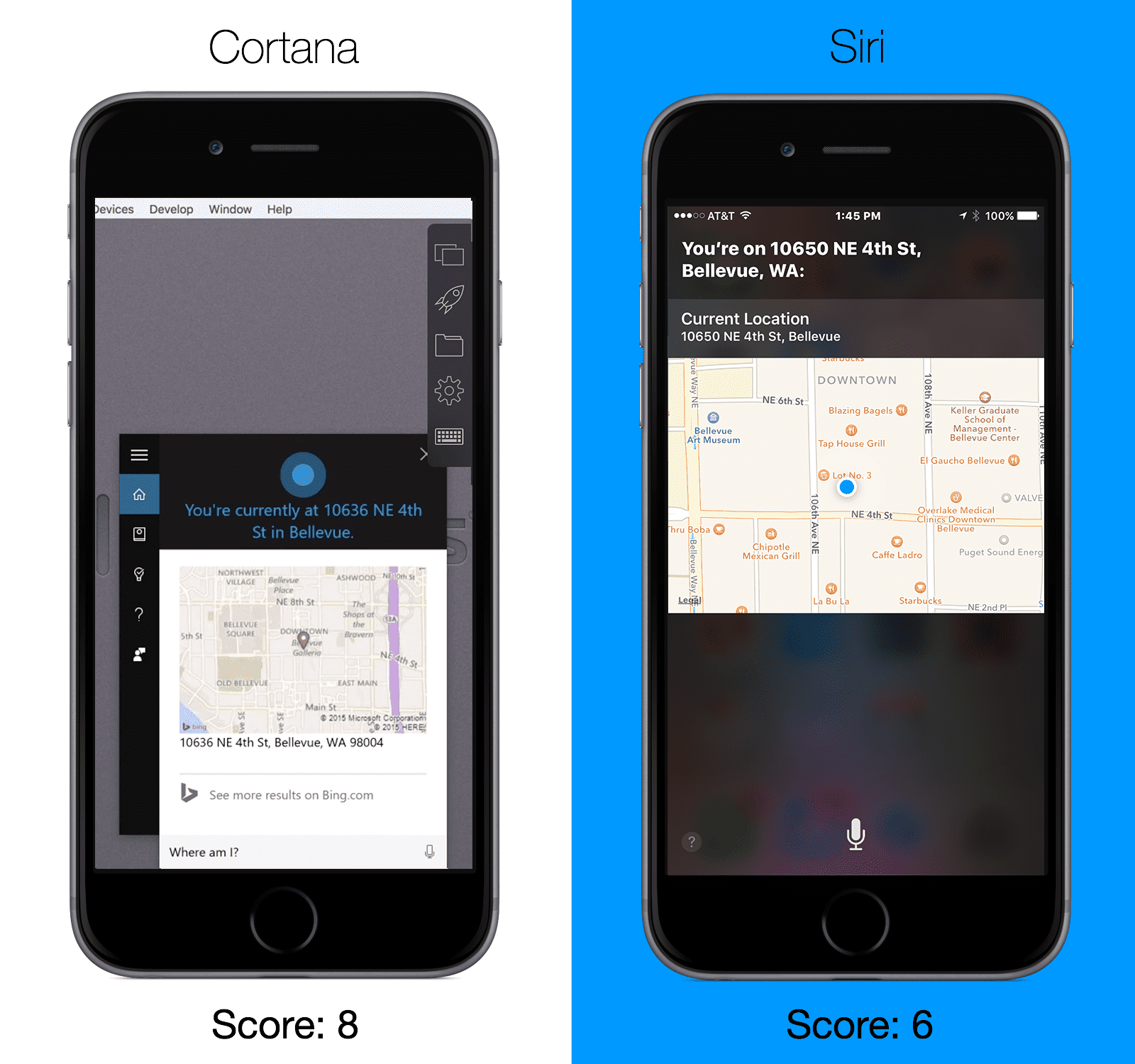 Query 4: Launch (app name).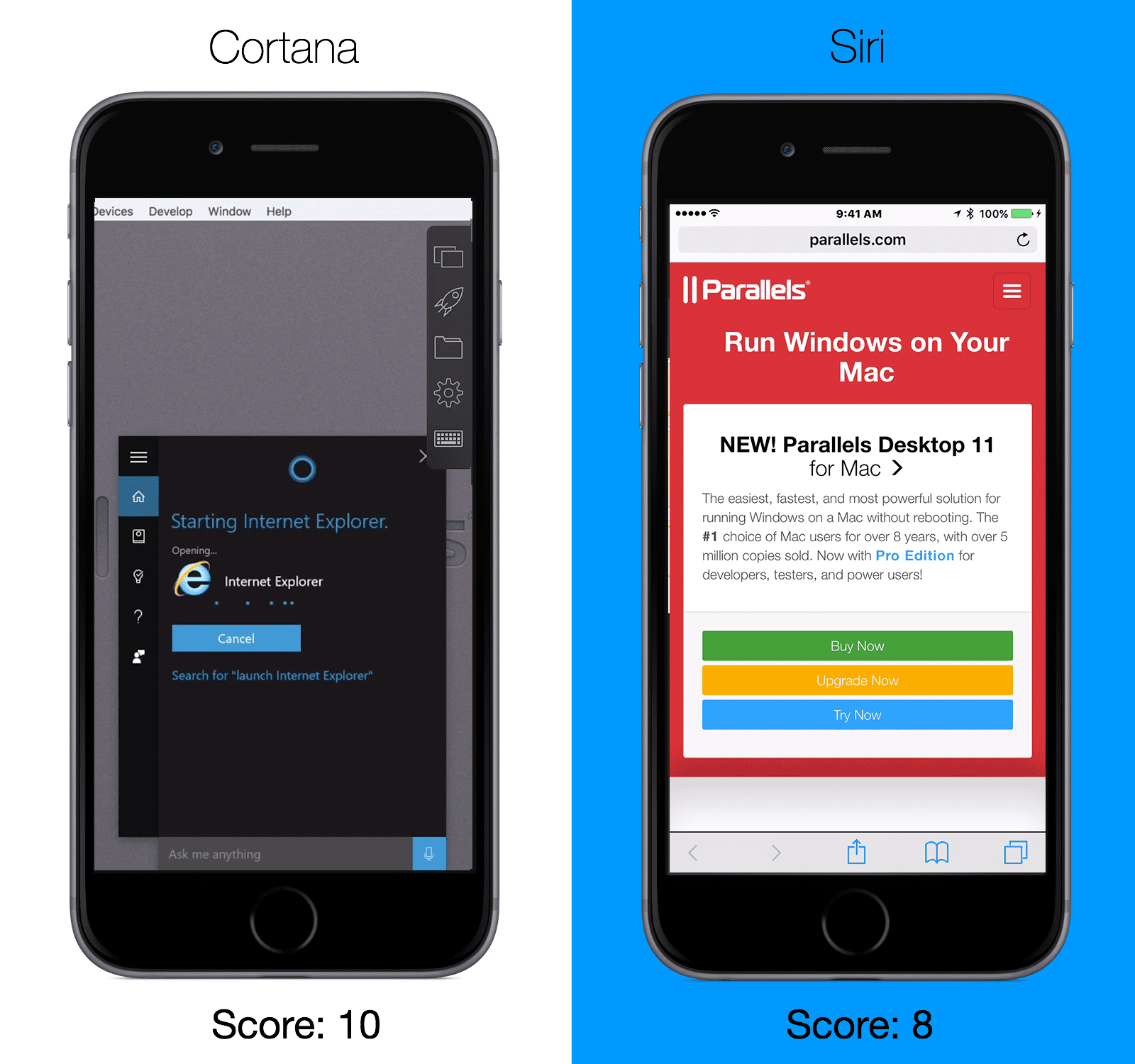 Query 5: What day of the week is Christmas this year?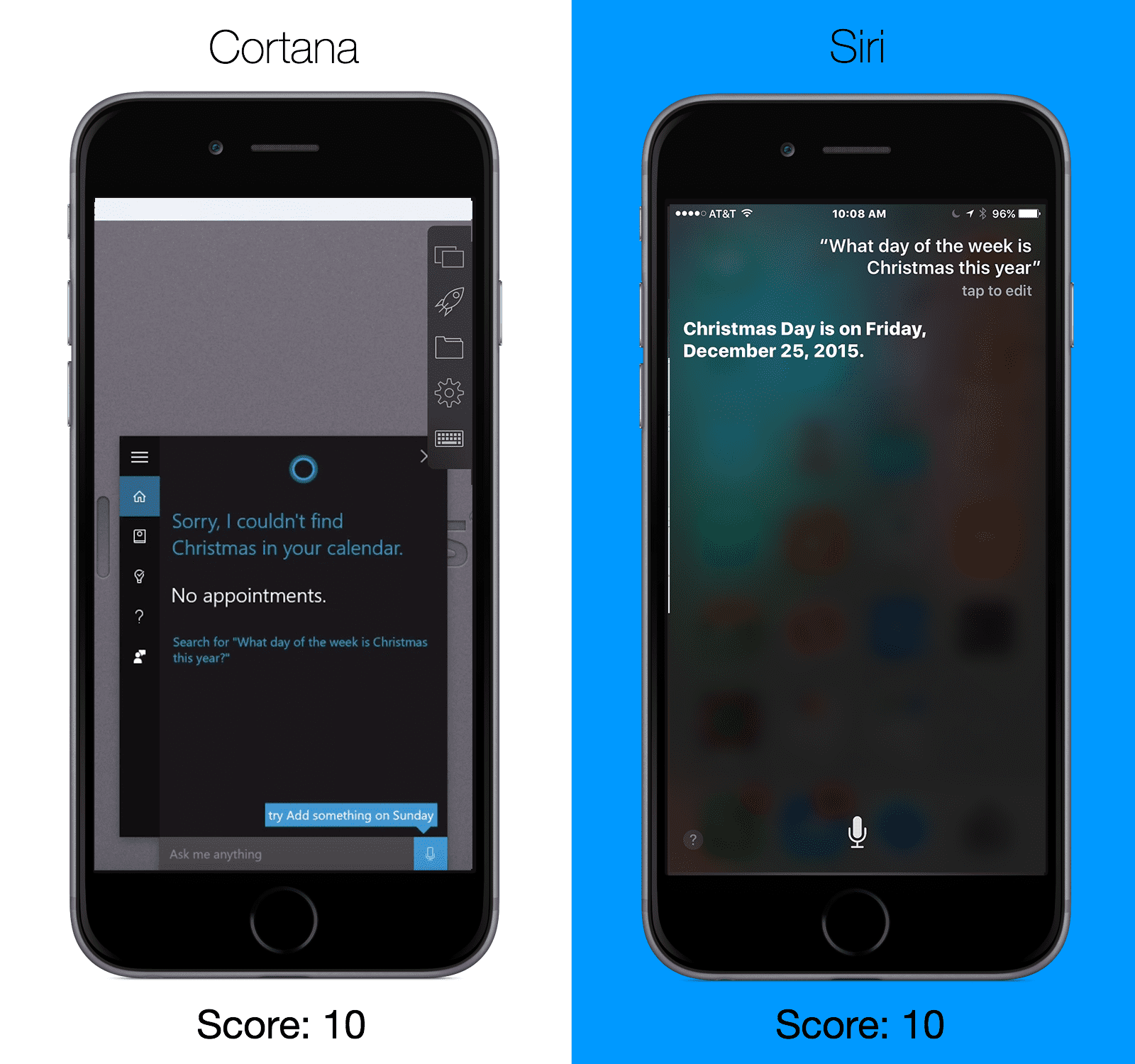 Query 6: How do you say "breakfast" in Japanese?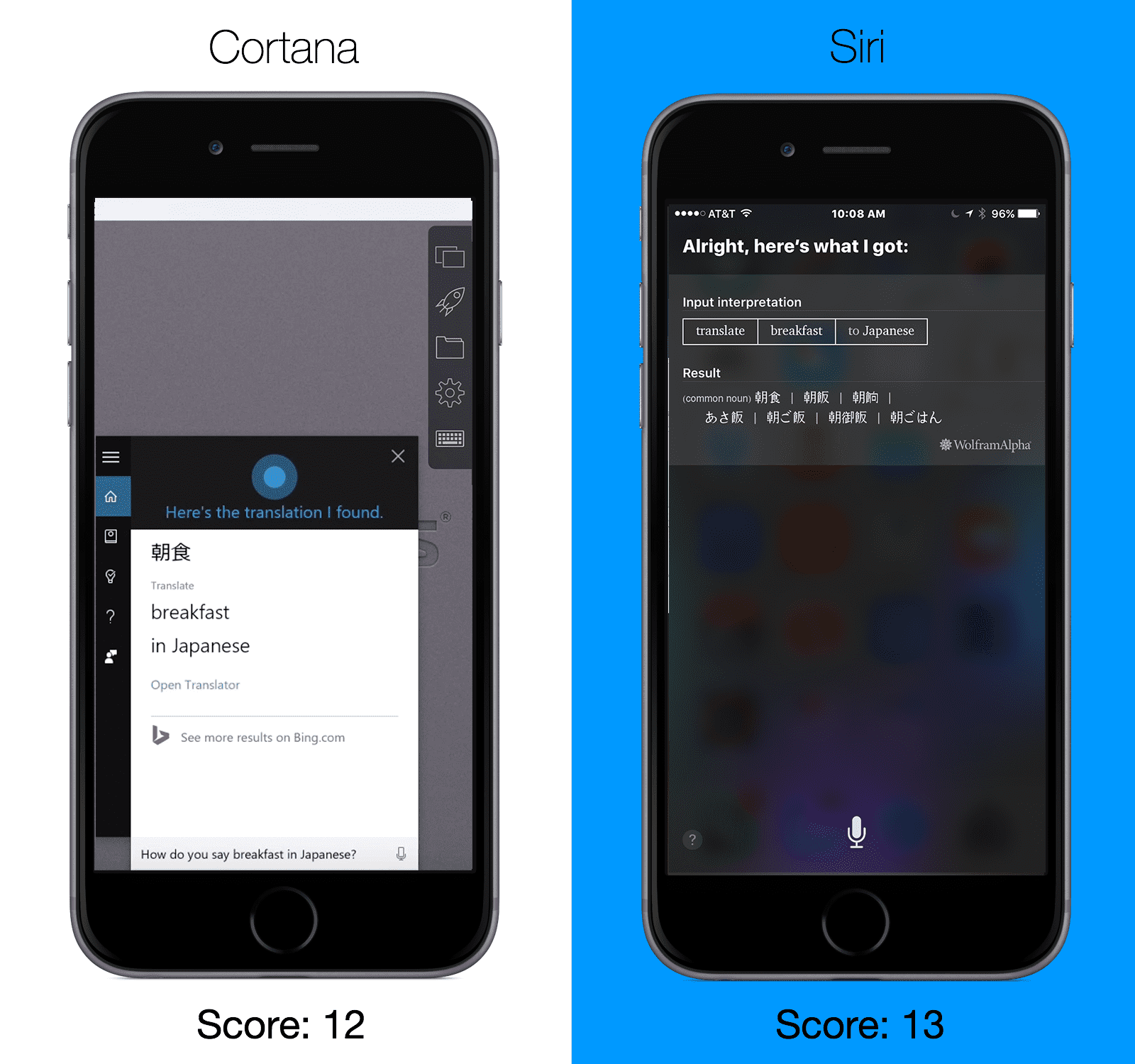 Query 7: Are there any nearby sushi restaurants?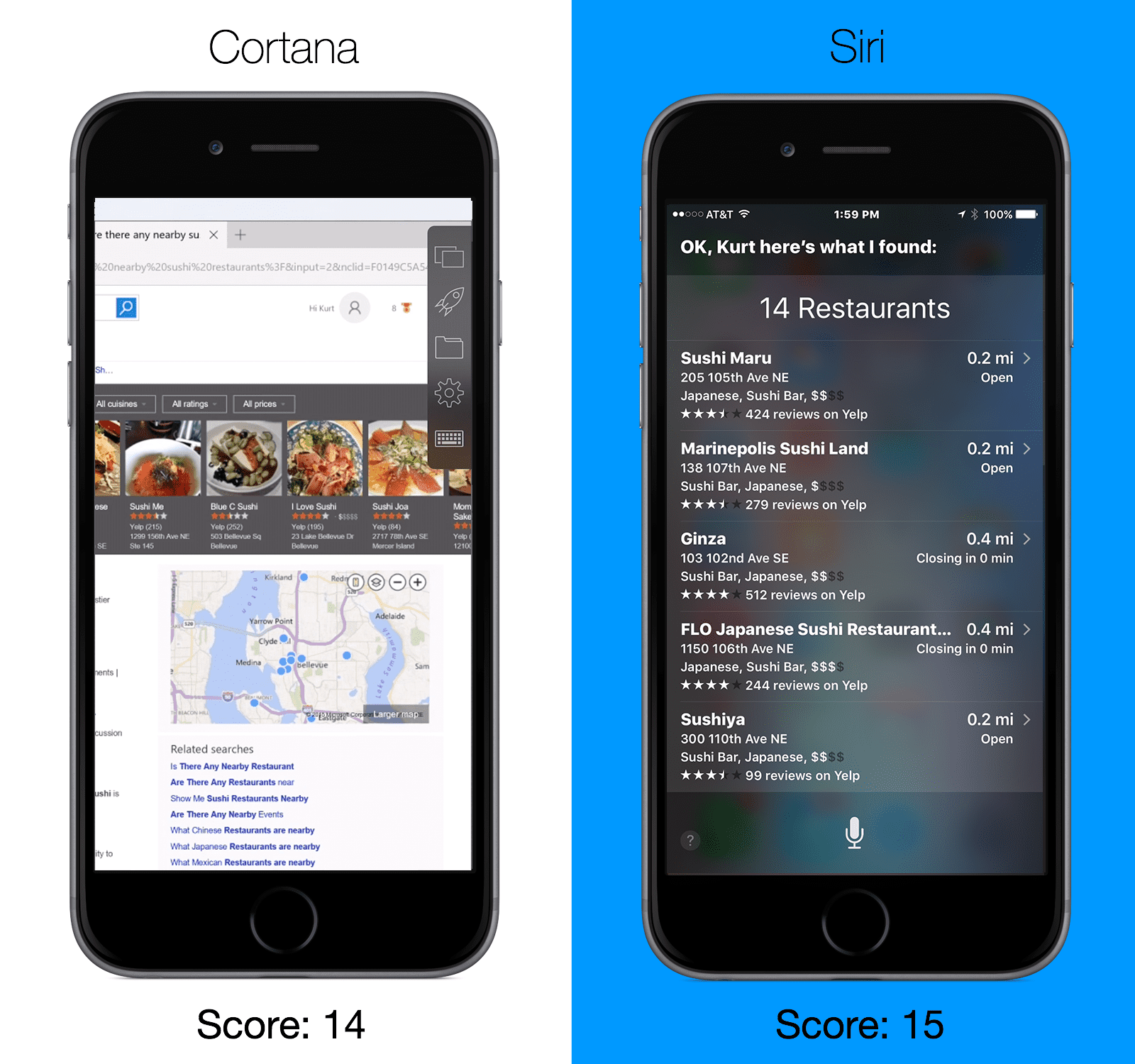 Query 8: Where is the movie Bridge of Spies playing?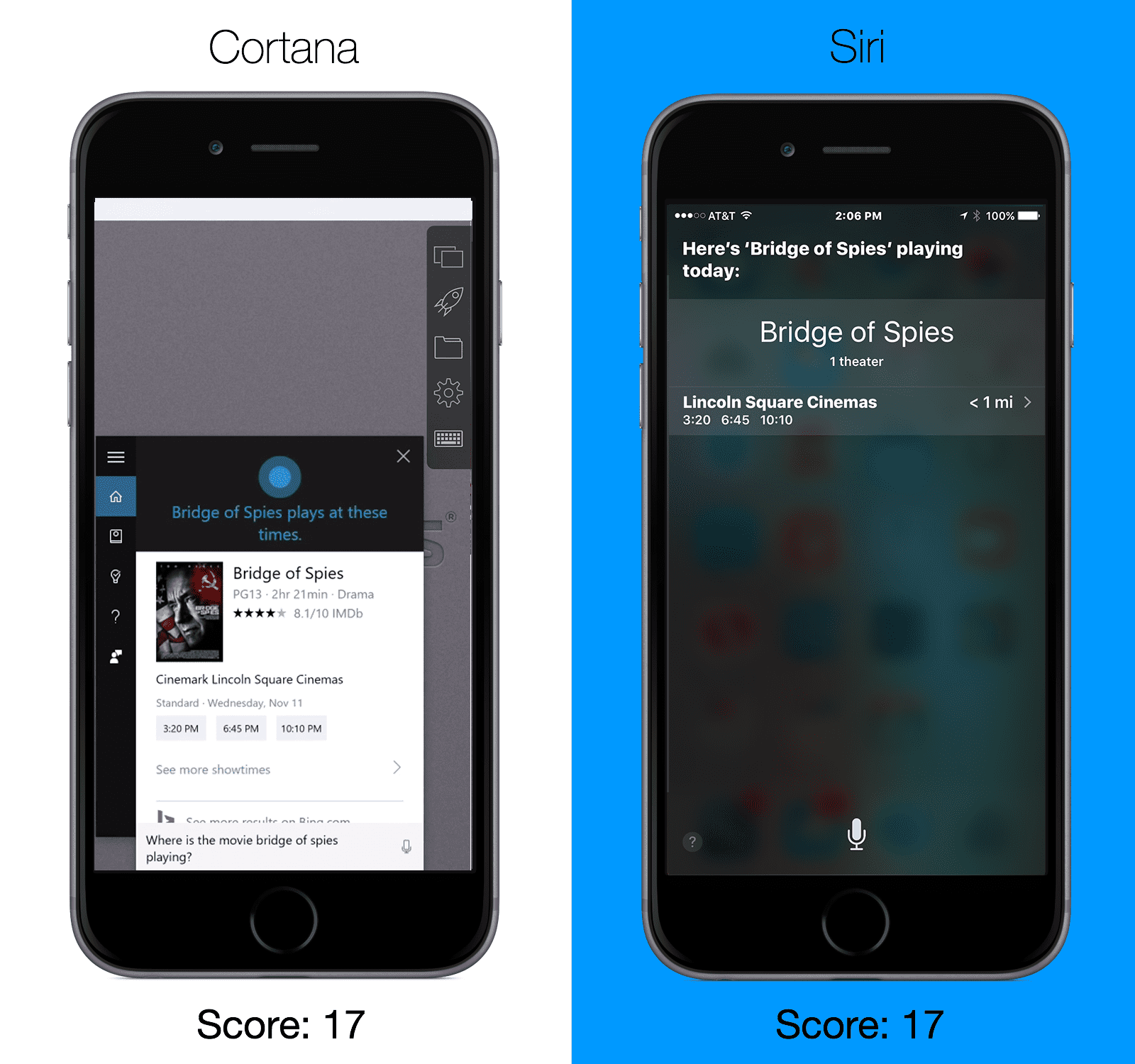 Query 9: When did the TV show The Big Bang Theory premiere?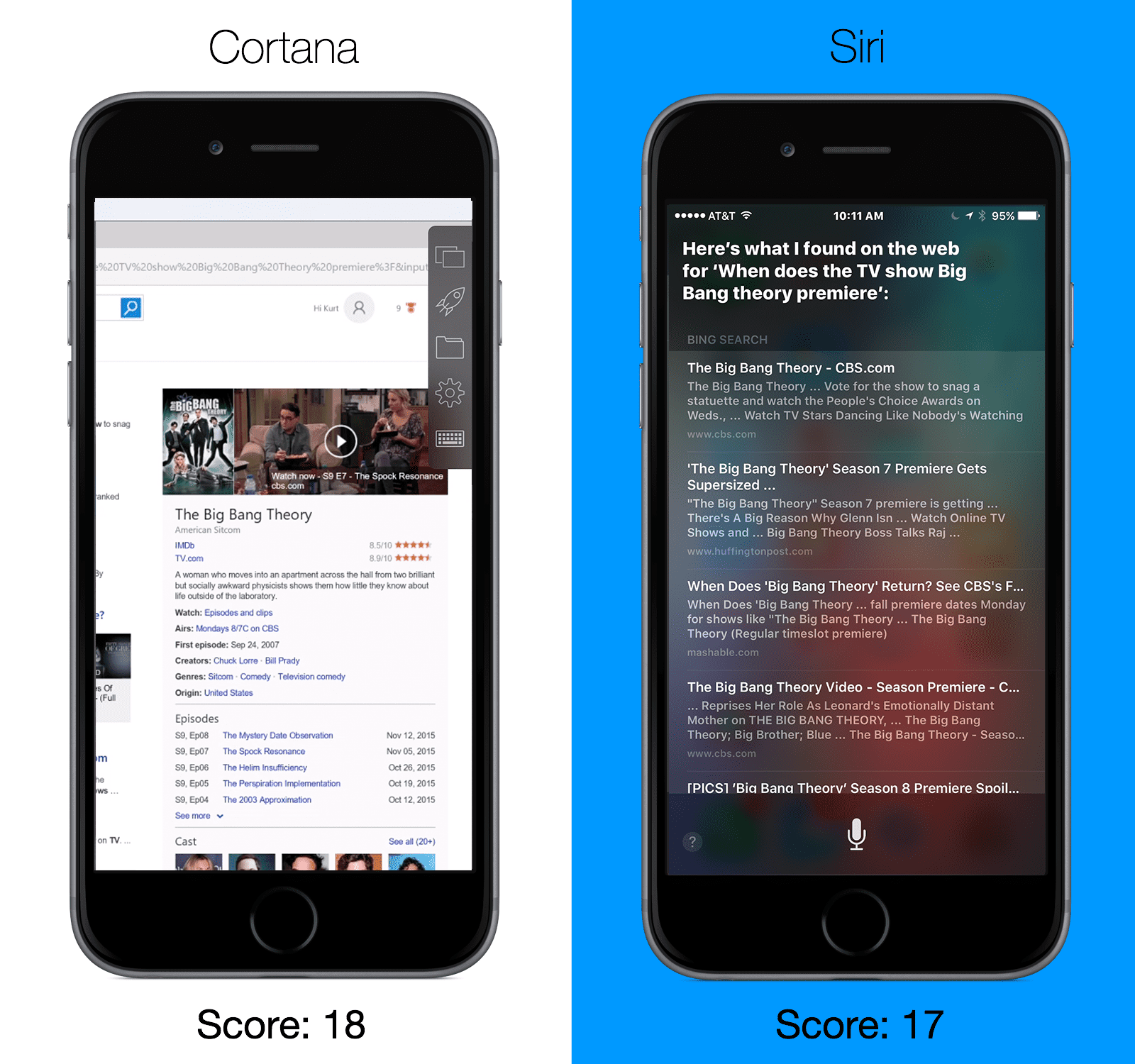 Query 10: How far away is Alpha Centauri?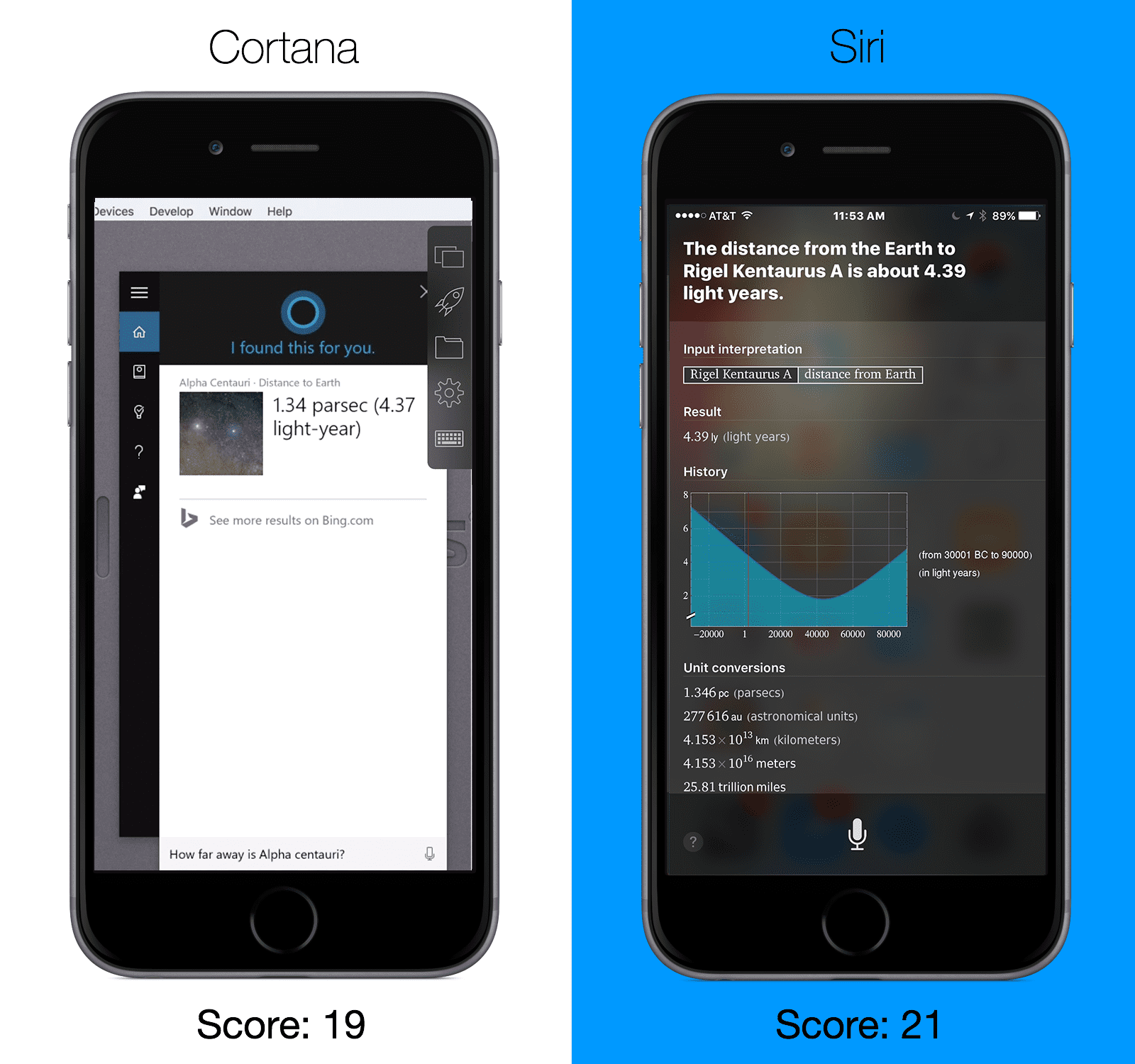 Query 11: Pronounce my full name.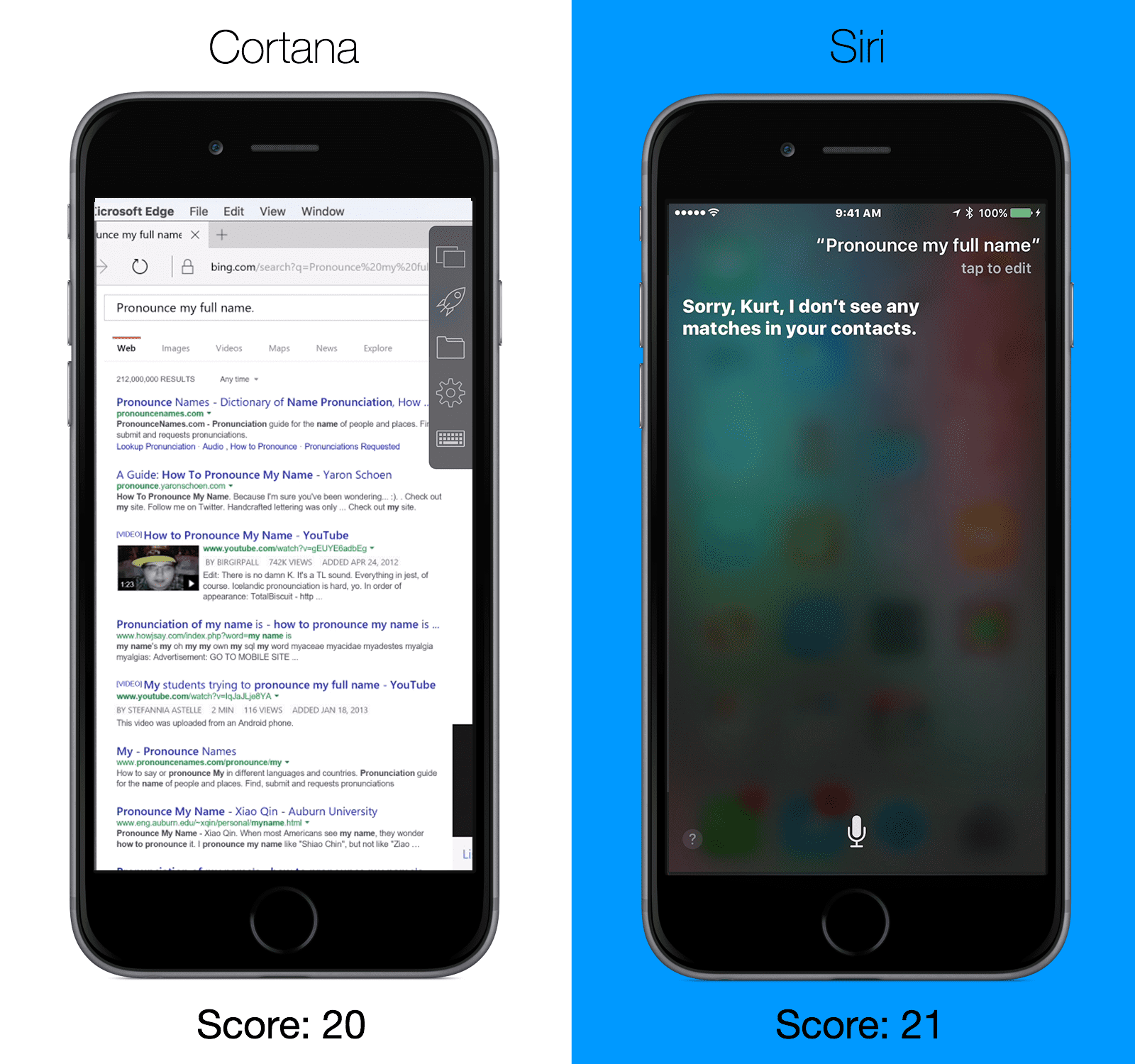 Query 12: How many apps are installed on my iPhone/PC?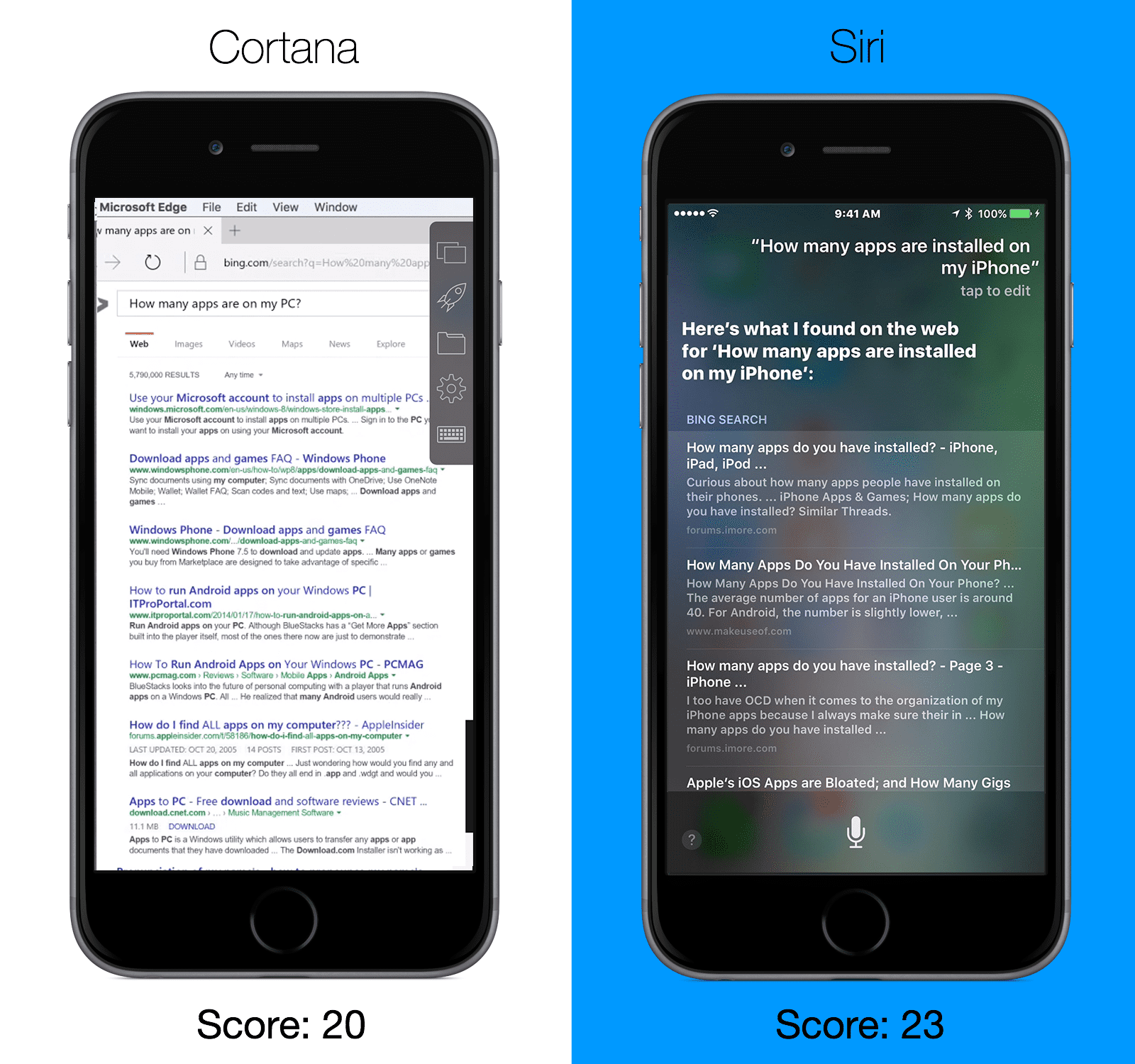 Query 13: What does "Cortana/Siri" mean?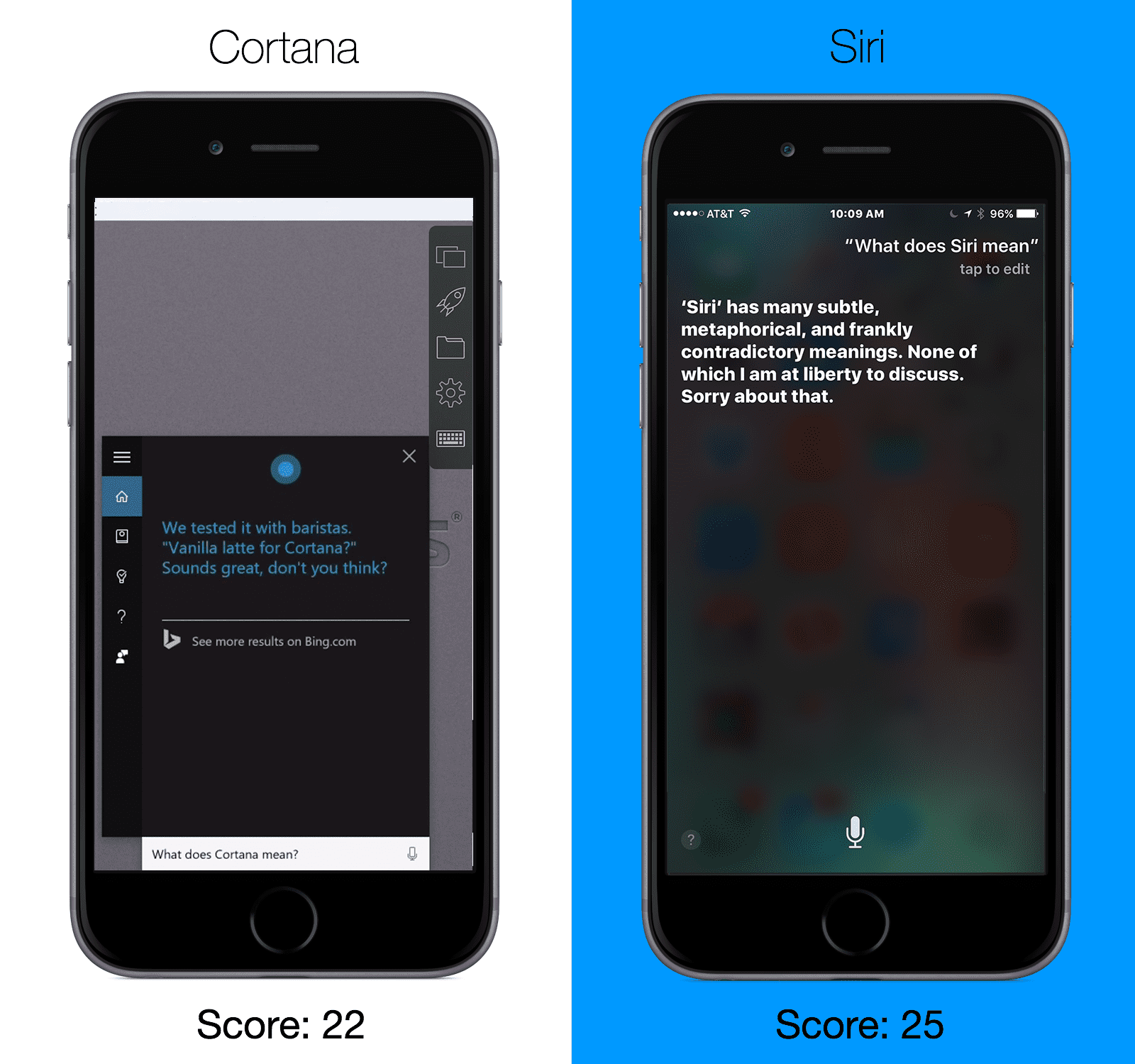 Query 14: What is the square root of 3?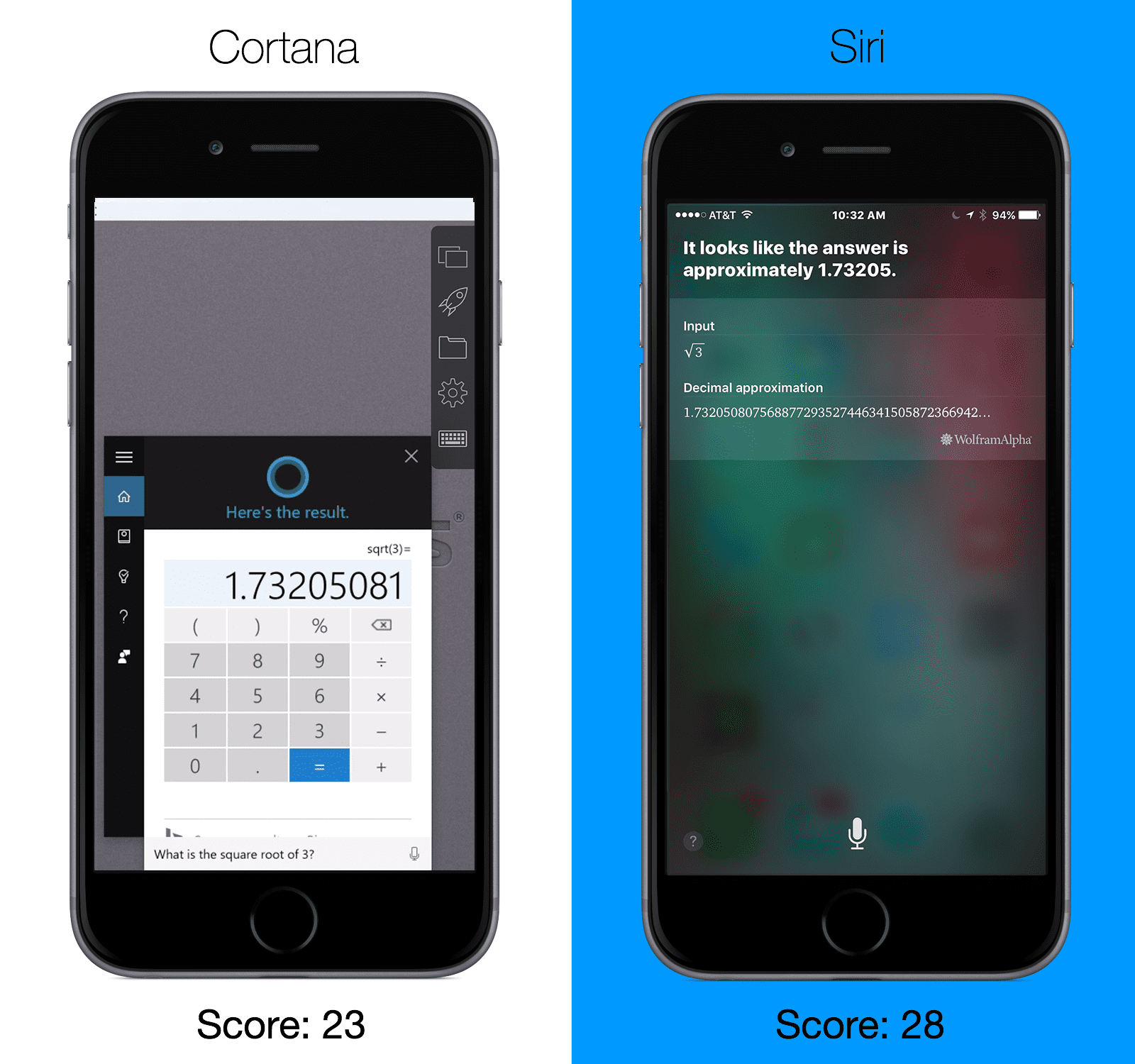 (I really liked that Siri included the proper math notation for square root, and indicated that the decimal representation was unending.)
Query 15: Which is better, Mac or Windows?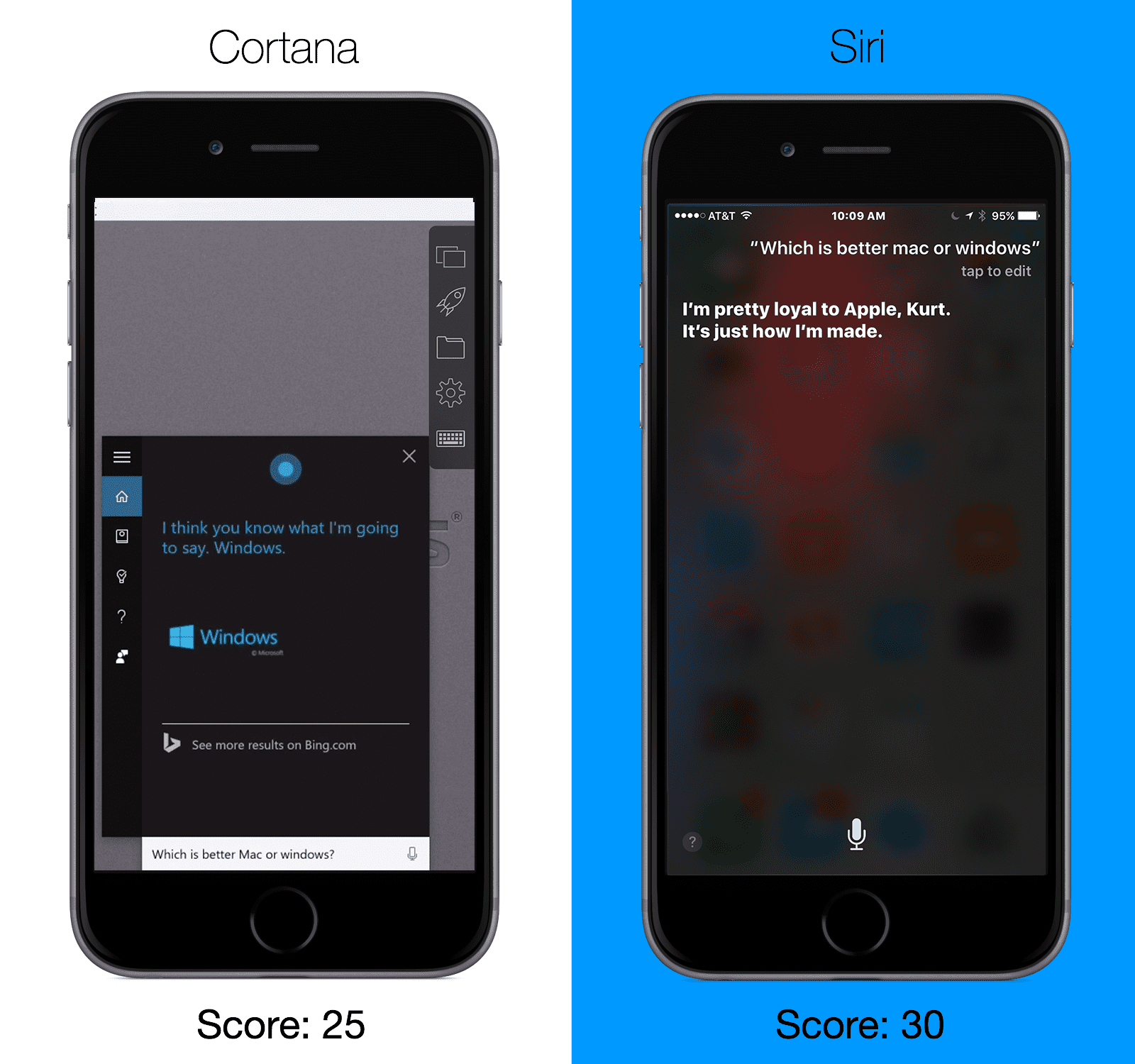 Query 16: What is zero divided by zero?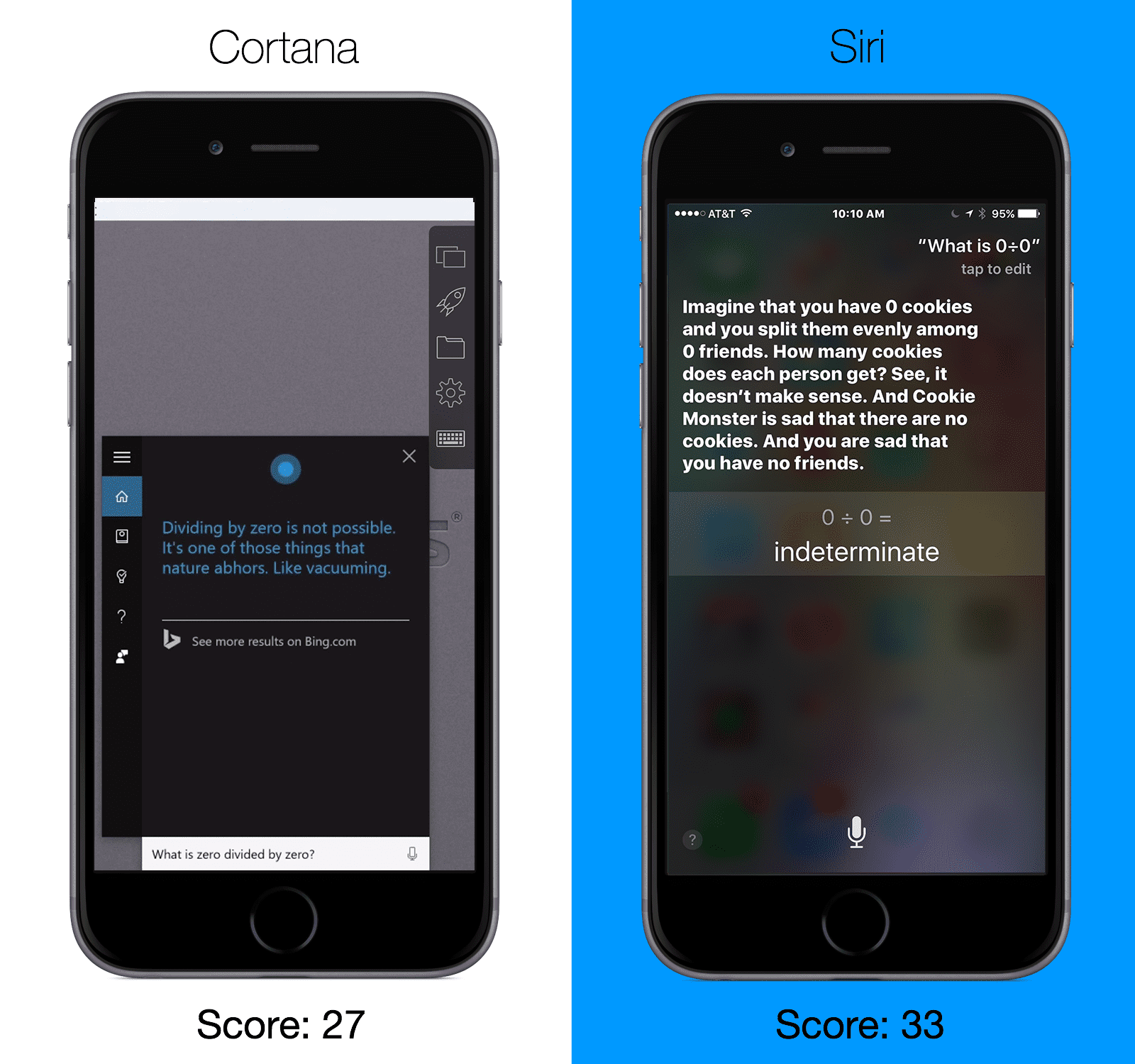 Query 17: Who are you?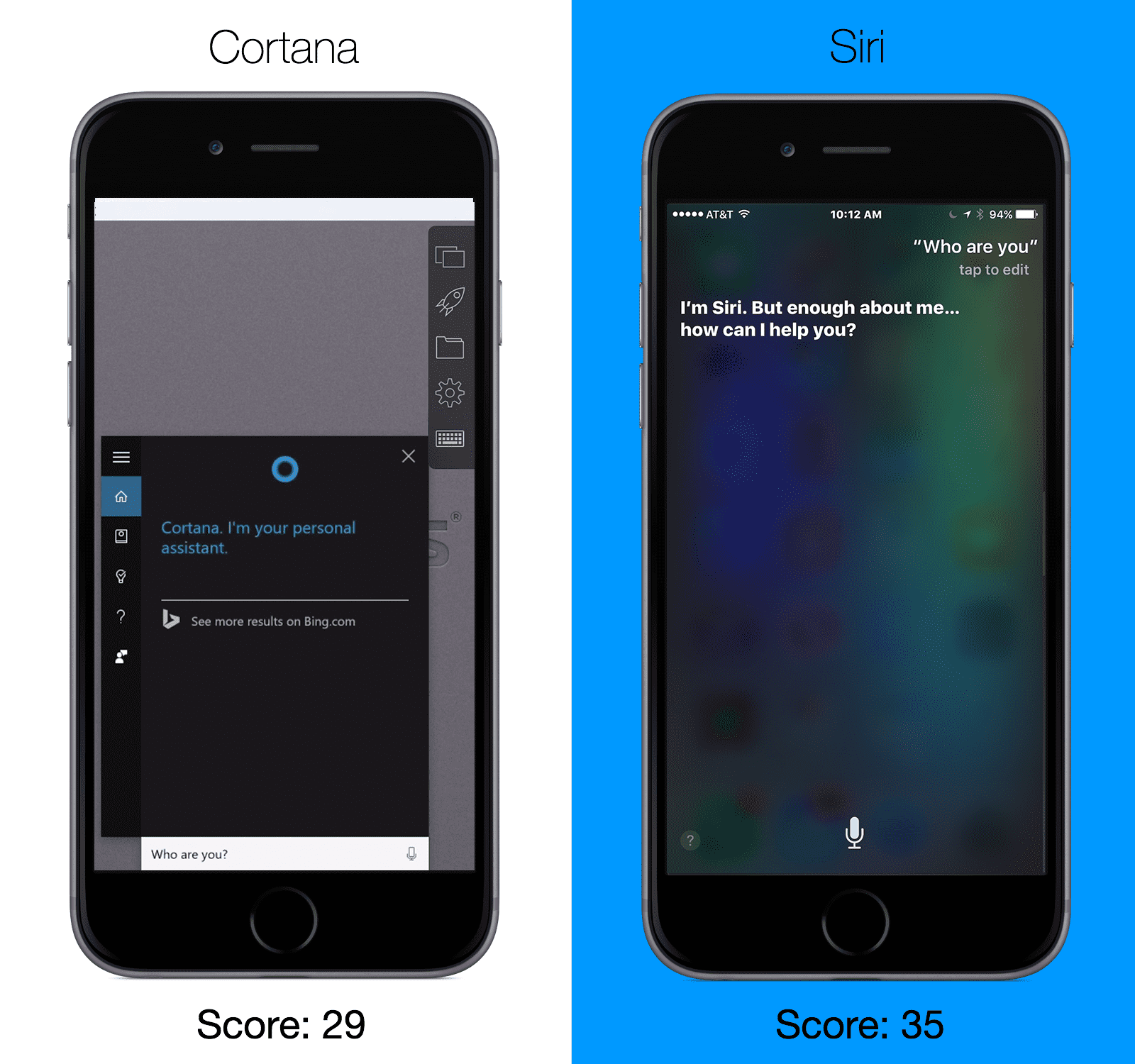 Query 18: Can you speak Klingon?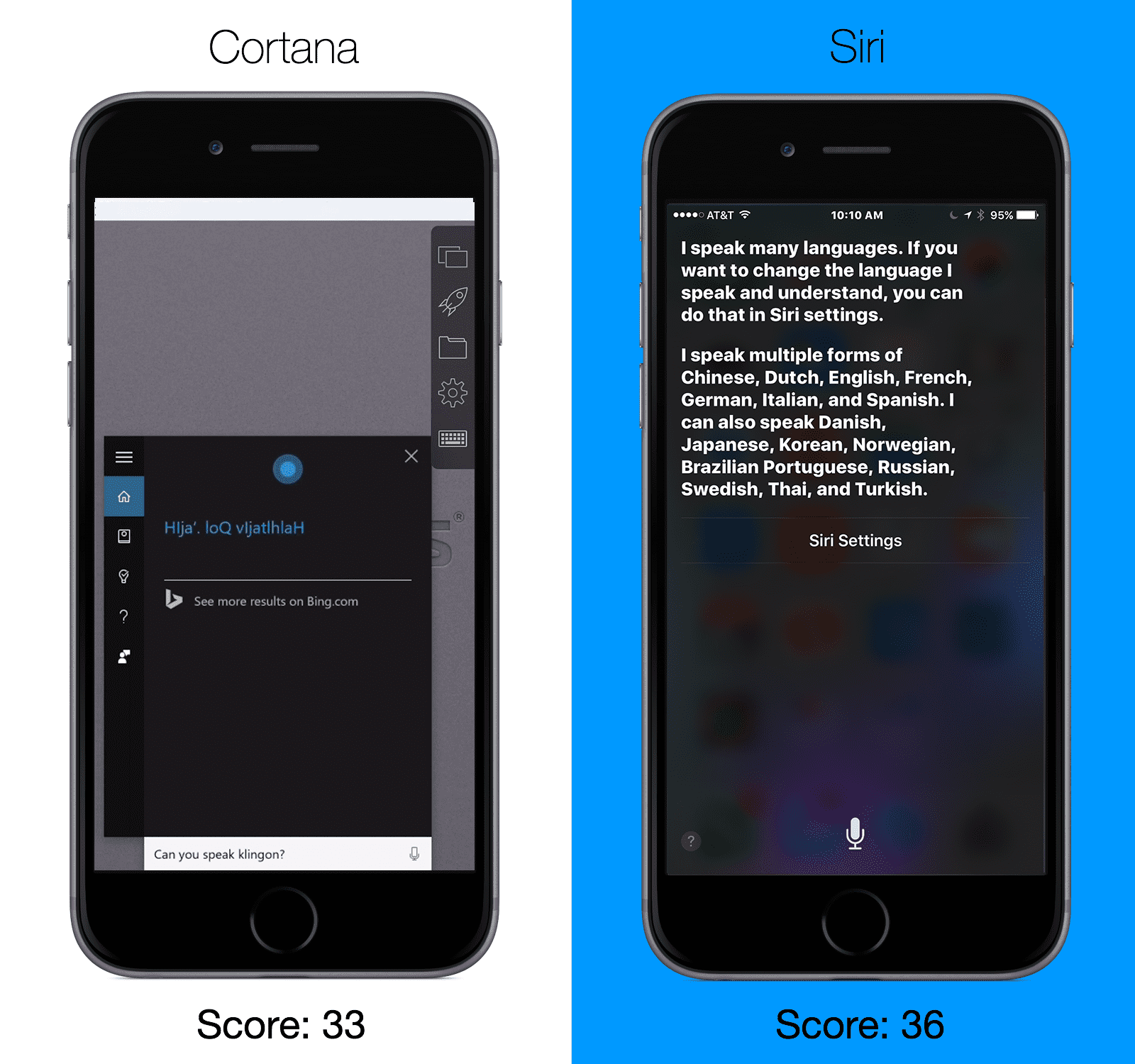 (Cortana actually answers in Klingon—a real laugh-out-loud answer. In case your Klingon reading skills are rusty, Cortana said, "Yes, I can.")
Query 19: Do you have a Facebook page?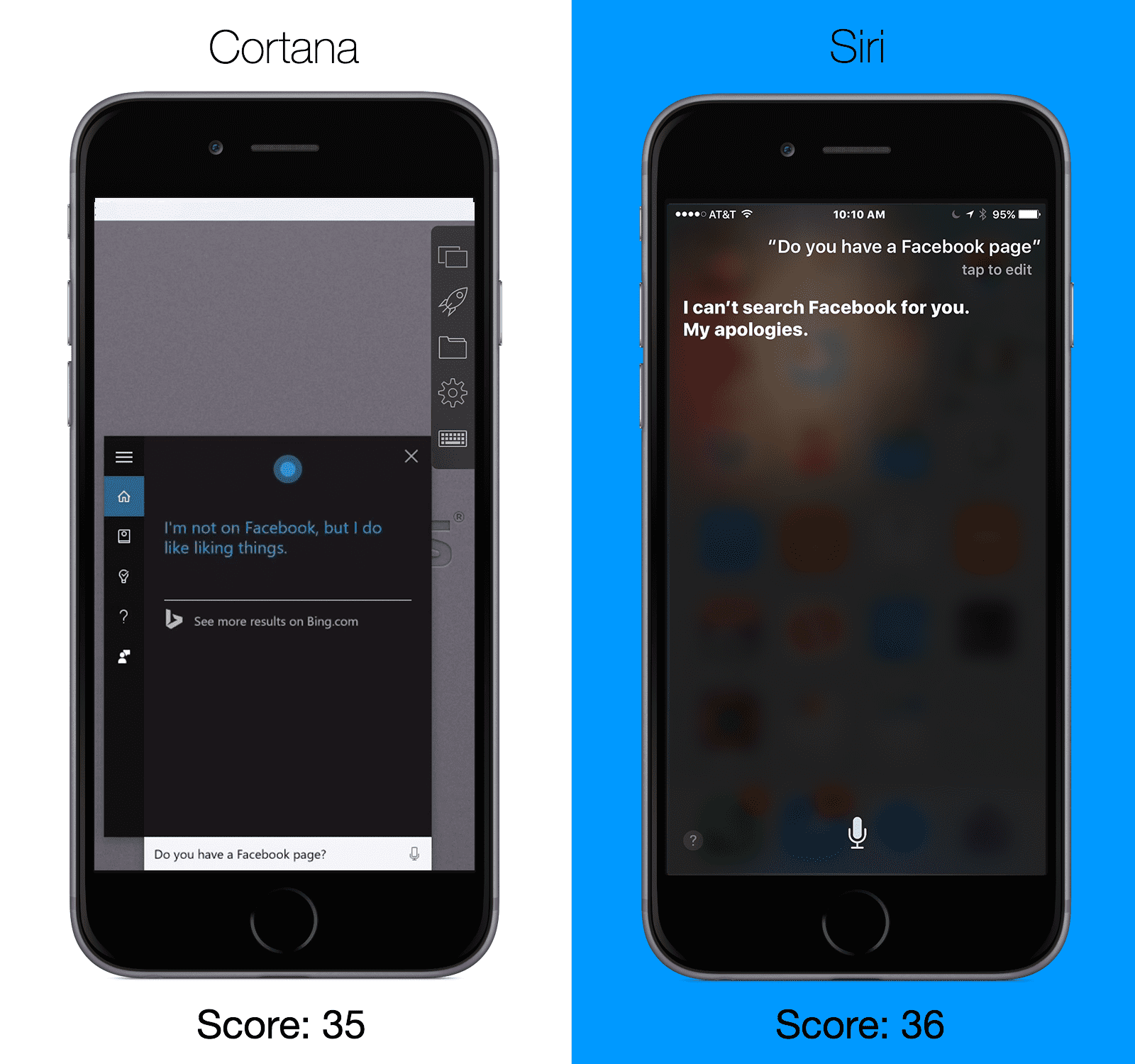 Query 20: Tell me a bedtime story, please.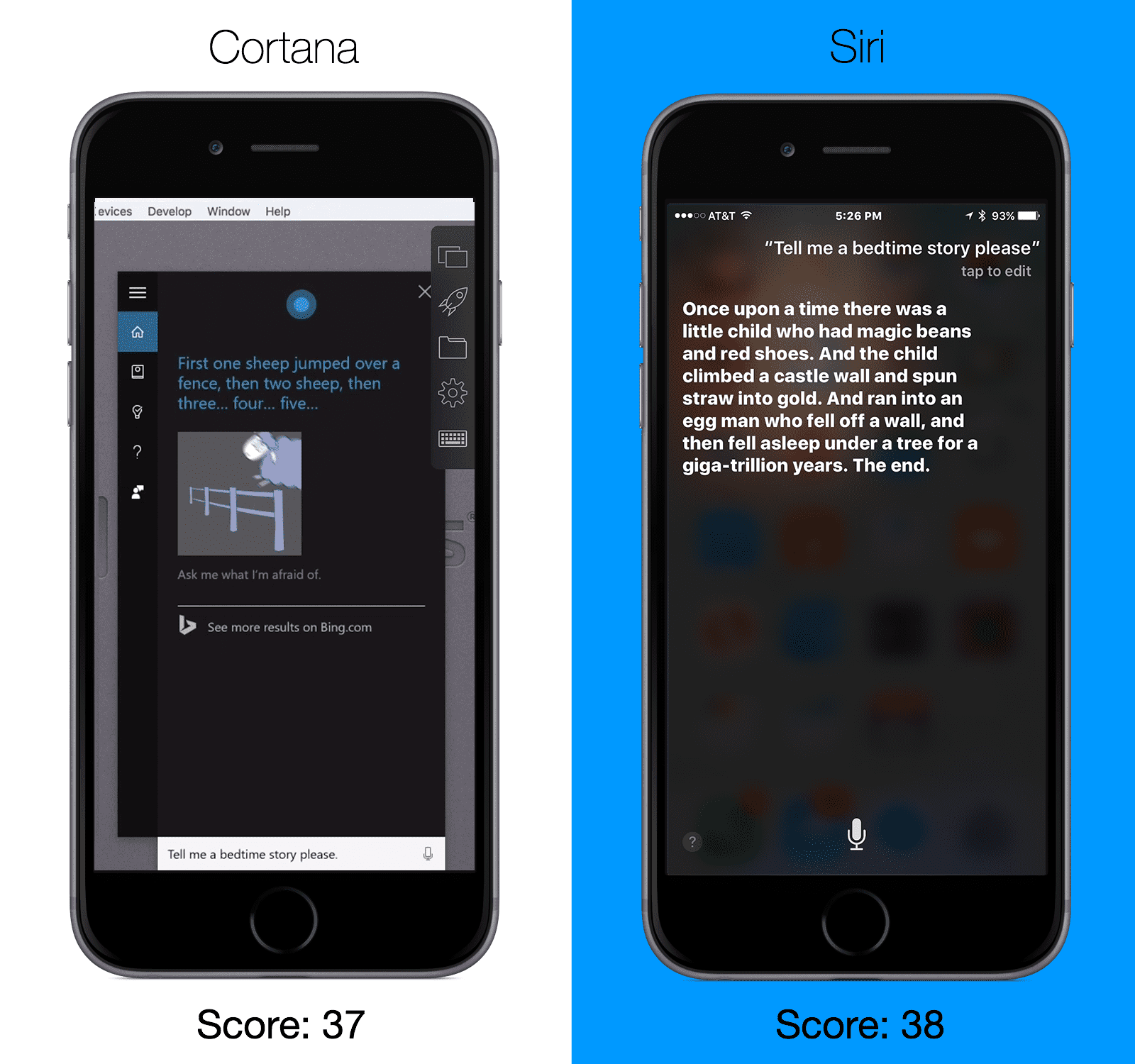 ---
That's it! Who wins in your opinion, Siri or Cortana? Share your thoughts with us in a comment or reach out to us on Facebook or Twitter.