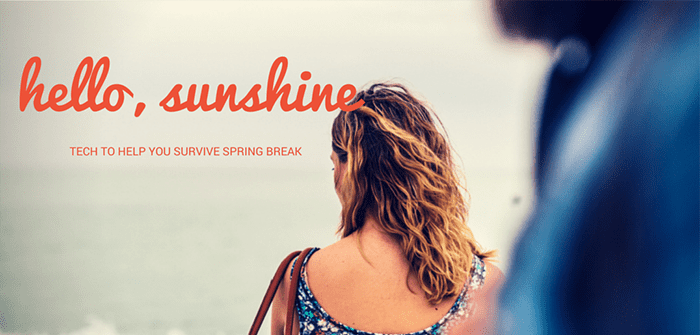 Tech to Help You Survive Spring Break
---
Spring break is right around the corner, but unfortunately, work can't always be put on pause. So if you're working or playing over break be sure you're ready for both!
While you're packing, check out our list of "must-haves" to survive spring break:
1. Your iPad or Tablet with Parallels Access.
Being armed with Parallels Access allows you to work from anywhere. Forgetting an assignment in college is a nightmare you don't want to face. Stay on top of your game even when you're on break so you aren't behind when you get back.
2. A gadget-tracking device or "Find my iPhone" turned on.
We all know someone who has lost his or her keys, phone, or wallet while out and about. Don't let this be you! Be sure you have the "Find my iPhone" feature of your iPhone turned on, or use alternative solutions like Tile.
3. A portable charger.
While this may seem obvious, I always seem to overlook this necessity. Don't let your battery die on-the-go, potentially stopping you from playing your favorite game or finding your way back to the hotel after a long day in the sun.
4. ALL of your chargers.
Laptop? Check. Phone? Check. Camera? Check. Tablet? Check.
You get the idea. But really, chargers can be expensive and forgetting one can really make a large dent in your budget. (And let's be real, there's no way you're going to wait the whole week to use your smartphone again, right?)
5. Plug adapters.
If you're leaving the country, make sure you can still actually plug in all of those devices.
6. A camera that isn't the one on your smartphone.
Don't miss moments like these. Trust me, you won't have spring break forever. Before you know it, we'll all be leaving school behind and entering the workplace!
Personally, I love the Sony A6000. If you do decide to forgo an actual camera in favor of the one on your phone, there are some awesome photography apps to make sure you get the best shot. Lately, I've been really digging Afterlight.
Hope these friendly reminders help you have a great break! Remember—stay safe, have fun, and don't forget to download Parallels Access before you go.