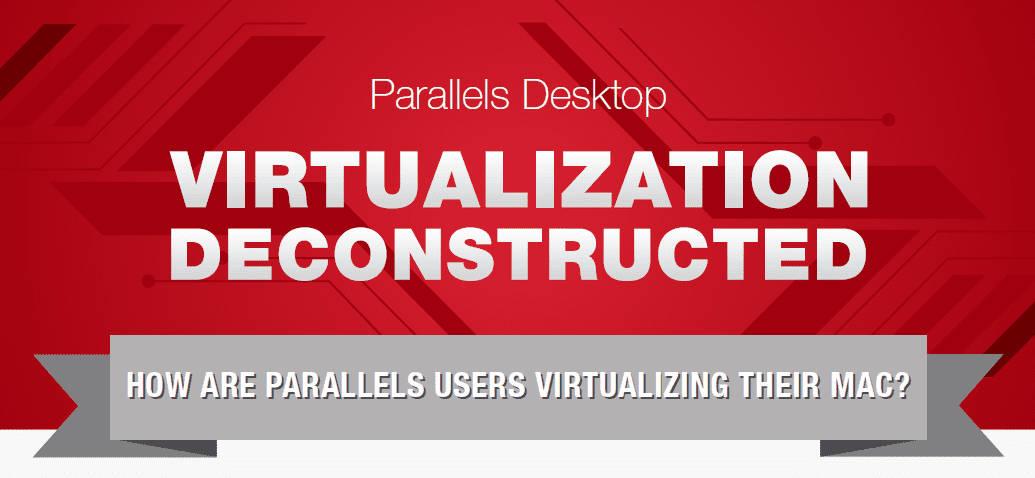 How Users Virtualize with Parallels Desktop (Infographic)
If you're in the market to run Windows® on your Mac®, you should consider the award-winning #1 solution for virtualization: Parallels Desktop for Mac. Learn how users virtualize with Parallels Desktop. We've answered the who, what, when, and why customers have chosen Parallels Desktop as the #1 virtualization option to run Windows on Mac since 2006. The data below comes from our favorite people: our users!

Read & Share: Virtualization Deconstructed with Parallels Desktop for Mac to find out:
Who are Parallels customers?
How do our customers hear about running Windows on Mac?
What kind of Mac device is used?
Which macOS® / Mac OS X® is Parallels Desktop run on?
How much RAM do our customers have in their Mac?
What type of hard drive is installed on our customers' Mac?
Who uses an external display with Parallels Desktop?
What Windows applications do our customers run on Mac?
Which operating systems do our users run in a virtual machine?
How much vRAM is dedicated to their VM?
Which "view" do our customers prefer?
What external devices do our customers connect to their VM?
Here's a little background for this infographic showcasing how our customers use Parallels Desktop for Mac: To make our products better, we gather customer feedback from a variety of sources, including customer support requests, problem reports, and other types of feedback.
We hope that you've learned a bit about user behavior when it comes to how users virtualize with Parallels Desktop. Our customer outreach program personally connected with over 1,200 users to source this data. Additional usage data comes from our opt-in Customer Experience Program within Parallels Desktop, where 200,000+ customers have sent their usage data to our engineers over the years. We offer this program to better understand how customers are utilizing virtualization as a whole.
All of this data came from users who willingly participated. A sincere "thank you" to every customer who engaged with our teams. You all provided wonderful insight to better serve our users moving forward!
Interested in getting started with Parallels Desktop for free? Start your 14-day trial NOW.