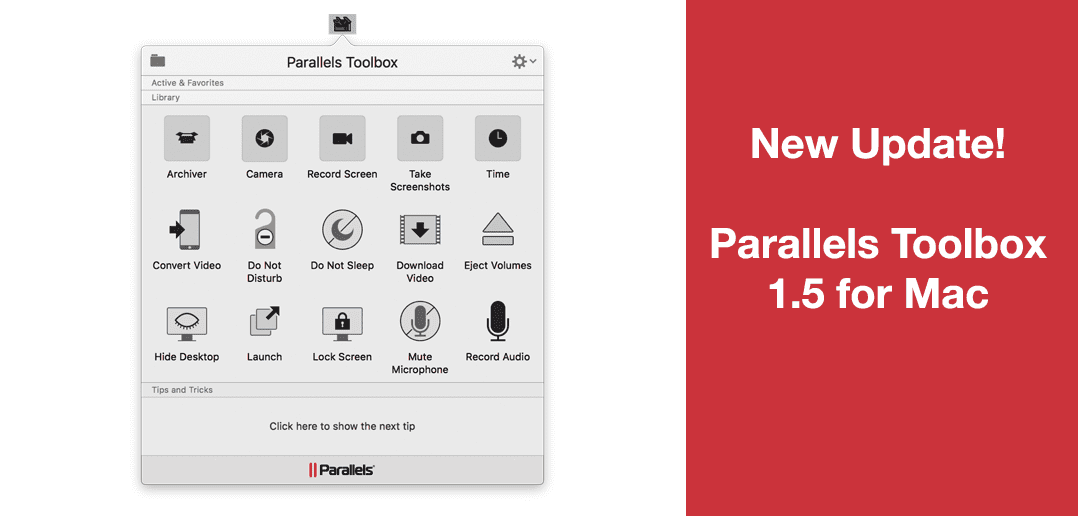 What's in Parallels Toolbox 1.5 for Mac?
---
Today we released Parallels Toolbox for Mac, version 1.5. In this blog post, I will tell you and show you what is in this new release.
As you may recall, Toolbox 1.2 and 1.3 were released in the fall of 2016. These releases added five new tools (Launch, Eject Volumes, Take Photo, Take Video, and Block Camera). Rather than adding new tools in the 1.5 release, we focused on making tool placement more flexible and increasing the functionality of existing tools.
Flexible Tool Placement
We have made it even easier to get to the tools you use the most. In Parallels Toolbox 1.5, you can now drag tools to the Desktop, to the Dock, to a new Favorite Tools area in the Toolbox menu, and to the Mac menu bar. Figure 1 shows each of these in a one-minute video. In each of these cases, you are really adding an alias to an individual tool. Thus, if you later no longer need that particular tool on your Desktop, in the Dock, or in the menu bar, you can just delete it—the tool remains in the Toolbox library. We hope that this additional flexibility in tool placement will make it even easier to use a tool when you need it.
System Audio Now Captured
The Record Screen tools have proven to be very popular with Toolbox users. These tools make it extremely easy to record your screen and voiceover in order to create a tutorial video or document a bug. All of the tools that record screen video now have the option to capture system audio, i.e., audio generated by the Mac or a Mac app (Figure 2). In addition, if your Mac has multiple camera or audio sources, you can now choose the ones that you want to be captured.
Toolbox 1.5 is a free upgrade to Toolbox users. Just use the Check for Updates … menu item in the Toolbox menu (Figure 3).
Do you have an idea for a new tool? If so, post it in the Parallels Toolbox Feature Suggestions forum.
Try Parallels Toolbox for free for 14 days!