Work with Windows desktops and applications in any HTML5 browser
Run Windows desktops and applications from anywhere.
Effortlessly enable web access to virtual workspace.
Immediate access without complex installation or manual setup.
Personalized and flexible web-based access to your business resources
Parallels Remote Application Server (RAS) enables web access to applications, data, and desktops from any HTML5 browser on a desktop or mobile device, anywhere. Keep employees' productivity high by providing the same workspace experience no matter the device they use.
Set up immediate web access with one click, allowing employees to work productively on remote resources such as desktops, applications, and data.
Personalization is simple and easy. Customize the HTML5 Client with your corporate color scheme and logo and enable corporate branding on all HTML5 browsers. Different themes can be configured for individual users and groups within the active directory to reflect different departments within your company.
Parallels RAS publishes applications, desktops, and files from a central server-farm and makes them available to employees on any device, using a native OS-specific client or via Parallels HTML5 Client.
Keep your employees motivated
Parallels RAS brings more flexibility to your workforce, creating a virtual workspace model by providing online access to your business resources from any location, anytime.
Bring Your Own Device (BYOD), Choose Your Own Device (CYOD), and remote working initiatives can be implemented quickly, keeping corporate data safe and increasing productivity.
Parallels RAS helps build an innovative business culture where employees can work on their familiar devices, with no space or time restrictions.
5 things Parallels RAS does better than anyone
Makes any Windows application available on any device—and is up and running within hours instead of days or weeks
Comprehensive application delivery solution with no need for third-party add-ons
Out-of-the-box smart load balancing, printer redirection, and more
Works with native touch gestures on your mobile device—swipe, drag, tap to click, zoom in, and more
Efficient integration with your cloud infrastructure, including Microsoft Azure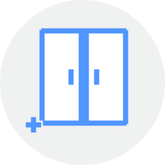 How to Use the Parallels HTML5 Client
This how-to guide is divided into two parts: the administrator's perspective and the end user's perspective. The administrator's perspective focuses on the configuration and settings needed for the HTML5 Client to properly operate.The end user's perspective explains how to connect and use the HTML5 Client.
Parallels HTML5 Client overview
Parallels RAS customers also have the opportunity to offer their employees seamless access to their business applications in any HTML5-capable browser, including mobile devices.
IT administrators can personalize the Parallels HTML5 Client with their corporate branding with just a few clicks.
Parallels HTML5 Client allows employees to immediately use any printer connected to the local machine, without hassle for them or the IT administrators. With Parallels RAS, printer redirection is quick and easy; no configuration is required. The printing task is rendered in a universal format on the server and is sent to the local printing subsystem. The local printer spool handles the print job using the local printer drivers. With the Parallels RAS printer redirection feature, you don't have to install printer drivers on the server.
The Parallels HTML5 Client is available in 11 different languages, including English, Italian, Spanish, French, Russian, Portuguese, Japanese, German, Korean, Chinese Traditional, and Chinese Simplified.