Top Features of
Parallels Mac Management
Explore the key management and efficiency tools that help streamline daily tasks for IT managers managing Mac. See What's New in v7
立即试用
现场演示
数据表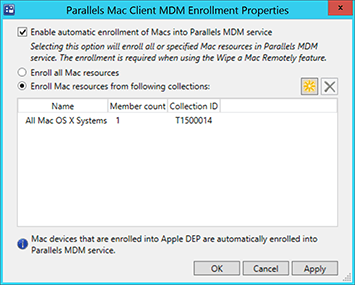 Mac Endpoints Discovery and Enrollment
Standard SCCM Active Directory System Discovery can discover Mac® resources, or Parallels Network Discovery can automatically push the install of Parallels Mac Client.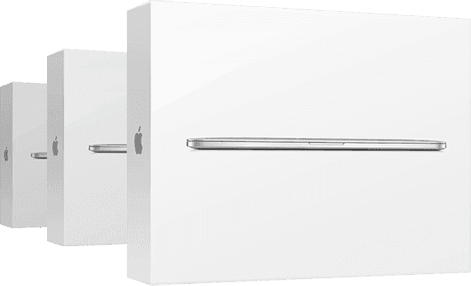 Support for Apple Device Enrollment Program
Zero-touch deployment for SCCM-managed Mac devices

Prerequisites Checker Wizard
Test your infrastructure to ensure Parallels Mac Management components are ready to install.
Configuration Manager Admin Console

The Mac-specific GUI elements are integrated into the Configuration Manager console, allowing you to accomplish Mac management tasks.

Hardware and Software Inventory

Hardware and software inventory information is collected from enrolled Mac computers and saved in the Configuration Manager database.

Device Collection

Manage resources by combining them into logical groups based on certain criteria, including the macOS® collection and the unknown collection used for macOS deployment.

Report User Logon Information

Mac user logon details are reported by the Parallels Mac Client to SCCM and are saved in hardware inventory. The logon information is reported using the standard nodes in the hardware inventory tree.

Software Metering

Monitor and collect software usage data from managed Mac computers. Combined with software inventory data, software metering data can help you determine:

Which software titles are actively used by Mac users
Which software titles cause issues
Whether users run unauthorized software
How many licenses of a particular software your organization requires
macOS image deployment

Deploy in three steps: macOS image capture, image delivery to an SCCM distribution point, and task sequencing to Mac computers.

Deploying Software via SCCM Application Deployment

Natively support the Application Management feature of SCCM and deploy applications directly to Mac computers.

Compliance Settings

Assess the compliance of Mac computers in your organization with regard to whether macOS is configured the way you prefer.

FileVault 2 Encryption

Institutional Key Type — An institutional recovery key is created in advance by the system administrator and then used for all Mac computers being encrypted. If a Mac user forgets his or her personal password for unlocking the disk, this recovery key can be used to unlock it.

Personal Key Type — A personal recovery key is created automatically for each individual Mac during the encryption procedure and is saved in the database on the primary SCCM site. If a Mac user forgets the password for unlocking the disk, the personal recovery key for the disk can be retrieved from the database and used to unlock the disk.
New Features of v7
Internet-Based Management of Mac Computers

A transparent proxy that passes requests between Parallels Mac Client and Parallels Configuration Manager Proxy. Technically a plugin to IIS, it is also used by SCCM for communications between computers on the Internet and management/distribution points.

Establish a permanent SSL-secured link with Parallels IBCM Proxy. Trust is established using the certificate pinning mechanism.
Each Mac enrolled into SCCM automatically obtains the public URL of the Parallels IBCM proxy.
When the Parallels Mac Client needs to communicate with SCCM, it first connects to the Parallels IBCM proxy and obtains the necessary links to MPs/DPs, accessible from the Internet.

Non-OSD Task Sequence Support

A new, flexible way to use task sequences, known as non-OSD task sequences. Image Mac computers without the mandatory macOS image deployment step.

Simplified macOS Imaging with Bootable Media

Simplify macOS imaging in complex network configurations by using a USB flash drive or external HDD to eliminate the need to boot into the Task Sequence Wizard from the network. No need to mess with IP-helpers.