Security and Monitoring
Parallels® Remote Application Server (RAS) offers a wide range of features and tools to help organizations monitor and secure applications and data within on-premises, hybrid, and public cloud deployments. Security and monitoring are particularly important when deploying an application and desktop delivery solution in government, finance, and health sector environments, where data protection is an essential—and often regulated—requirement.
Pervasive Security
By delivering server-based desktops and applications from a central location, IT can easily back up endpoints, deploy and maintain security, and meet compliance regulations. Parallels RAS adds to the security advantages of centrally managed published resources with extra layers of protection. It helps organizations protect their assets with strict system hardening and a lockdown of data access.
Monitoring
Monitoring server, desktop, and application performance is critical to provide users with a seamless and productive UX. The Parallels RAS reporting engine transforms raw data into instant, visual, and intuitive reports, proving IT with an overview of their infrastructure at any time. Unlike other solutions, this feature is available with a standard license and does not entail any additional license cost.阅读更多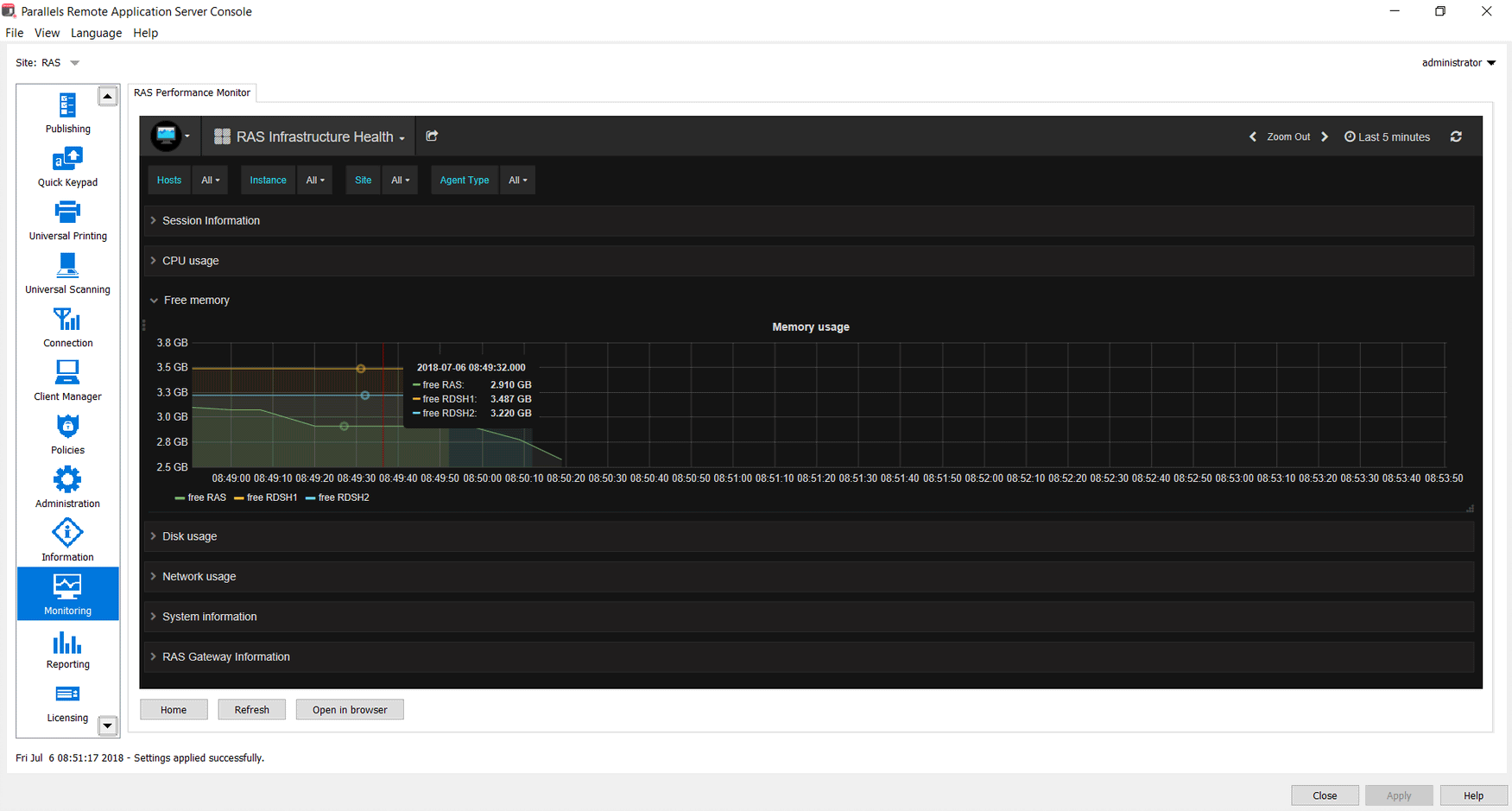 Reporting Engine
The Parallels RAS Reporting Engine relies on Microsoft SQL Express or full edition (SSRS), enabling real-time reporting about the farm activities. By extracting raw data from the SQL database, Parallels RAS Reporting Engine creates detailed reports about the server usage, what devices are used, what applications are accessed, and more. By scanning these reports, organizations can enhance the performance of Parallels RAS and Windows server components.
---
Available Reports
The Parallels RAS Reporting Engine provides IT with insight about users, Active Directory (AD) groups, devices, servers, and applications activities.

Users Reports
Receive real-time information about the users connected to the Parallels RAS installation, the sessions activity, the devices connected, and the client OSes used. With this information, IT administrators can adjust the servers and devices availability to match the traffic requirements on the farm.

Group Reports
Users' activity can be also monitored at AD group level, providing insight into the group dynamics. By checking the group activity, IT admins can adjust the settings of the Parallels RAS installation to meet the different groups' requirements.

Device Reports
The devices report provides IT administrators with information on all the devices used on the Parallels RAS installation. IT administrators can plan for future expansion or development based on this report—for example, purchase the most commonly used device for future expansion.
Server Reports
Servers activity running on RD Session Host and VDI are monitored in this group of reports. Organizations can discover and remove bottlenecks by evaluating server sessions activity and reallocating the hardware resources.

Application Reports
Published applications usage on the Parallels RAS installation is monitored in this group of reports. IT administrators can track which applications are most commonly used, forecast the license consummation, or remove unused applications to save up hardware resources.