Solutions for Healthcare
Improve accessibility by providing clinicians with secure access to desktops, applications and patient data on any device, anytime.
Enhance security by centralizing and monitoring medical data, conforming to HIPAA and other medical guidelines.
Increase medical staff response times to emergencies by enabling them to receive real-time updates and alerts on the go.
Parallels RAS Improves
Your Healthcare IT Infrastructure
Accessibility
Access medical and Windows applications on demand from any device and location.
Security
Provide medical staff with secure, compliant, on-the-go access to digital resources.
Mobility
Deliver fully featured healthcare and diagnostic desktop applications to mobile devices.
Case Studies
Learn why medical organizations have chosen Parallels RAS for application and desktop delivery.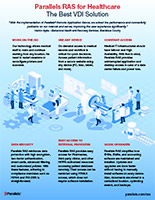 Infographic
Parallels RAS for Healthcare
View the benefits of using Parallels RAS as an application delivery and virtual desktop infrastructure (VDI) solution for the healthcare sector.
Stay Connected
Provide medical staff with secure real-time information at their fingertips.
Instant, continuous access
Parallels RAS provides medical staff with reliable access to their applications and files anytime. Praxis EMR, HER software, Lorenzo PRS and imaging viewers are accessible from anywhere. Load balancing provides full redundancy, reducing the risk of downtime while providing a seamless end-user experience.
Security features
Replace paperwork with a secure and straightforward medical IT system that allows healthcare organizations to securely access EMRs from any device and any location. Parallels RAS reinforces security by centralizing and managing data access. With features such as two-factor authentication, advanced filtering and customized policies, adhering to compliance mandates such as HIPAA and PCI-DSS is easier.
Single sign-on and AI-based session pre-launch
Single sign-on (SSO) facilitates faster login times by streamlining the management of user identities from different organizations without sharing the local identity database. By leveraging artificial intelligence (AI), Parallels RAS makes applications ready to use when needed, increasing efficiency. Medical staff don't have to wait for their desktops to load up in the mornings but can start working straight away.
Boost Medical IT Performance
Simplify medical IT with a centralized and secure approach to managing software and data.
Single pane of glass
With Parallels RAS, admins can manage the IT infrastructure from a single console. IT staff can perform all the available tasks, such as deploy servers, publish applications and desktops, monitor resources, manage connected devices, provide helpdesk assistance and define security policies.
Scale infrastructure up or down
Medical IT infrastructures can be scaled up or down with auto-provisioning and auto-scaling capabilities. Parallels RAS can dynamically create, remove, release and load balance Windows Servers based on predefined criteria. This allows healthcare providers to spend less time on technical aspects of the system and focus on providing better healthcare.
Universal Printing
Ready out of the box and easy to use, Parallels RAS Universal Printing increases printing performance and response time when clinicians use local printers with server-based desktops or virtual applications. Medical staff can print directly to their local printers without having to install local printer drivers.