PARALLELS RAS USE CASE
A Secure Remote Working Solution
Secure remote access to work apps and desktops on any device, anywhere.
Reinforce data security and meet compliance regulations when working from home.
Safeguard assets with extra layers of protection and a lockdown of data access.
Secure Remote Working Tips for Businesses
Traditional office environments have made way for work-from-home and remote environments.
How can you help your teams follow remote working security best practices?
Create a Cybersecurity Policy for Remote Workers
The first step in safeguarding corporate data is to inform all employees that it is a primary concern. The policy should outline all of the different security protocols that employees are expected to follow and how the company will support them.
Multi-factor Authentication
When passwords aren't enough, an extra layer in the security process can give remote workers and their employers the peace of mind they need. Businesses can implement multi-factor authentication, which requires extra verification steps.
Firewalls, Antivirus Software, and Anti-Malware
Remote workers need to have up-to-date firewalls, antivirus software, and anti-malware on all of their devices, including phones, tablets, and computers. If a device is lost or stolen, companies may wish to wipe it remotely. Mobile device management platforms may perform these functions.
Shifting to the Cloud
Organizations that haven't yet fully migrated to the cloud should do so to establish a safe remote working environment. When you equip your security team with cloud-native tools, they can be more productive and fix cybersecurity challenges more quickly.
Process Automation
In a remote setting, employee onboarding and offboarding can be automated to guarantee that when an employee leaves, their access to systems is canceled and their equipment is returned. Critical response times are reduced in the event of a security incident.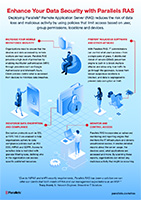 Infographic
Enhance Your Data Security with Parallels RAS
Reduce Working-from-Home Security Risks
Employees need to follow specific guidelines to reduce the risk of cyberattacks. Secure remote work policies should be in place to reduce the number of system vulnerabilities. Employees should:
Keep Operating Systems and Software Up-To-Date
Both operating systems and software can be exploited. Any software, including web browsers, can be a common target. There can be crucial delays between disclosing a vulnerability and its mitigation.
Always Enable Auto-Locking
When employees walk away from their device at home, a coworking space, or a coffee shop, they should lock it. It's possible to forget, but it's a big data security risk when that happens. Automatic locking exists to protect our unattended devices.
Create Strong PIN/Passwords
To lessen the chance of cybersecurity attacks, employees should always use a strong password. Avoid anything easy to figure out, such as repeating numbers and sequences or common passwords.
Enable Find My Device and Remote Wipe
When a device is lost or stolen, locating and, ideally, remotely controlling it is critical to ensuring information security. No matter how much time or determination an attacker has, securely deleting a device makes it much more difficult for them to access your data.
Overcome Cybersecurity
Challenges for Remote Workers
A virtual desktop infrastructure (VDI) solution like Parallels® Remote Application Server (RAS) helps reinforce and enhance your company's cybersecurity efforts whether employees work remotely or on-site.
Parallels RAS incorporates built-in security capabilities with additional layers of protection that include the following:
The security capabilities in Parallels RAS work together to reduce the pressure on IT workload and cybersecurity resources by enabling teams to create and implement robust client policies from a single location.
It is a comprehensive answer to today's numerous cybersecurity challenges, helping organizations to continue to enable remote workforces with confidence.