Parallels RAS 19.3 technical preview: unleashing the future of remote work 
Unleashing the future of remote work with Parallels RAS 19.3. 
The world of remote applications and desktop delivery solutions, Virtual Desktop Infrastructure (VDI) and Desktop as a Service (DaaS) is dynamic and constantly evolving, with increased demands due to the global shift to digitalization. As a pioneer in the realm of end-user computing, Parallels® RAS (Remote Application Server) has consistently delivered on these needs.  
Today, we are excited to announce the upcoming release of Parallels RAS 19.3 as a testament to our commitment to continuous innovation. The latest version introduces a myriad of new features and enhancements designed to deliver a superior remote work experience for both end users and IT organizations alike, with key focus areas around workload provisioning and management, user experience and security and automation.  
In this blog post, we'll delve into the new key features and capabilities of Parallels RAS 19.3 and explore the corresponding value they bring to your organization. 
Workload provisioning and management—increasing flexibility, streamlining operations and reducing risks
Image lifecycle management
Efficient management of images is critical for the smooth operation of organizations of all sizes. With Parallels RAS 19.3, we introduce enhanced image management capabilities, allowing administrators to create multiple versions of the same RAS template and assign distinct versions to different host pools. This feature greatly simplifies operations by allowing new versions of the same RAS template, rather than different templates, to be validated before being implemented in production, thereby minimizing the risk of disruptions associated with updates. 
To further aid in the image lifecycle management, version tags have also been introduced. Version tags can be considered as key-value pairs referencing a specific RAS template version. An IT administrator can promote specific RAS template versions to different customizable version tags such as production, pre-production, and testing. Thus, host pools or other RAS objects referencing such tags would not require reconfiguration when the image (RAS template) is updated and set to be rolled out. 
In Parallels RAS 19.3, RAS template versions and version tags are available when provisioning workloads on Microsoft Hyper-V, VMware ESXi/vCenter, Microsoft Azure and Azure Virtual Desktop. In upcoming versions, we will also be bringing this capability to the other Parallels supported providers such as AWS (Amazon EC2), Scale Computing (SC//HyperCore), and Nutanix AOS (AHV). 
Staggered rollout and session host update schedule  
When new session hosts (workload) VMs need updating, for instance, when updating the RAS template, IT administrators can create a schedule based on the rollout plan. This allows the IT administrators to carry out the changes on the RAS template during business hours and set a schedule when these updates are to be applied so that users know when they can access the updated versions of their apps and desktops. IT admins can force such updates to be done at a specific time or else allow users to log off before applying updates. Users are then able to access the updated version of their apps and desktops on their next login without any distributions.  
Furthermore, IT admins can set independent time-based schedules to recreate host(s) at specific day(s) and time, providing the option for users to always start their business with a "fresh" new session host containing their apps and desktops.   
Personalized resource allocation
In Parallels RAS 19.3, we've extended the host pool capabilities by moving settings such as autoscaling, host hardware specifications, and user profiles to the host pool level. This provides administrators with more granular control over resources, which can be tailored to meet the unique demands of different user personas or business units. 
Imagine a business with distinct operational units, each with its own specific resource needs. With traditional solutions, satisfying these diverse needs could lead to resource wastage or allocation inefficiencies. However, with Parallels RAS 19.3, you have the ability to customize host pool configurations to ensure each unit gets precisely what it needs, optimizing resource allocation and enhancing productivity. 
FSLogix Office containers, cloud cache,
and
l
ogging
Parallels RAS 19.3 builds on previous versions and availability of Microsoft's FSLogix Profile containers as the preferred profile management solution to also include Office Containers (ODFC) deployment and management directly from the Parallels RAS Management Console.  
ODFC is a type of container that holds only data and settings for Microsoft 365 products such as Outlook, Teams, OneDrive, and SharePoint. In some scenarios, it is beneficial to use both Profile and ODFC containers simultaneously, such as when requiring having separate storage locations for office data and other profile data, when requiring isolation in case of data loss or corruption in one of the containers, or when requiring using different container sizes to accommodate specific workloads.  
The latest version also includes extended cloud cache configurations which is used to insulate users from intermittent storage issues, increasing resiliency and high availability for the profile containers and new advanced logging configurations, to facilitate troubleshooting. 
Built-in management of Microsoft's FSLogix provides IT organizations with ease of deployment and management from the same RAS management portal without having to rely on ADMX templates, scripting, or management from other consoles.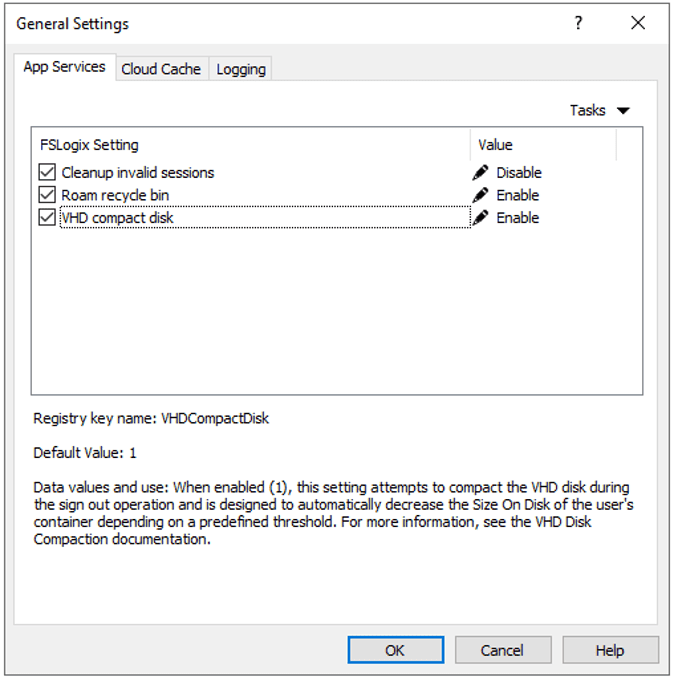 Check out the video deployment and managing of FSLogix Profile and Office Containers:
Superior user experience—modern user interface and new capabilities boost productivity.
Modern and standardized Parallels Clients
In Parallels RAS 19.3, the user experience has been reimagined to streamline user workflow and focus on accomplishing tasks with ease. The new interface for Parallels Client for Windows*, for Mac* and for the User Portal (Web Client), offers a modern, sleek, and intuitive design, making navigating to the virtual applications and desktops much more straightforward so users can launch their remote resources in a fast and easy way. The new interface allows users to use different devices with a standardized experience while still leveraging the platform-specific look and feel.  
Parallels Client for Windows also retains the ability to stay with the classic (previous) look and feel, managed through the client or centrally by RAS policies providing additional control for IT organizations to introduce such change. 
Apart from keeping the existing functionality, the updated Parallels Clients also include new features such as the ability to change appearance abiding by system settings, or specifically setting dark mode or light mode as per user preferences. Favorites are now also available across Parallels Client for Windows, Mac, Android and iOS/iPadOS allowing for even easier user access to their apps and desktops. Favorites are also synced across different platforms so that users who use various devices will always get the same experience, a true "any device, anywhere" story—ideal for organizations that employ (or want to enact) Bring Your Own Device (BYOD) policies and boost user productivity.  
*The new user interface for Parallels Clients for Windows and for Mac will be available after the General Availability of Parallels RAS 19.3, starting in fall 2023. 
Azure Virtual Desktop user experience improvements
The unified user experience when using Parallels RAS and Azure Virtual Desktop integration is one of the primary benefits provided to our customers, enabling users to access Azure Virtual Desktop resources and other resources directly from the Parallels Client without requiring users to use different clients.  
Parallels RAS 19.3 brings new client-side capabilities that were typically enabled under "Advanced" Client feature set to the "Standard" feature set settings, making these available out of the box. New capabilities, applicable to both single and multi-session hosts, now available under the "standard" client feature set include: 
Universal printing

: Parallels RAS universal printing for Azure Virtual Desktop is now also available out of the box. This streamlines IT administration and reduces the overhead associated with deploying and maintaining different print drivers on the session hosts.

 

Accelerated file retrieval:

Using Parallels drive cache technology allows users, using resources from Azure Virtual Desktop, to quickly retrieve and enumerate local files and folders achieving an over 90% increase in speed and stability over poor networks compared with standard experience.

 

URL redirection and RemoteExec:

Server to client redirection features which allows users, using resources from Azure Virtual Desktop, to launch URLs or apps on their local device rather than in the remote session, ideal for more efficient use of resources and flexibility required in case session hosts do not have direct access to the open internet due to security policies.

 
Dynamic printer mapping for default printers
In general, Parallels RAS dynamic printer mapping enables the user to carry out changes in their local printers and such changes are reflected in the Parallels RAS remote session automatically, without restarting the session. This experience is now extended when redirecting in such cases where only the default printer is configured to be redirected. In these cases, if the user changes their local default printer, the new default printer is automatically redirected and set as default, on-the fly, in the remote session without requiring the user to restart the session. This is extremely helpful for users who frequently change their default printers and provides an effortless way for users to access any local printer quickly and simply. 
Security and automation—bolstering security with TLS 1.3 and FIPS 140-2 compliance as well as new PowerShell and REST APIs
TLS 1.3 support
Security is a top priority for every organization. As cyber threats become increasingly sophisticated, it's crucial that remote work solutions offer robust security measures. Parallels RAS 19.3 introduces new support for TLS 1.3, the latest version of the TLS protocol, offering enhanced security and improved performance. Now IT admins can specify to use a range of TLS versions up to and including version 1.3 or explicitly TLS 1.3 only to secure communication between client and server. 
FIPS 140-2 Complianc
e
Federal Information Processing Standard (FIPS) 140-2 is the benchmark for validating the effectiveness of cryptographic hardware. Although FIPS 140-2 is a U.S./Canadian Federal standard, FIPS 140-2 compliance has been widely adopted around the world in both governmental and non-governmental sectors as a practical security benchmark and realistic best practice. 
Parallels RAS 19.3 utilizes FIPS 140-2 validated modules, based on OpenSSL version 3, for the High Availability Load Balancer (HALB), Secure Gateways and Parallels Clients for Windows, Mac, and Linux. IT administrators can disable, enable, or enforce FIPS 140-2 usage for users to connect to their virtual apps and desktops. 
PowerShell and REST APIs
New PowerShell cmdlets and REST APIs are available to aid in programmatic deployment, configuration, and management of Parallels RAS environment. New and improved APIs are available for  
Azure Virtual Desktop deployment and configurations 

 

Image management (template) 

 

Windows device groups 

 

Schedules  

 
I am thrilled about the possibilities that Parallels RAS 19.3 opens for our customers and partners. With its rich set of features and enhancements, Parallels RAS 19.3 is set to redefine the standards of remote work solutions.
We are happy to invite you to participate in the Technical Preview by going to https://my.parallels.com/ras/beta to access the mentioned new capabilities and much more. Stay tuned for more updates as we gear up for the general availability of Parallels RAS 19.3 this fall! 
-Sr. Director of Product Management Christian Aquilina