Configuration Tips when Dealing with BYOD Devices By Sean Bianco on | 0
In most cases, devices connected to a Parallels MDM account are company owned or follow the BYOD scheme. Although BYOD users accept the benefits of managing email accounts, Wi-Fi networks and applications through Parallels MDM, location tracking and call log monitoring are often a harder pill to swallow.
Address these concerns by creating a BYOD Policy, fine-tuned to provide the BYOD user with control over the client app, reduce Parallels MDM's impact on battery life and also maintain privacy.
First, create a BYOD policy according to the next steps:
Log in to the

Parallels

MDM portal.
Go to 'Group Policies'.
Click 'Add'.
Define the group name as 'BYOD Policy'.
Click 'Add'.
Fine-Tune BYOD Policy
Configure the default group policy for BYOD devices or assign these new devices to the 'BYOD' group according to the next steps: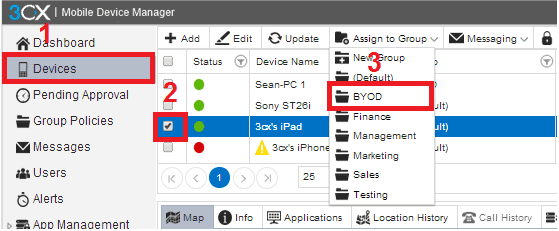 Go to the 'Devices' node and select one or more devices. Click 'Assign to Group' and select 'BYOD'.
Next, from the BYOD policy, select the 'Android Policy' tab to adjust policy settings for Android devices or the 'iOS Policy' tab to adjust iOS policy settings for the BYOD policy.
Android                                               iOS
Tip 1 – Control

1. 'Administrator Settings'- Adjust these options to allow the user to log off from the Parallels MDM server or even close the Parallels MDM client app altogether.

2. Enable 'Allow user to manage client'- Enables configuration options on the Parallels MDM client such as 'Popup messages', 'Map mode' and 'Send location updates'.
Tip 2 – Privacy

3. Disable 'Device History Settings'- Location updates and call logs will not be saved and not be view-able by the Parallels MDM account administrator.
Tip 3 – Battery Life

4. Location Provider Settings:
Location update interval: X
Minimum location update distance- 50
Increase the 'location update interval' value to reduce battery consumption.  This value will also decrease the frequency that location updates will be sent to the Parallels MDM server. The value in this example has been set to communicate with the server once a day.
5. Click 'Save' to apply these settings to devices added to the BYOD group policy.
Congratulations, with the above tips, you are able to address any concerns raised by BYOD users!